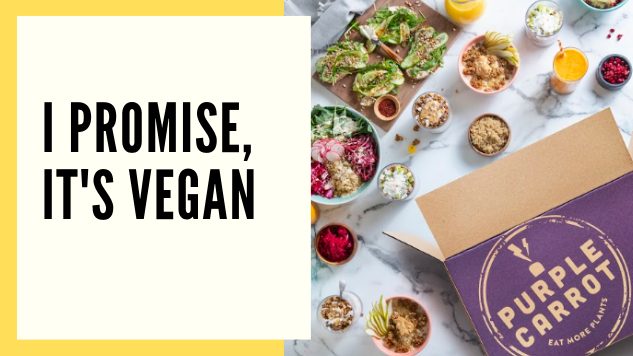 Welcome to I Promise, It's Vegan, Paste Magazine's completely plant-based column. Here we'll taste vegan products, discover new ways to cook cruelty-free, and embrace the veggie lifestyle.
Not vegan? That's totally okay, but it might be something you'd like to consider. Veganism is great for your health. "Research has linked vegan diets with lower blood pressure and cholesterol, and lower rates of heart disease, type 2 diabetes and some types of cancer," according to The Vegan Society. It's also beneficial for the environment! Alluding to an article in Nature, CNN said that eating less animals will lead to the avoidance of greenhouse gases, which is scientifically a detriment to our ozone layer. And lastly, animals shouldn't have to suffer, whether it's in the dairy industry or in a slaughterhouse. Just a bit of (vegan) food for thought.
Our first series of I Promise It's Vegan is dedicated to testing and tasting meal kits. Last time, we explored Veestro. Today, we look at Purple Carrot.

Purple Carrot, like the Green Chef we tried earlier this year, is what most would consider to be a standard meal kit delivery service, only unlike Green Chef's vast choices for every dietary need, the only option with Purple Carrot is plant-based. "Whether you choose to follow a vegan diet always or just sometimes, we celebrate your boldness, and we celebrate your choice," the brand proudly exclaims on their website.
For vegans like myself, hearing something is 100% plant-based is a breath of fresh air. There's absolutely no worry of cross-contamination or accidental dairy intake. With Purple Carrot, a gigantic box arrives in the mail full of healthy, fresh ingredients, and off you go to create your masterpiece. Or your meals. Whatever you'd like to call it.
Recently, Purple Carrot has launched their "Extras" items, taking their meal kits beyond dinner. Now they include simply-prepared breakfast and lunch options in their weekly menu choices, which opens the door to have Purple Carrot for work or even on the go.
My Purple Carrot box included all the materials for three dinners, one lunch, and one breakfast. They assume you have non-dairy milk, cooking oils and salt and pepper at home. My recipes were Curry Bowls with Brown Rice and Cilantro Chutney, Scallion Noodle Cakes with Steamed Vegetables and Tamarind Sauce, Tuscan-Style Gnocchi with Sun-Dried Tomatoes and Broccoli, and Curried Cauliflower Steaks with Mashed Yams and Cilantro Chutney. I'll admit I'm not a big breakfast person, so I did not prepare the Overnight Peanut Butter Chia Pudding, but for someone who eats breakfast on the go, it seemed worthwhile.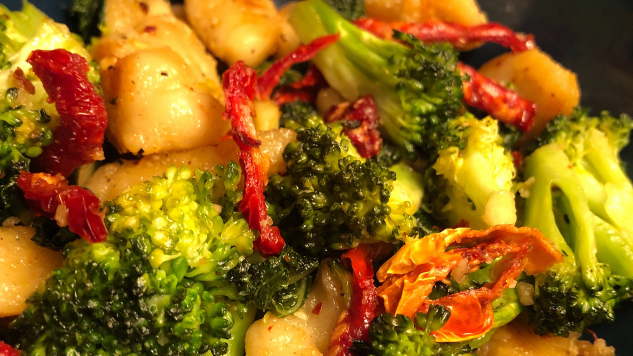 Tuscan-Style Gnocchi with Sun-Dried Tomatoes and Broccoli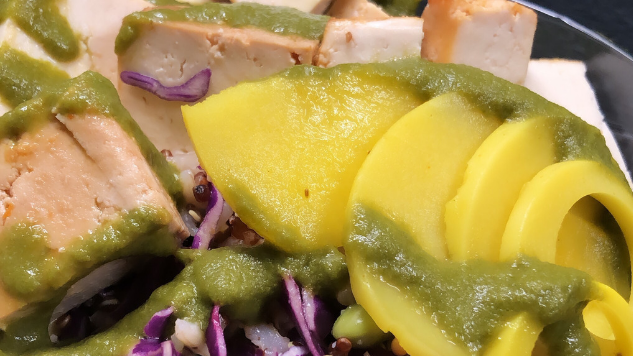 Curry Bowls with Brown Rice and Cilantro Chutney

Scallion Noodle Cakes with Steamed Vegetables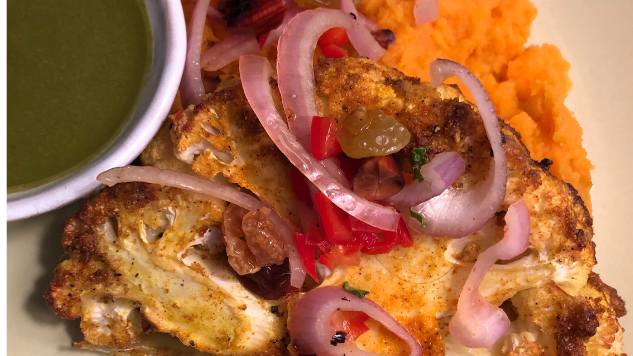 Curried Cauliflower Steaks with Mashed Yams and Cilantro Chutney
It's time to break it down.
Taste
Before I say anything else, I want you to know that Purple Carrot, so far, is the best meal kit I've tried tastewise, and I truly believe that has everything to do with the variety of fresh ingredients. Right off the bat, I was pleasantly surprised with the vegetables in my box. Just in four meals I used hearts of palm, scallions, zucchini, curly kale, cauliflower, a shallot, yams and so much more. The natural flavors were highlighted by the array of unexpected spices and sauces used in the recipes. These meals were downright delicious, and I don't use that word lightly. My personal favorite was the curried cauliflower steaks, but the gnocchi was a close second.
Rating: 10/10
Ease of Preparation
Purple Carrot requires quite a bit of work in the kitchen. Some of the recipes, like the Scallion Noodle Cakes, take a lot more time and energy that I initially anticipated with a meal kit. First you must peel vegetables, then cook noodles, then form cakes with the veggies and the noodles, then cook them pancake style. With proper planning, you can make these meals somewhat quickly, but it's hard to say if it's possible to make these meals without making a huge mess. Nothing with Purple Carrot is particularly difficult, but with the time it takes to prep, cook, and the clean up process afterward, you're looking at dinnertime as a full night ordeal.
Rating: 7/10
Variety
As stated earlier, I was elated with the assortment of diverse ingredients here, all which come together to create tasty, health-conscious meals. I used everything from hemp seeds and tamarind chutney to Champagne vinegar and Fresno chiles, and the range of flavors really rounded out each dish. A+ for variety, Purple Carrot.
Rating: 10/10
Cost
One week of a standard Purple Carrot meal plan will cost you $72. That's 3 recipes that make two meals each, coming to $12 per meal. Expensive, yes, but with the quality of ingredients, it's more worth it to buy than I found with prior meal kits. Personally, but if you can afford it, I think the price is relatively fair. There's also an option for a slightly more expensive TB12 Performance Meal box, if you're into that.
Rating: 7/10
Portion
These portions are not enormous, but because each meal focuses on a balance of hearty vegetables and grains, you don't leave the table hungry. Each recipe includes the nutritional value of each meal, and even with the curry bowls which only have 390 calories per serving, I was very, very full.
Rating: 10/10
OVERALL RATING: 8.8/10
Purple Carrot is the best vegan meal kit I've tried so far! Pros include getting to use unusual ingredients for uncommon recipes and the added benefit of breakfast and lunch options. Cons include the hefty price tag and how much time these meals take, but for the meals prepared, it's not hard to shrug off a few extra dollars and 20 extra minutes of clean up time. I recommend Purple Carrot to anyone and everyone looking to dip their toes into the world of vegan meal kits.
---
Annie Black is Paste Magazine's social media manager and resident plant person. She likes noodles mostly, but will try anything and everything as long as it's animal product free. Follow her on Twitter!