This Ice Cream Entrepreneur Is on a Mission to Blow Your Mind
Photos by Karen Leann Kirsch
Food
Features
Ice Cream
A few months ago, small-business owner Lauren Wilson got a dream offer: a popular dessert shop in Seattle wanted to carry the ice cream she'd begun making three years earlier. It would be a huge step up for Wilson's blossoming business, Sweet Lo's Homemade Ice Cream.
There was just one hitch: due to state food regulations for wholesale distribution, Wilson would need to stop making her ice cream from scratch.
The Truth About Most Ice Cream
If, like most people, you've never tasted ice cream truly made from scratch, your taste buds are in for a wonderful awakening.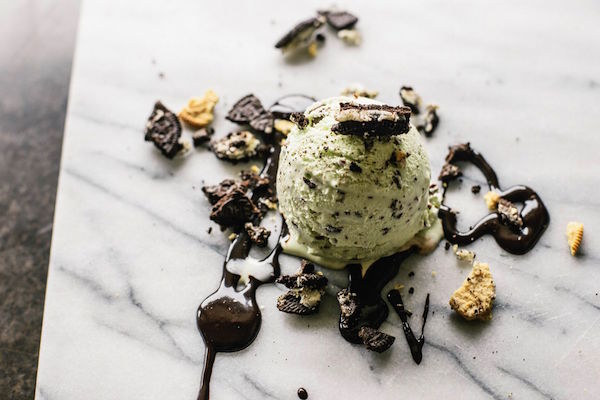 Unbeknownst to the majority of casual consumers, even at many high-end specialty shops, ice cream is frequently created using a pre-made base. Such bases are manufactured and pasteurized en masse at large facilities, and typically contain some combination of stabilizers, gums and chemical additives. Individual ice cream shops dump the base from plastic bags into an ice cream machine, add custom flavors, then sell their "artisan" product to customers who generally don't even know what they're missing.
Wilson's ice cream, on the other hand, begins on a stovetop. She heats whole milk, cream, sugar and salt in a pot before adding egg yolks and letting the mixture thicken. She then strains it and chills it in the refrigerator for several hours before churning it into ice cream she likes to describe as "luscious to the core."
When Wilson got the offer to wholesale distribute her ice cream on the condition that she start using a pre-made base, she says, "I sat with that for a while, thinking, Am I going to choose money and growing my business over the integrity of my product? And ultimately, I said, 'I can't do that. It's not a product I would feel proud of, and my customers would know the difference.'"
So she turned the offer down and instead launched a GoFundMe campaign to raise $21,000 to purchase not only a larger ice cream maker but also her own commercial pasteurizer—the only way to legally wholesale distribute her from-scratch ice cream. If funded this month, she will be one of only a handful of ice cream makers in the country that makes their ice cream 100 percent from scratch, start to finish.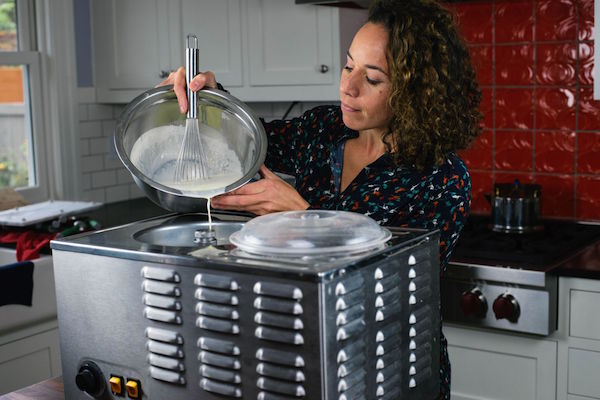 Inspired by Vermont
Four years ago, Wilson had never tasted homemade ice cream either—that is, until she made her first batch of butter-pecan ice cream and took a bite.
"In that moment, I knew it was my job to bring all this goodness to as many people as I could," she says.
At the time, she was living in Vermont, working at a local farm-to-table restaurant. She'd unearthed an old ice cream machine in the basement of the restaurant and decided to experiment early one morning, whisking up her own custard base on the stove and toasting pecans in the oven.
"After getting my hospitality management degree, I always knew I wanted to own my own thing, but I didn't necessarily know what," says Wilson. "I felt kind of lost, but that question was answered just like that, in that second. I was so sure."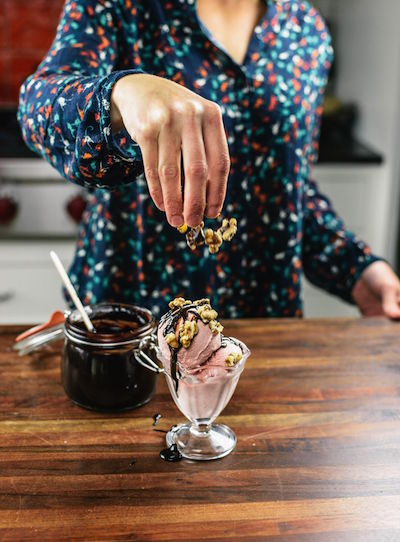 Shortly after, she moved back to Seattle, where she'd lived previously, and used Instagram to begin building a devoted fan base for her business. More than 100 people have already contributed to the campaign to procure her own pasteurizer.
"A lot of times when I go to ice cream shops these days," says Wilson, "I feel kind of intimidated, not really wanting those flavor combinations—not necessarily wanting vinegar in my ice cream. So I wanted to make it clear that I value original flavors, but made really well."
Over time, she's stayed true to that vision while also experimenting with combinations like chocolate chai, red velvet and one of her most popular flavors, lemon bar. Among other decadent add-ins like oatmeal cookies or strawberry shortcake, she makes all her lemon bars from scratch.
All About the Love
Pending success in her crowdfunding campaign, Wilson plans not only to begin wholesale distribution, but also to launch an ice cream subscription club in Seattle. Members will receive several pints of Sweet Lo's delivered to their doorstep each month. A portion of proceeds will go to support organizations that her customers help her choose.
"I want my business to be about heart," she says. "I want to do good, I want to give back, and I want people to be involved."
Over the years, Wilson has drawn inspiration from her family, where food has always been central. Her parents are both avid bakers. Her older sister, Joy—you might know her as "Joy the Baker"—is a popular food blogger and cookbook author.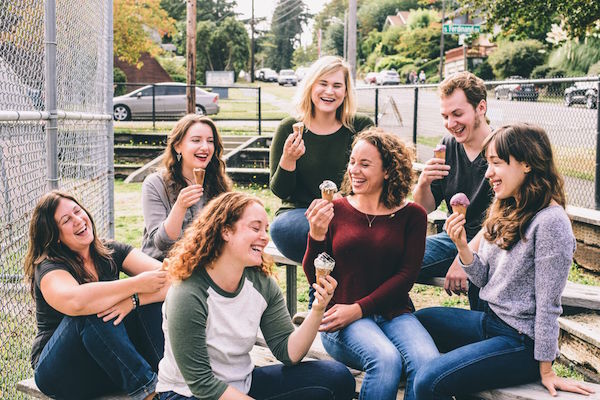 "When I look back on growing up, I remember a lot of events by the meals we shared," says Wilson. "My dad's sister had a brain tumor and lost her sight from it, but was still very active in the kitchen as a blind woman. That really stuck with Joy and me. Every birthday, she made us a birthday cake from her heart—and we learned that food, and what we create with our hands in the kitchen, evokes love."
All she needs now is that pasteurizer.