Our Favorite Spring and Summer Pasta Salad Recipes
Photo by Bakd&Raw by Karolin Baitinger/Unsplash
Food
Lists
recipes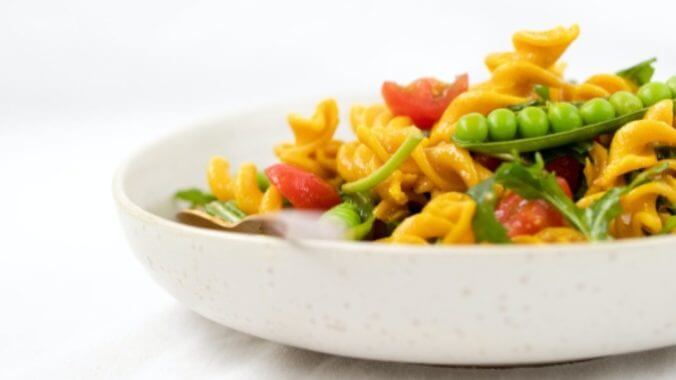 When the weather gets warmer, hot food seems less and less appealing. Enter the pasta salad. It's cool, it's refreshing and it generally only takes a few minutes to make. Boil the pasta, chop some veggies and make a quick dressing, and you'll be ready to throw your pasta salad together in under 30 minutes in many cases. Plus, it's ultra-versatile: Almost anything you have in your fridge or pantry can be added to a pasta salad for more flavor or bulk.
That's why I've gathered some of my all-time favorite pasta salad recipes to share with you. Follow them to a T, or just use them as a guide to inspire your own pasta creations. Either way, you'll be eating delicious, filling salads all spring and summer long.
---
1. Easy Tortellini Salad from A Couple Cooks
Tortellini salad may just be the best kind of pasta salad, which is why this easy tortellini salad from A Couple Cooks should be on your must-make list. Apart from the pasta, the artichokes may just be the most important ingredient here—they add a light, almost floral flavor to the tang of tomatoes and the brightness of the basil.
---
2. Deviled Egg Macaroni Pasta Salad from Trial and Eater
Can't decide whether you want to make pasta or egg salad? This delicious deviled egg macaroni pasta salad from Trial and Eater gives you the best of both worlds. Egg yolks play a role in the creamy sauce, and the chopped-up egg whites add some of that bouncy, eggy texture to the salad. Celery and red onion provide the crunch any good pasta salad needs, and the paprika is a colorful finishing touch.
---
3. Lemony Pasta Salad with Crisped Capers from Bon Appétit
Crispy capers take this lemony pasta salad from Bon Appétit from basic to bombshell. And if the salty, umami intensity of the capers isn't enough, this recipe calls for smashed olives as well. The oily olives play exceptionally well with the brightness of the lemon.
---
4. Soba Salad with Seaweed, Cucumbers and Asparagus from Serious Eats
If you want to switch up your standard salad routine, you have to make this soba salad from Serious Eats. Just cook the noodles, blanch the asparagus and throw all the ingredients together. We love the ocean-y flavor of the wakame, and a sprinkling of sesame seeds adds some earthiness and crunch to the final dish.
---
5. Pasta Salad with Zucchini, Sizzled Scallion and Parmesan from Alison Roman
Pasta salad is at its best when it's served with crisped scallions and showered in a dousing of Parmesan, which is why this Alison Roman recipe is one of my favorites. The capers and lemons are essential to the dish and give this salad its signature summery feel.
---
6. Macaroni Salad with Lemon and Herbs from NYT Cooking
Sometimes, you just have to keep your salad simple, which is certainly the case with this macaroni salad from NYT Cooking. Ingredients like capers, Dijon mustard and fresh dill make this recipe ultra-flavorful with very little work on your part. Use the bread and butter pickles the recipe calls for, or switch to dill for a slightly more savory salad.
---
7. Easy Italian Spaghetti Pasta Salad with Pepperoni from Foodie Crush
This easy Italian spaghetti pasta salad makes me feel like I'm at a pizza buffet and I can add anything I want to my plate. The pepperoni does some heavy lifting here, and the cucumbers, tomatoes, red onions and olives provide a touch of freshness. Add plenty of Parmesan cheese on top for maximum flavor.
---
8. Pesto Pasta Salad from Love and Lemons
Make some fresh pesto from scratch for this recipe for pesto pasta salad from Love and Lemons. In addition to the basil and pine nuts you'll need to make the pesto, you'll also want to pick up some zucchini to give this simple salad some more depth. Add some fresh basil leaves on top for a pretty visual touch.
---
9. Southern Shrimp Pasta Salad from Southern Living
Shrimp gets the star treatment with this salad recipe from Southern Living. It's based on a classic Southern recipe called "Sea Island shrimp," and it incorporates fresh vegetables along with the seafood. After you put all the ingredients together, let it sit for a few minutes to allow all those different flavors to mingle.
---
10. 20-Minute Vegan Pasta Salad from Midwest Foodie
When you really want to load up on the veggies, this 20-minute vegan pasta salad from Midwest Foodie may just be your best bet. Olives, chickpeas, red onions and olives are all important additions, but the banana peppers and artichoke hearts are probably my favorite add-ins. The balsamic vinaigrette finishes everything off with a tangy, slightly sweet touch.
---
Samantha Maxwell is a food writer and editor based in Boston. Follow her on Twitter at @samseating.