10 Fictional Restaurants and Their Real-Life Counterparts
Photo by Chris Haston/NBC/NBCU Photo Bank via Getty Images
Food
Lists
restaurants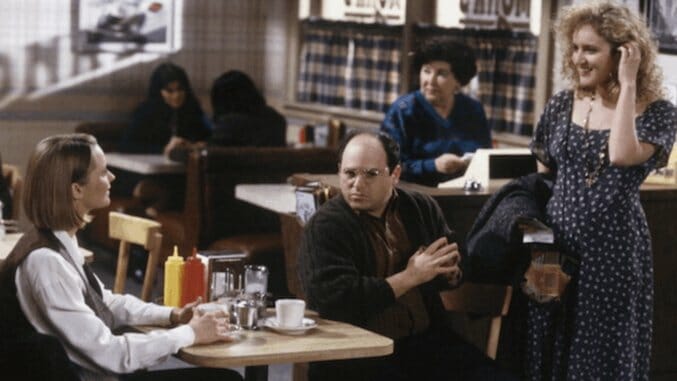 While watching television shows and movies that involve food or revolve around restaurants, it's easy to crave the dishes and ambience we see onscreen. But while many restaurants depicted on the silver or small screens are unfortunately built on a soundstage, there are plenty of fictional restaurants that have real-life counterparts you can actually visit. So whether you want to bicker like Jerry, George, Elaine and Kramer or chow down like Dale Cooper, we've got you covered with the 10 real-life versions of fictional eateries below.
1. Monk's Cafe/Tom's Restaurant (Seinfeld)
Monk's Cafe is an ever-present staple throughout Seinfeld as the setting for many a conversation about nothing. While the interior was actually built on a soundstage, the exterior used for the restaurant is Tom's Restaurant (which was also coincidentally written about by Suzanne Vega in "Tom's Diner"). While the menu of the real Tom's may differ a little, you can still grab an egg white omelet just like the characters.
2. Cheers/Cheers Beacon Hill (Cheers)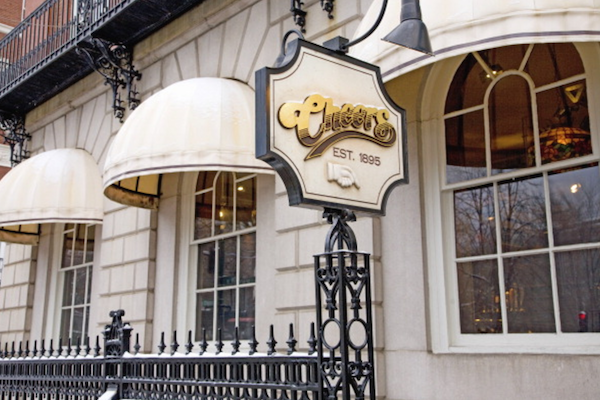 Photo by Visions of America/UIG via Getty Images
The beloved bar in Cheers used the Bull & Finch Club for all exterior shots, and while the similarities originally ended there, the bar has since changed its name to Cheers Beacon Hill, added a Cheers sign and fully adopted the Cheers vibe. While the interior is designed a little differently, you can head to the actual replica of the Cheers bar at their other location at Faneuil Hall Marketplace.
3. Luke's Diner/Unnamed Connecticut Cafe (Gilmore Girls)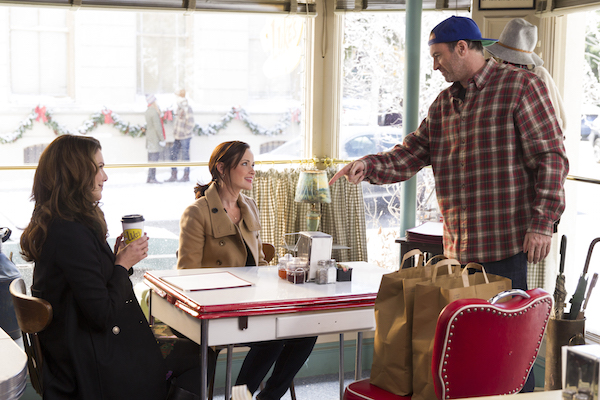 While there isn't one specific cafe that inspired Luke's Diner in Gilmore Girls, the town of Washington Depot (and Connecticut in general) as a whole inspired its small town vibe and lovably grumpy owner. Creator Amy Sherman-Palladino even told a reporter about a diner she'd visited in the area where everyone knew each other and the guests served their own coffee, although she didn't mention it by name. Visitors to Washington Depot have tried to pin down a specific cafe, but it's more likely to be an amalgamation of many of the area's cozy diners.
4. Unnamed Shawarma joint/Elat Burger (The Avengers)
Who could forget that memorable stinger of all of the Avengers crowded around a table at a shawarma restaurant? While the movie may have been set in New York, the real life eatery, Elat Burger, is located in Los Angeles. So if you're craving some shawarma, make like Iron Man and head to Pico Boulevard.
5. Stan Mikita's Donuts/Tim Horton's (Wayne's World)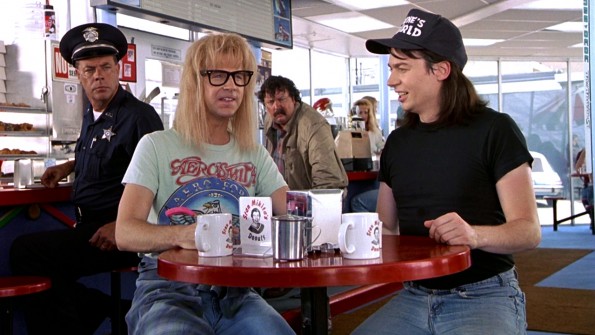 The donut shop in Wayne's World is actually based on beloved Canadian franchise Tim Horton's—which makes sense, as Mike Myers was born in the Great White North. The name had to be revamped to fit in with the movie's suburban Illinois setting, and thus Stan Mikita's was born.
6. Chez Quis/L'Orangerie (Ferris Bueller's Day Off)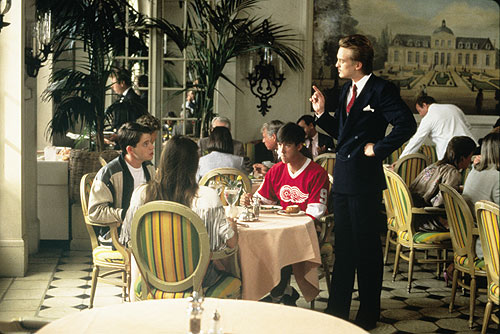 Ferris Bueller's Day Off might be the quintessential Chicago movie, but one of its most memorable scenes—the trio's lunch at the incredibly fancy Chez Quis—was actually filmed at a restaurant called L'Orangerie in Los Angeles. Unfortunately, L'Orangerie is no longer around, but if you still want to visit the location, Nobu Los Angeles has taken its place.
7. Double R Diner/Twede's Cafe (Twin Peaks)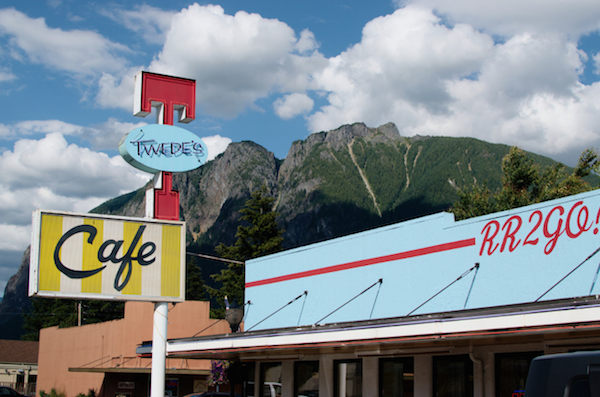 Photo by Neil Coulter, CC BY 2.0 Order your bacon cremated, your grapefruit freshly squeezed and a damn fine cup of coffee at Twede's, the inspiration for the Double R Diner in Twin Peaks. The cafe proudly boasts of its immortalization in David Lynch's television show and even notes you can still order a delicious slice of cherry pie.
8. MacLaren's/McGee's Pub (How I Met Your Mother)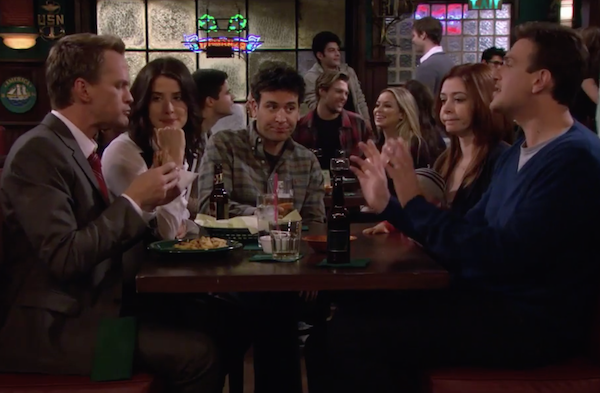 Make like the crew from How I Met Your Mother and pile into a booth at McGee's Pub, the inspiration for the ubiquitous MacLaren's during the show's run. In fact, the show referenced McGee's Pub in a list of one character's favorite bars. Creators Carter Bays and Craig Thomas regularly namechecked McGee's in interviews as well, as the bar was one of their favorite spots when they shared an apartment together.
9. Dmitri's/Rosario's (Orange is the New Black)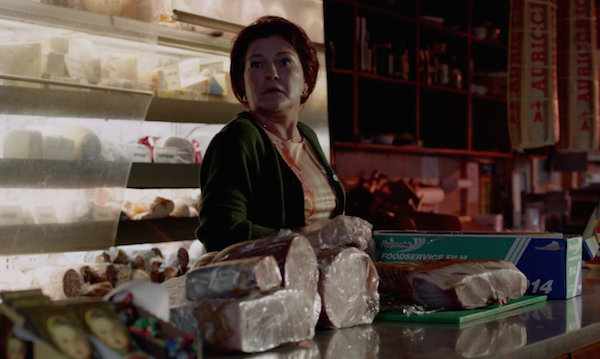 Despite Rosario's standing in for Dmitri's, Red's Russian restaurant in Orange is the New Black, the two couldn't be more different, with Rosario's actually serving up Italian food, including pizzas by the slice. And, of course, there's no illegal activity behind the scenes like at Dmitri's.
10. McDowell's/McDonald's (Coming to America)
On the other hand, there's not much of a different between McDowell's and McDonald's, with the former aping the latter's golden arches as its logo and serving "Big Micks" instead of good old Big Macs. A key difference, of course, are the lack of sesame seeds at McDowell's.
---
Ashley Burnett is a magazine editor living in California. Her work has appeared on HelloGiggles, The Billfold and more. You can reach her via her website.