Chef's Table, the six-part Netflix documentary series that premiered earlier this year, is truly unlike any other culinary television that has ever been produced. The one exception would be the documentary film Jiro Dreams of Sushi, which was also directed by Chef's Table showrunner David Gelb. Each episode takes the viewer into the lives, kitchens, and souls of six very different chefs, each with their own story, style, and personality. Although Chef's Table truly treats each dish as if it were a work of art, where the show truly thrives are the revealing looks into each chef's history and the swathes of knowledge they've each collected over rocky and tumultuous careers.
As journalist Matt Preston points out within the series, "When you look at the most exciting restaurants in the world right now, they're hidden away, you have to make the effort." The remoteness, seeking out what's truly exciting, and understanding the effort that goes into a truly humbling dining experience: each of these are themes that ring true throughout all six episodes of Chef's Table. However, there are also distinct lessons to be poached from each of the culinary minds featured in this introductory season of television's most beautiful look at what food can become in the right hands.
"I'm trying to take you in that moment back to when you were a child, that's why food is so important for me."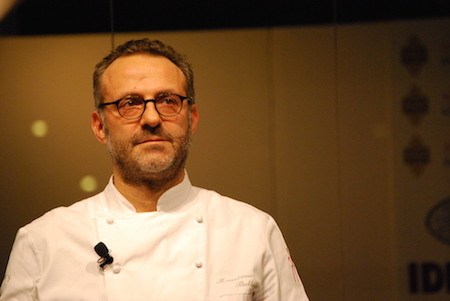 Chef Massimo Bottura of Osteria Francescana is a romantic. Besides being robustly italian in almost every conceivable way, he draws his culinary inspiration from one place more than any other: his memory. Bottura recalls an experience from his childhood of being under his grandmother's kitchen table and reaching up to snag an uncooked tortellino when no one was watching. It's this experience, and so many others from his past, that drive his cooking and his restaurant as whole.
Besides aiming to deliver delicious and provocative food, Bottura also wants to transport the diner back to their childhood, or maybe his, and to the smells and flavors of their youth. While you may not have grown up in Nana's kitchen, you can still identify with Chef Bottura's memories and his enthusiasm in wanting to share them collectively with Osteria Francescana's patrons. He proves that the past can be delicious, even if it's not your past to remember.
"It's not just about the dish, it's about what the radish represents, it has to add up to more than just a plate of food."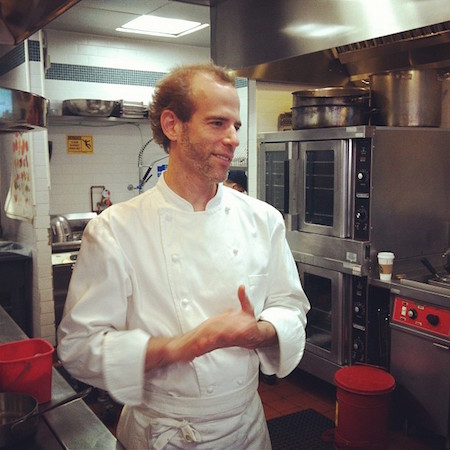 If there's one chef that perfectly exemplifies the contemporary farm-to-table movement being seen in restaurants across the United States, it's Blue Hill and Blue Hill at Stone Farms' Dan Barber. Referred to as an "investigative reporter" in regards to his obsessive interest in how ingredients are raised, grown, and produced, Barber preaches not just the importance of quality ingredients, but also the crucialness of quality farming.
Barber believes in the message of his food just as much as the taste and quality of it. As the poster boy for the farm-to-table movement, Barber drives home the importance of growing rare and ancient grains, along with cultivating foods for flavor rather than just size. As famed restaurant critic Ruth Reichl points out, "Dan is really a model of who the modern chef is…who wants to change his community and ultimately the world." That's exactly what Barber aims to do by educating each of his customers on the merits of farming, eating seasonally, and consuming rational amounts of food that require such a huge investment in time and labor.
"Get out of your chair or office and go outside."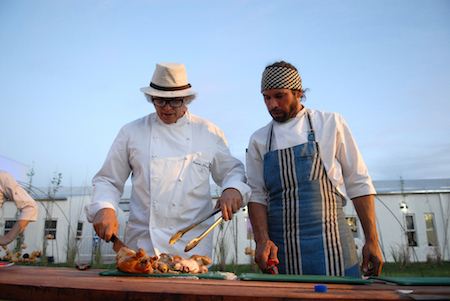 Of all the figures profiled in Chef's Table, it's the elder statesman, the most revered chef in Argentina, Francis Mallmann, who truly celebrates the world outside of the kitchen just as much, if not more, than the one inside. As Chef Francis Mallmann of 1884 says, "Cooking with fire is like making love," and it's those two things, fire and his passionate love of life and fire, that have brought him international acclaim. However, it wasn't always that way for Mallmann.
During the 1970s and 1980s, Mallmann was simply another Europe-trained chef cooking French food in Buenos Aires when he was pulled aside by a patron he'd just cooked for and was told that his take on French food lacked passion and imagination. Simply put, it just wasn't being done right. Now recognized as one of the masters of outdoor cookery, along with being a dedicated outdoorsman and naturalist, Mallmann embraced the flora and fauna found throughout his native Argentina and has been encouraging generations of chefs since to do the same. As with many things in our lives, Mallmann knew that the best options for happiness were truly the ones within an arm's reach.
"People think she doesn't know what she's doing and that she doesn't fit the mold of a chef."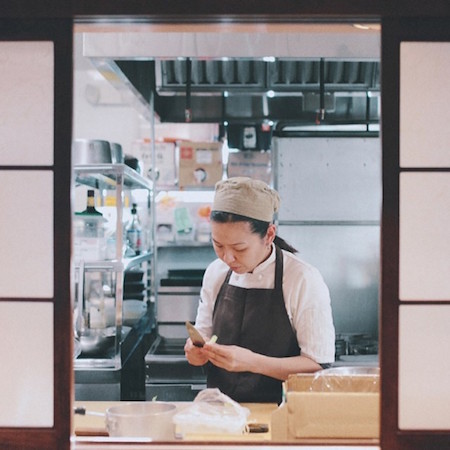 Chef Niki Nakayama has had to fight for every bit of recognition that she's received as the chef of her highly regarded kaiseki-style Los Angeles restaurant, N/Naka. First, it was her family, who had long owned a fish market business, but essentially forced Nakayama into opening a sushi restaurant because they felt her real vision for a restaurant simply wouldn't work and that they didn't believe in her abilities. Then, after succeeding with her sushi restaurant, Chef Nakayama opened N/Naka, but felt the need to close off her kitchen from the dining room to ensure her patrons weren't distracted by her being a woman.
Yet, it was all of these factors and each of these different people doubting her that pushed Nakayama towards greatness and her relentless pursuit of perfection that continues to this day. Rather than making a big deal of the mountains she's had to climb, Nakayama let's her stunningly beautiful food speak for itself, which is plenty all on its own.
"Being a chef today is so much more than being a cook."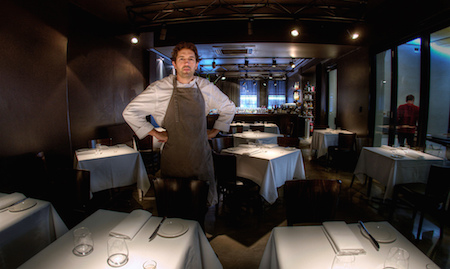 Compared to some of the titanic figures featured in Chef's Table, Chef Ben Shewry of Attica in Melbourne is probably the least fawned over. He is the chef of a small, dark restaurant in a suburban part of a city on the "wrong side of the world." However, Chef Shewry's story, and the position he finds himself in today at the end of that tale, is just as common and relevant to today's chefs as any of the other chefs featured within the series.
Shewry grew up in rural New Zealand and began cooking professionally at a young age. He got the head chef job at Attica, a fledgling and not well-respected bistro of sorts, at 27, the same year that he became a father. As he narrowed his culinary focus and slowly raised the profile of his restaurant, Shewry began assuming the roles of mentor, father, restaurant owner, artist, cook, manager, husband, and pioneer all at the same time. Since Attica's initial rise, Shewry's learned to balance some of his responsibilities, but what his story very clearly tells us is that being a chef in today's world is about so much more than cooking or even managing other cooks. It's about discovering new flavors, experimenting, and being willing to fail now if that means something beautiful happening in the future. Being a cook? Well, that's the easy part.
"Running a restaurant where six months out of the year nothing is growing, that's one of the most incredible challenges a chef can have."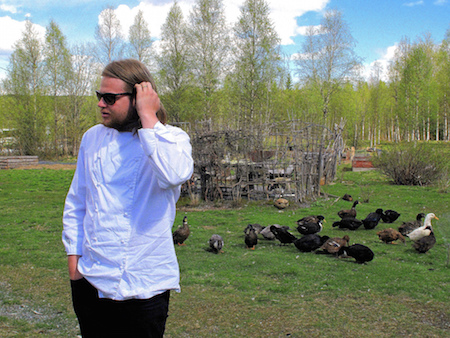 Through each of the first five episodes of Chef's Table, the viewer is introduced to chefs doing truly incredible things in their restaurants around the world, from New York City to Modena to Melbourne, but the one thing they all have in common is their proximity to large populations. For the focus of the sixth episode, however, Chef Magnus Nilsson of Fåviken, this couldn't be farther from the truth.
"To start a fine dining restaurant isn't easy. To start a fine dining restaurant in the middle of nowhere is impossible. What Magnus has created is special." Nilsson's restaurant Fåviken is hundreds of miles into nowhere Northern Sweden and somehow has become one of the premier fine dining establishments on the planet. On top of the remoteness, however, is the weather itself. Open year around, Fåviken relies on preserved foods from the summer harvest to feed the restaurant's 14 nightly diners throughout the long and dark winters that this part of the world has become accustomed to. Yet, through Nilsson's creative thirst and need to express himself through his food, Fåviken doesn't merely survive through the winters. It thrives.
Max Bonem is an eater and home cook who is more than likely hungry at this very moment. He enjoys writing about food and talking to other people about what they're finding most appetizing at the moment. Holler at him on Twitter: @bonematlarge.