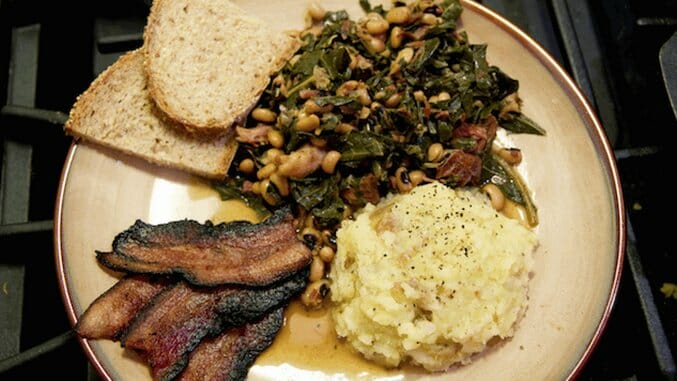 "Southern food is black food. Full stop."
That's what Southern Foodways Alliance founder and director (and winner of various James Beard Foundation awards) John T. Edge told Julia Bainbridge in a recent Atlanta Magazine interview in anticipation of his new book, The Potlikker Papers: A Food History of the Modern South, out now. On May 22, he and Valerie Boyd, author of Zora Neale Hurston biography Wrapped in Rainbows (as well as former arts editor at the Atlanta Journal-Constitution and curator of Alice Walker's archival papers) discussed the history of black food in white narratives. (Full disclosure, I know both Boyd and Edge personally.)
Edge, who calls Southern cuisine "food cooked by people who live here, who call this place their own," argues that its appropriation and gentrification is rooted in a combination of nostalgia and the capitalization of a new respect that swept the South in the 1970s. The ugly response to the Civil Rights movement was replaced with a newer, progressive image — a peanut farmer had just been elected president, and the South was no longer America's "problem child."
Southerners, then, used fast food as an opportunity to modernize and reclaim the narrative of a mythologized South, as possibility in the form of fried chicken. Merely a decade before, white restauranteurs and diners were throwing salt in demonstrators' eyes, butting cigarettes on their skin. And now they were profiting off their tradition, using history as an opportunity for capital gains. There's no better example of this than Harlan Sanders, a "caricature of a Confederate colonel" who, Edge says, "sold people on the virtues of pressure-fried chicken and sold America on this kind of plantation mien with his white jacket and his bolo tie."
Not every venture was as successful as Kentucky Fried Chicken. In the case of Mahalia Jackson's Glori-Fried Chicken, for example, restauranteurs John Jack and Henry Hooker only focused on projecting Jackson's legacy as a Civil Rights leader. "They believed, through hubris, that they didn't need to focus on the chicken," Edge said. "They were just selling the idea. And once they had to deliver chicken, they failed."
Times have changed — or so we like to think — but many restauranteurs still aren't paying their respect. This capitalization has resurged with the latest resurgence in Southern food and identity. Merely a decade before, white restauranteurs were getting elected for public office solely because they'd rather permanently shut their restaurant down than serve black people.
Soul food isn't the only genre Southern whites have appropriated. The American farm-to-table movement, which has been framed as gourmet within the last decade, emerged in Freetown, Va. in the 1970s. Edna Lewis, a granddaughter of slaves, brought attention to the virtue in farming to show that the South's agricultural possibilities mattered to African-Americans, too. But chefs and restauranteurs of color are only just starting to receive praise for it, while figures like Sean Brock and Glenn Roberts are credited with bringing respect back to the South.
It's not that white restauranteurs lack culinary talent — but whoever has access to capital controls the narrative. People crave authenticity, which is often associated with poorer cultures and cuisines. Those said cultures are then appropriated by whoever has agency — and usually, money. And when they succeed, the so-called balance grows all the more disproportionate. Trendy spots in Atlanta, Birmingham, Charleston and Nashville cover fried chicken in gourmet breadcrumbs, and white-owned barbecue restaurants are lauded as the best in incredibly diverse cities.
"People are embracing Southern food, but with a white face," Boyd said.
At the least, pay some respect. We have to embrace a multicultural South, and this goes beyond our past. We need to look towards a future-tense South, which means uplifting immigrants and international food. The South — and the nation, no matter what efforts xenophobes make to keep others out — is approaching an ever more diverse demographic that's manifesting itself in food culture.
"They think about Southern culture and think about it as a zero-sum game that culture is a product, not a process," Edge said.
"It's a process, people."
Photo by Ben Husmann, CC BY 2.0
---
Sarra Sedghi is the assistant editor of Paste's food and science sections.