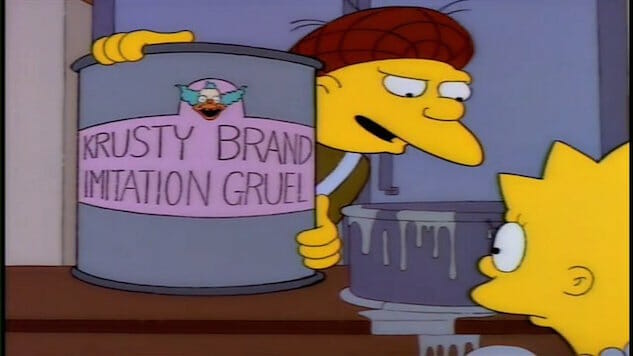 Dear Readers,
I no longer fear hell, ever since I drank that Flaming Moe (Homer). My Simpsons recipes were at risk of becoming a grim chore, akin to a Dickensian something or other. But I make it through the day by clinging to the hope that a recipe will turn out tasty. I'm not sure you'll even read this, since it's summer and you should be outside having fun (like at kamp or something!). So I begin this article with SWEET, NOURISHING GRUEL!
Laurel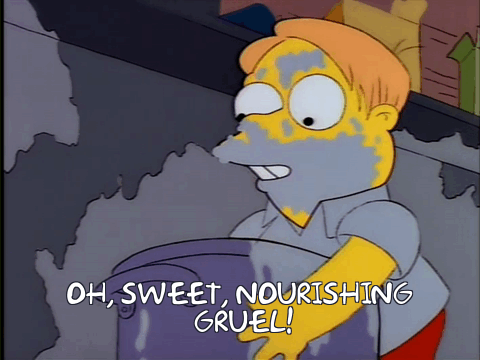 It's summertime, kids! That means it's time to go to camp. In season 4's "Kamp Krusty," Bart and Lisa have struck a deal with Homer. If they finish the school year with at least C averages they can spend the summer at the highly advertised Kamp Krusty. Bart dreams of C's and destroying the school, only to arrive at the last day of school with all D­'s. Lisa gets her first B and has a minor breakdown. Homer decides to let Bart go anyway, and the kids take off for kamp ("If the pets die don't replace them, I'll know!").
It doesn't take the kids long to realize that Kamp Krusty is not what they were hoping. In fact, it's disappointing in every way, from the cabins to the bully counselors to the terrifying canoe ("well it ain't getting any safer!"). The abandoned mule tannery even serves the campers Krusty Brand Imitation Gruel. It's grey and lumpy and depressing. Mmm… lumpy. Lisa writes a desperate letter to her parents (see above) but they're having too much fun as a once again childless couple to take her seriously. The kids are broken, and when Krusty does not show up as promised (drunk Barney in a clown suit serves as a sad replacement), they revolt. KRISIS AT KAMP KRUSTY ends with Krusty showing up straight from knighthood and whisking the campers away to Tijuana.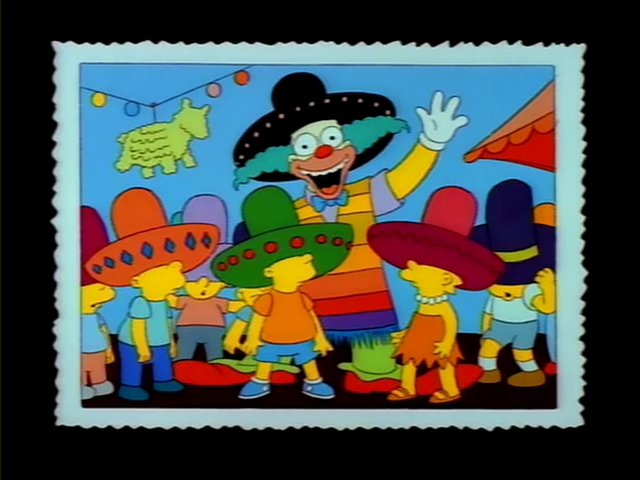 So… gruel. What is it exactly (other than the main food source of old timey orphans)? I did a bit of research (Wikipedia) and it turns out you can make gruel out of most anything. Wheat, oats, rice, barley, even some nuts. You boil the grain in water or milk until it's cement­like and consume. Since Krusty's version isn't even real gruel, I'm willing to assume it's made up of newspaper pulp. Or ground up bone. Or something equally non­food­like.
Luckily, it is possible to make gruel that isn't the saddest dish ever. To combat the sadness, we'll call it porridge. To give my delicious porridge the signature grey color, I cooked brown rice with rice milk, brown sugar, ground chai seeds and blueberries. The blueberries, once cooked, tend to turn a grey­purple color that, while not the most appetizing, are very tasty. This is a healthy breakfast dish that's perfect for a Saturday morning filled with classic Simpsons episodes.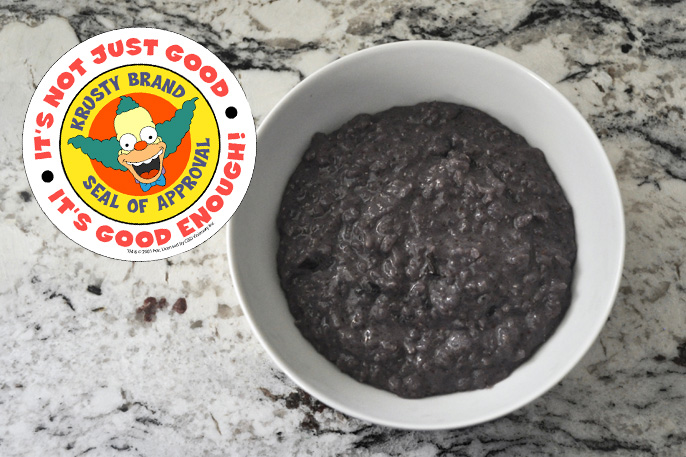 Non­Krusty Brand Imitation Gruel (AKA Blueberry and Chia Seed Brown Rice Porridge)
Inspired by Sqirl's Brown Rice Porridge with Hazelnuts and Jam
Serves 4
1 cup short grain brown rice (or long grain brown rice, pulsed a few times in a food processor)
3 cups rice milk
1 cup water, plus extra
1 pinch salt
1/2 – 3/4 cup blueberries, frozen or fresh
1 tablespoon freshly ground chai seed
1/4 cup brown sugar
1 dash nutmeg
1/2 lemon
1. Combine the rice, rice milk, water, and salt in a medium pan. Bring to a boil and reduce heat to a simmer. Cook, stirring every 5 to 10 minutes, for about 45 minutes.
2. Add the blueberries, chai seeds, brown sugar, and nutmeg and stir. Simmer for another 15 to 20 minutes, until rice is very tender and the mixture is oatmeal­like. Add a small amount of water if the mixture becomes too thick as it cooks.
3. Add a large squeeze of lemon juice and stir, serve warm. Top with more blueberries and a
dollop of yogurt if desired.