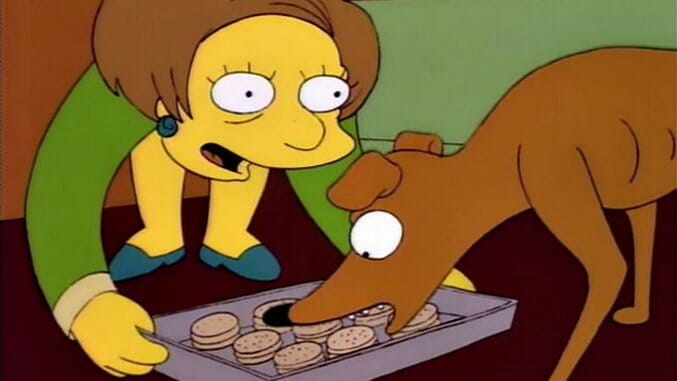 Season five of The Simpsons could potentially be the best season, and I will not rest until I make all of the food from this glorious collection of episodes. I just need to figure out how to make a nacho hat and make potato chips float through the air. No big deal. In the meantime, let's talk episode 19, the 100th episode of The Simpsons (!!!), titled "Sweet Seymour Skinner's Baadasssss Song."
The episode opens with Bart trying to find something to take to show and tell at school. In possibly my favorite Marge moment ever, she suggests Bart take a potato. Bart replies "Mom, you're always trying to give me potatoes. What is it with you?" Marge exclaims "I just think they're neat!"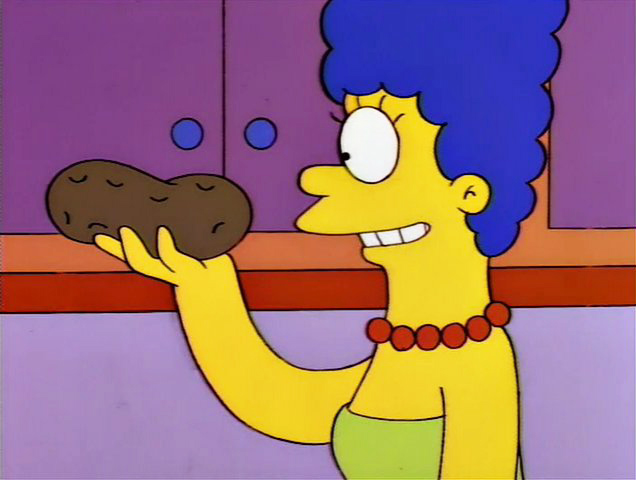 Down to the wire, Bart grabs Santa's Little Helper as he gets on the bus. When he's called up to the front of the class, he reveals that inside his box is not in fact a walking clock, but man's best friend. Everyone loves Santa's Little Helper, and Mrs. Krabappel offers him the cookies that Martin made for her. Martin, visibly upset, cries "my Raisin Roundies!" as the dog scarfs them down. To add insult to injury, Martin's dramatic geode presentation is interrupted by everyone hanging out with the dog ("Ha! It think it's people!"). Bart stashes Santa's Little Helper in the coat closet while they finish class, but the scent of Lunch Lady Dorris cooking horse parts (now with more testicles! Mmm … more testicles) draws the canine into the air vents. Once discovered, a greased up Willie goes in pursuit, and they both end up being rescued from the top of the gym. Superintendent Chalmers shows up just in time for Willie to fall on him and to fire Principal Skinner.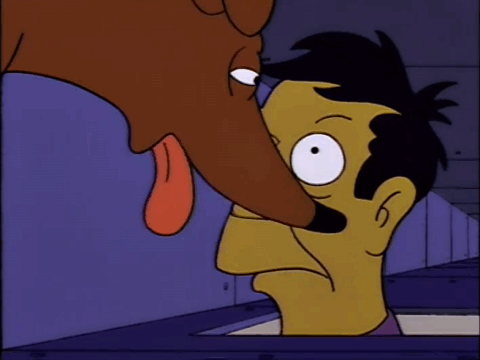 Ned Flanders becomes principal, and everything seems great at first. Flanders keeps peanut butter cups in his office, and Skinner is working on his rip-off novel. But then Seymour gets down and lonely and invites Bart over to his house. Bart feels bad for him after the school bullies steal his underwear, and has a surprisingly good time hanging out with his former principal. School is total chaos, with Milhouse rubbing ketchup on his belly ("This is great! Not only am I not learning, I'm forgetting stuff I used to know!") and Martin locked in a cage. You'd think Bart would be pleased, but he misses having a nemesis at school and decides to get Skinner his job back. Meanwhile, Seymour has reenlisted in the army at Fort Springfield, but finds his work unfulfilling and agrees to come back if Ned Flanders leaves. Luckily, Ned spews some God talk with Chalmers around and is quickly fired, and everything goes back to normal.
Back to those Raisin Roundies. They are apparently Martin's signature baked good, since he made a whole box for Mrs. Krabappel and has, at some point, given some to Principal Skinner (a la Seymour's flashback). Other than a quick glance at a box of generic looking cookies before Santa's Little Helper starts digging in, all we know about Martin's treats are that they are round and that they contain raisins. I took a small but logical leap and decided these cookies were most likely oatmeal raisin and that Martin gave them a silly name just because he's Martin. These cookies are very easy to make and have a nice, chewy texture. Seeing as Martin is an overachiever, I like to believe that he'd put his all into making these cookies, even if a raisin cookie sounds pretty boring. But thanks to brown sugar, cinnamon and vanilla, these cookies are anything but boring.
I put in plenty of raisins since they are Raisin Roundies—just make sure they bake up nice and round. And if you wanted to swap out half of the raisins for chocolate chips, Martin won't be around to protest. Take a box to your teacher (or your child's teacher) or feed a whole pile to your dog.*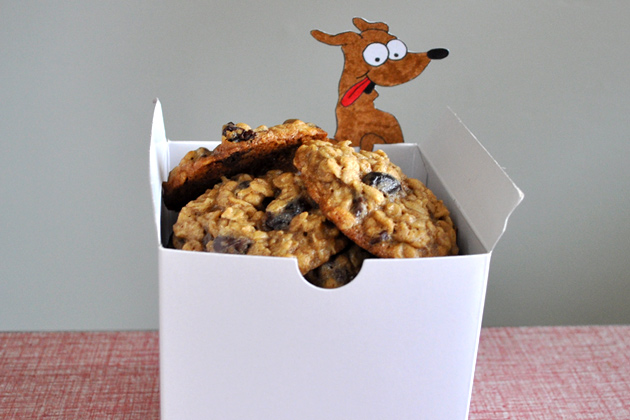 Martin's Raisin Roundies
Adapted from Smitten Kitchen
Makes about 24 cookies
½ cup unsalted butter, softened
½ cup plus 2 tablespoons packed brown sugar
1 large egg
1 teaspoon vanilla
¾ cup flour
½ teaspoon baking soda
1 teaspoon cinnamon
¼ teaspoon salt
1 ½ cup rolled oats
1 cup raisins
1. Using an electric mixer (hand or stand) or your big 'ole muscles, mix together the butter, brown sugar, egg and vanilla until well mixed and creamy.
2. Add the flour, baking soda, and salt and mix until completely combined.
3. Fold in the rolled oats and raisins until evenly distributed. Chill the dough for 30 minutes.
4. Preheat the oven to 350 degrees. Line 2 large baking sheets with parchment paper.
5. Using a cookie scoop or a spoon, form about 24 cookies and space them about 2 inches apart.
6. Bake for about 12 minutes, depending on the size of your cookie. They should be golden brown around the edges but still a little underbaked in the very top. Note that if you bake both sheets at once, you may need to rotate them halfway through baking.
7. Let cool for 5 or more minutes on the baking sheets and then move them to cooling racks before feeding them to your dog.*
*maybe don't feed human food to your dog, seems like a bad idea?
---
Laurel Randolph is a food and lifestyle writer hailing from Tennessee and living in Los Angeles. She enjoys cooking, baking and candlestick making. Tweet at her face: @laurelrandy