I've never been one for picking favorites. When friends sit around and list their favorite movies, actors, books, and more, I'm typically at a loss. I love so many of those things, how do you choo-choo-choose just one?
My exception to this is The Simpsons. When someone asks me what my favorite TV show of all time is, I quickly answer "The Simpsons," with the caveat "specifically, seasons 3 through 8." I've loved these episodes since they first aired and I watched them with the volume on low without my parents' permission. When I want something quick to watch and I can't decide what, those DVDs are the first place I turn. The episodes are so wonderfully written and performed and pretty much perfect and it boggles my mind.
With my profession of love out of the way, I think it's high time I combine my passion for cooking and food writing with my passion for this beloved cartoon. I don't know if you've ever noticed, but The Simpsons has some pretty great food references peppered throughout (Flaming Moe, anyone?). For your viewing and eating pleasure, I am gathering the best Simpsons food stuffs in one place and making them myself.
The goal of this series is simple: recreate dishes from classic Simpsons episodes. I'll be as true to the original as possible, and will provide an original recipe based upon my efforts. In some instances, this will yield assuredly gross results (i.e. most of Homer's creations). In those cases, I'll also provide a non-gross but true-to-theme recipe inspired by the Simpsons dish.
For the inaugural article, I decided to pull from one of my favorite episodes and a true Lisa tour-de-force, Mr. Lisa Goes to Washington. It's the second episode of Season 3, and centers around a patriotic essay contest that takes Lisa and family to Washington, DC, where she makes real governmental change with her last-minute essay titled "Cesspool on the Potomac." Some of my favorite moments in the episode happen early on, though, when Homer mistakenly thinks he won a million dollars in the mail, but instead won a subscription to Readers' Digest. Much to everyone's surprise, Homer becomes an avid Digest reader, and discovers the essay contest in the magazine at dinner one night. Marge has prepared something special from the very pages of Readers' Digest: Little Meatloaf Men. And Bart and the rest of the family are loving it.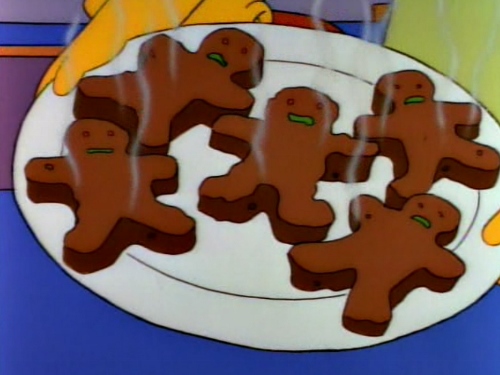 Little Meatloaf Men are, simply put, meatloaf in the shape of gingerbread men with (presumably) vegetable eyes and mouth. With nothing more to go on than the title and image, I felt free to create a tasty meatloaf recipe with classic flavors. We all know that Marge is, by and large, a traditional gal, and while she feeds her family well, she sticks to the classics. I created an all-beef meatloaf base with some tasty veggies thrown in for good measure, and added ketchup and mustard right into the mixture for a really flavorful and moist loaf. This is key, since the recipe does not call for a sauce like many meatloaf recipes do. I think they taste great on their own, but you can add a ketchup-based topping for an extra gruesome-looking meal.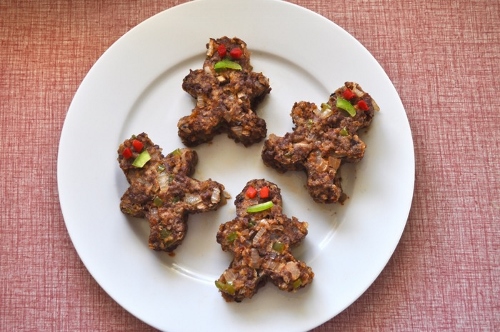 Once they appear from the oven as hot, beefy men (hot stuff, coming through!), give them bewildered faces using pimentos for eyes and green pepper for mouths. They're guaranteed to make your family say mmm…meatloaf men (loud drooling noises).
I'll leave you with another recipe that appears in the episode, thanks to a young girl who read her essay in the contest:
Recipe for a Free Country
1 cup liberty
3 teaspoons justice
1 informed electorate
baste well with veto power
2 cups checks
sprinkle liberally with balances
Get the recipe for Little Meatloaf Men here, and stay tuned for more Simpsons food.
Laurel Randolph is a food and lifestyle writer hailing from Tennessee and living in Los Angeles. She enjoys cooking, baking and candlestick making. Tweet at her face: @laurelrandy.
Meatloaf men photo by Laurel Randolph