Our All-Time Favorite Desserts From Trader Joe's
Photo by Thomson200/Creative Commons
Food
Lists
Trader Joe's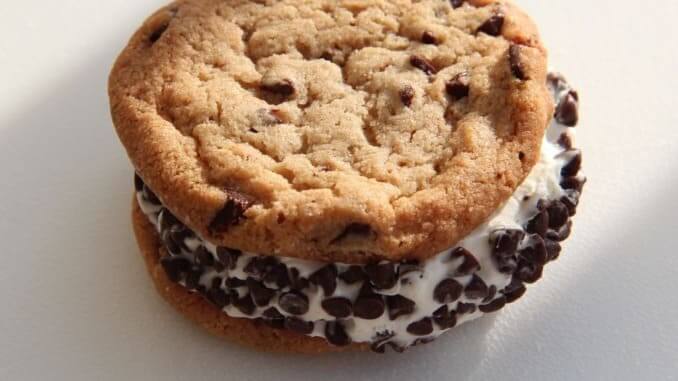 Trader Joe's: For some of us, it's just an average grocery store. For others, it's a sanctuary from the chaos of the real world. For 30 glorious minutes or so, you get to browse the crowded cheese aisle in search of a creamy block of gouda or stock up on enough frozen meals to negate the to cook for an entire week. But if you're like me, your absolute favorite thing to get at Trader Joe's is dessert.
Most of the time, I'm willing to cook my dinners from scratch, but the idea of making dessert as well seems like too much. That's where Trader Joe's many dessert options come in. Even though TJ's got rid of their mixed berry tarte (RIP), it still stocks some of the most creative grocery store desserts you'll find on the market. Here are my favorites.
---
1. Mochi Ice Cream
Trader Joe's carries a slew of different mochi flavors, ranging from vanilla and strawberry to green tea and ube. It may not be the best mochi I've ever had, but it's definitely pretty solid for a grocery store brand. The chewy consistency is endlessly satisfying regardless of the flavor you choose.
---
2. Chocolate Lava Cakes
There are few desserts more iconic than chocolate lava cake, which is why I was so excited to see it in the frozen food case at Trader Joe's. Honestly, the flavor of the cake isn't anything too special—if you've had one chocolate lava cake, you've had them all—but the gush of lava-like chocolate as you cut into the cake is still immensely satisfying.
---
3. Ube Ice Cream
Ube is a purple yam from the Philippines, and it's one of my all-time favorite ice cream flavors. The Trader Joe's ube ice cream is one of the better brands I've tried with my admittedly limited ube experience. It's not overly sweet, so it's the ideal subtle snacking experience.
---
4. Dark Chocolate Drizzled Plantain Chips
It would never occur to me to pair plantain chips with dark chocolate, but I'm glad it occurred to the Trader Joe's R&D team because this is one of my favorite products from the chain. The sea salt-sprinkled plantain chips are fatty and crunchy, making for an ideal savory snack. But once you add in the sweetness from the chocolate, it's transformed into a savory-sweet dessert that's genuinely hard to put down.
---
5. Peaches and Cream Tarte
This peaches and cream tarte is super-simple and summery, and if I need to bring a dessert to an event during the warmer months of the year, this is what I pick up at the store. The crust is flaky, the peaches are sweet with a hint of tartness and the cream balances out the fruit flavors with a rich texture. As someone who bakes very infrequently, having this dessert on hand feels like a serious treat.
---
6. Sublime Ice Cream Sandwiches
Sometimes, all you want is simplicity, which is exactly what these Trader Joe's ice cream sandwiches deliver. In between two chewy chocolate chip cookies, they stuff a generous serving of vanilla ice cream. Then, they cover the sides of the ice cream in chocolate chips. I'm not going to lie: If you don't have a very active sweet tooth, these ice cream sandwiches can be difficult to get through in one sitting, but I believe in you.
---
7. Gone Berry Crazy Dark Chocolate-Covered Strawberry Pieces
Are these literally just chocolate-covered strawberries? Yes. But chocolate-covered strawberries are one of life's greatest pleasures, and it's not always possible to make them yourself. That's why I love picking up a package of these fruit-forward sweets when I'm trying to treat myself.
---
8. Dark Chocolate Peanut Butter Cups
What can I say? They're peanut butter cups, but instead of the standard milk chocolate a la Reese's, you get to bite into rich dark chocolate that complements the grainy, salty peanut butter you'll find in the center. It's hard not to love such a simple but sophisticated combo.
---
9. Brownie Crisp Coffee Ice Cream Sandwiches
You already know you can snag yourself a standard chocolate chip cookie ice cream sandwich from Trader Joe's if that's what you're craving, but maybe you should expand your horizons so you can experience the magic that is this Frankenstein of an ice cream sandwich. Instead of your standard chocolate chip cookies, you'll get brownie crisp (which is just what it sounds like: a crispy brownie) instead. In lieu of plain vanilla ice cream, you'll taste coffee ice cream, which adds a layer of complexity to an otherwise simple dessert.
---
10. Chocolate Chip Hold the Cone
I couldn't finish this list without adding Trader Joe's famous Hold the Cone mini ice cream cones, which give you all the pleasure of a normal-sized ice cream cone in a slightly more manageable package. There are a few different flavors to choose from, but I almost always go for the standard chocolate chip.
---
Samantha Maxwell is a food writer and editor based in Boston. Follow her on Twitter at @samseating.