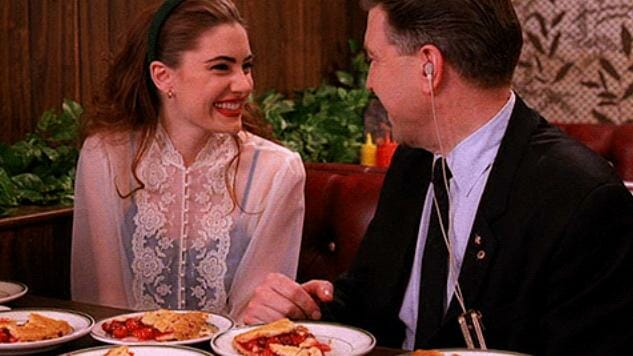 We all know that doughnuts, cherry pie and damn good coffee are beloved in Twin Peaks. But how about spaghetti, asparagus, meatloaf, eggs and toast, huckleberry pie, and bear claws? Pick a theme, ask your guests to dress up like a character from the show, turn on the music of Julee Cruise, and see if your dinner party guests can remember these Twin Peaks dishes that hearken back mostly to traditional small-town American foods. You can even screen a few episodes and play this drinking game after dinner.
Menu 1: A Double R Diner Dinner
The hotel clerk at the Great Northern recommends the Double R Diner to "Mr. Tojamura" as if it's the most important restaurant in town, and it is. Any fly on the wall knows that the important conversations in Twin Peaks happen at the Double R. Host a comforting diner dinner with these diner classics.
Appetizer: Eggs and Toast
In S1E6, Double R Diner waitress Shelly makes eggs and toast for an appreciative Bobby, who loves her cooking, unlike her husband Leo.
When you serve this modern version of eggs and toast, don a diner apron and announce in Shelly's high voice that "Leo hates my cooking." Make sure to sit on the lap of the guest you made come dressed as sociopathic young Bobby in his leather jacket.
Entrée: All-You-Can-Eat Spaghetti
In S1E1, Bobby is sitting at the Double R counter drinking a cup of joe while waiting for Shelly to get off work. A sign on the counter says "All-You-Can-Eat Spaghetti." Update the Double R's recipe with spaghetti Bolognese, and make enough that it's a truly all-you-can-eat feast.
Dessert: Bear Claws and Huckleberry Pie
In S2E2, the Log Lady orders a bear claw at the Double R Diner while having a tete-a-tete with Major Briggs. Make this traditional Danish pastry to bring you home to the Twin Peaks, and put a couple branches on the table in honor of the mystical Margaret Lanterman.
In episode after episode, the Double R's pie is lauded, but none more so than its huckleberry pie, which Major Briggs eats with relish in S2E1. Though he offers a slice to his son Bobby, Bobby sullenly turns it down. Your guests won't, though.
Menu 2: Dinner At Home With the Family
In S2E1, Leland Palmer loses it to "C'mon, Get Happy" at the Hayward Supper Club, a gathering of music and food with the Palmer and Hayward families. Serve these suburban classics that various Twin Peaks families cook at home.
Side dish: Asparagus Mint Slaw
In S1E1, Agent Cooper reads from Laura's diary. "Asparagus for dinner again. I hate asparagus. Does this mean I'll never grow up?" Laura never got a chance to grow up, but you did. Don your blonde wig and creepy Laura voice and serve this grown-up asparagus slaw to your guests.
Entree: Lamb and Veal Meatloaf
In S1E2, Bobby's mother freezes while cutting her sad meatloaf because Bobby's dad has just slapped his son clear across the face.
You'll feel like you've been slapped across the face when you try Mario Batali's Lamb and Veal Meatloaf. So good, it'll make you wanna slap your mama. Not that Major Briggs would ever stand for that.
Dessert: Chocolate Bon-bons
When Big Ed gets home in S1E7, Nadine, upset about the rejection of her one-hundred percent noiseless curtains, is drowning her sorrows in a gigantic box of bon bons. Make these chocolate truffles worth wrecking your diet on.
Menu #3: A Policeman's Feast
Agent Cooper, Sheriff Truman, Andy, Lucy and Hawk love doughnuts, but Cooper is the foodie of them all. Here's to the best, and hungriest, federal agent there ever was, who likes his eggs over hard, his bacon super crispy, almost burned, and his grapefruits freshly squeezed.
Snacketizer: Roasted Peanuts
In S2E7, Coop sits at a table at the Roadhouse with the Log Lady, shelling and eating peanuts. Join this snack fanatic at the table with these simple roasted peanuts.
Entree: Maple-Glazed Ham
In S1E4, Coop orders a short stack of griddle cakes and maple ham, because, as he puts it, "Nothing beats the taste sensation when maple syrup collides with ham." Make Coop proud with this deliciously sweet and savory dish.
Dessert: Doughnuts With Cherry Glaze
In S1E7, poor Waldo gets shot by Leo and drips blood all over the precious police station doughnuts (sorry Waldo, we like birds okay, but we love doughnuts). Make some extra cherry glaze or get some cherry sundae syrup to drizzle on top of your doughnuts.
Dakota Kim is Paste's food editor. Tweet her at @dakotakim1.