6 Awesome Vegan Restaurants in Miami
Photos courtesy of Choices Cafe and Holi Vegan Kitchen
Food
Lists
Vegan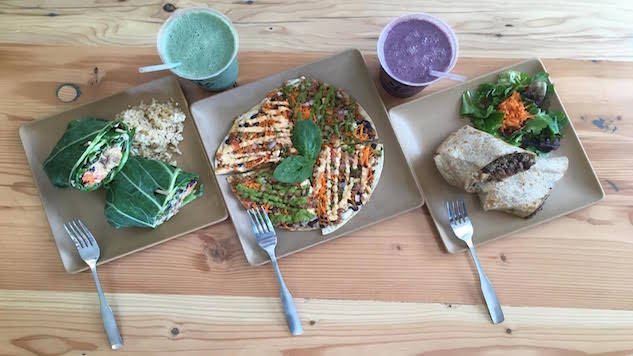 For decades, popular culture had a rather myopic view of Miami. Cuban cigars and Brazilian bikinis. Sun, sand, surf. Neon colors and flashy cars. Frozen daiquiris and Cuban sandwiches. Etcetera.
But recent years have seen a cultural renaissance in the city once famous for cocaine cowboys and white linen suits. There's more sophistication, more panache — more maturity, even.
And as the city's come into its own, its culinary charms have also evolved. Pork is no longer an overriding obsession, and even the progressive, plant-based tidal wave has made its way to the sandy shore. Miami has become such a plant-strong hotspot, in fact, that chef Matthew Kenney recently chose the South Florida city for the newest branch of his culinary academy; Seed Food and Wine Festival — the nation's first vegan food and wine fest, makes its home there each November; and all-vegan deli — Atlas Meat-Free Delicatessen — is opening there in early 2017.
In other words, eating vegan in Miami in 2016 isn't what it used to be. With that in mind, here are six of the city's best vegan and vegan-friendly eateries. Eat your heart out, herbies.
1. Bunnie Cakes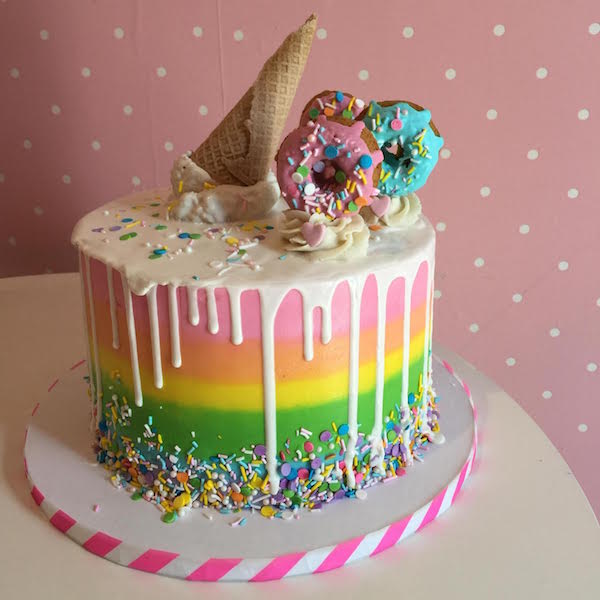 Photo: Bunnie Cakes
Owner Mariana Cortez earned her stripes on Cupcake Wars, where she impressed judges with her utterly-adorable, allergy-friendly vegan cupcakes. She opened a charming, heart-adorned confectionary in Miami's Wynwood neighborhood in 2013, and its ovens have been churning out sweet and savory foodstuffs ever since. The shelves at this perpetually pretty shop are piled high with pizza rolls, whoopie pies, donuts, brownies and, of course, cupcakes in every imaginable flavor. There's also a vegan lunch menu and a grab-and-go case complete with plant-based paninis (which they'll happily press for you). Plus, milkshakes (try the donut or the s'mores). And as the icing on the proverbial cake, most of her picturesque pastries come topped with a tiny pink (edible) heart. It's apropos, considering the Bunnie Cakes motto: "our heart with every cupcake."
2. Full Bloom Vegan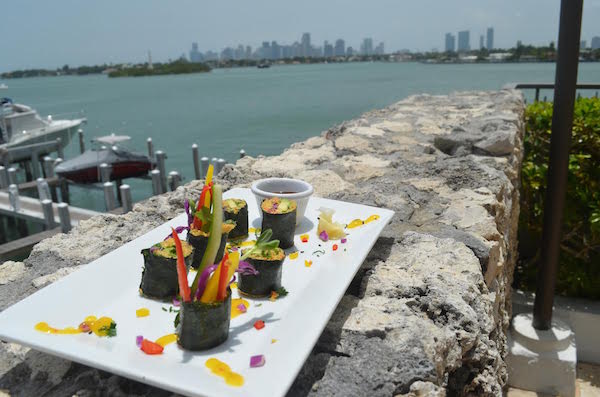 Photo: Full Bloom Vegan
Vegan fast casual is one thing — Full Bloom is another. This internationally inspired, waterfront eatery was made for special occasions, with its breezy patio and bright, colorful cuisine. Boasting creative gourmet eats like escar-no truffled stuffed mushrooms; wasabi ginger nori rolls with mango chili sauce; cashew ricotta and spinach ravioli; black and white sesame crusted tofu with grilled pineapple macadamia — and a seriously impressive cheese plate, Full Bloom is the perfect choice for a long, lingering, romantic meal. And, should you run into owners Alessandro, Omar or Nicola, prepare to fall totally in love with their cosmopolitan charm — and incredible accents. Consider this, Full Bloom is Italian taste meets upscale vegan eats — how could it be anything but awesome?
3. Holi Vegan Kitchen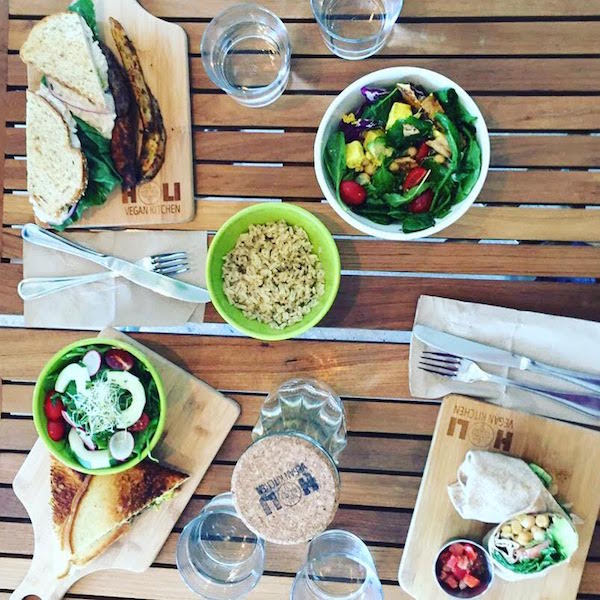 Photo: Holi Vegan Kitchen
The newest addition to Miami's vegan scene, this fast casual establishment has made its home in North Miami Beach — a neighborhood not generally known for herbivorous options. Owned by two committed vegan couples, the eatery offers a colorful (and extensive) menu of familiar foods made with healthy, whole ingredients. For breakfast, try the scrambled "eggs;" the sweet potato hash with tempeh breakfast links; or the cashew cream yogurt bowl with homemade granola. For lunch, sample the black bean and brown rice burritos; the Caesar salad; or the wildly popular jerk tempeh panini with chipotle mayo. For an afternoon snack (tapas are popular at Holi, particularly when paired with the eatery's vegan wines), try the bruschetta; the hummus and pita; or the home-baked empanadas. With this menu, there's an option to appeal to every eater, so don't be afraid to bring your meat-obsessed mates.
4. Choices Organic Cafe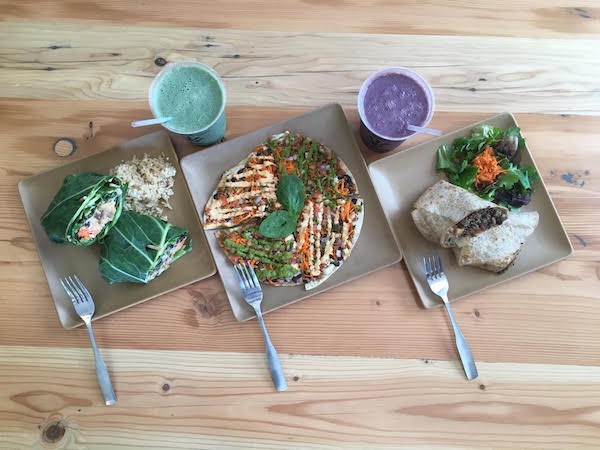 Photo: Choices Organic Cafe
This ethically-minded, fast casual cafe is so popular that it's exploded into five locations across South Florida in the last three years. From Weston to Coral Gables to Coconut Grove, there's a Choices in (almost) every neighborhood. This spot is a popular choice for breakfast and lunch, and offers crowd-pleasing options like "chik'n" and "tuna" wraps; huge, rainbow-colored bowls; mac 'n "cheddy" burgers; a cashew cheese pizza; and a quesadilla, among other familiar faves. There's even an under $10 menu for the budget-conscious eater. The Kind Slam is a breakfast classic; it comes complete with a massive gluten-free pancake (with topping of choice — chocolate chip is always a win), sprouted tofu scramble, and incredible meaty soysage patty — or tempeh bacon. Drizzle their organic maple syrup on top and it's a morning meal even bacon-obsessed eaters will appreciate.
5. Plant Food and Wine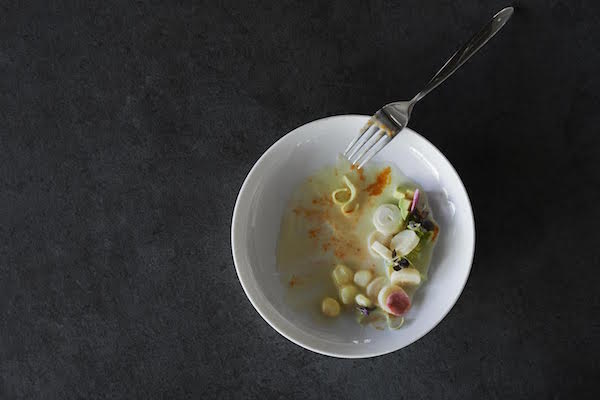 Photo: Adrian Mueller
Adjoining Kenney's newly minted culinary academy is his upscale eatery, Plant Food and Wine. Its zen-like atmosphere — from glassy reflecting pool to towering palm trees — inspires a supremely chill attitude. It's its own oasis, tucked surreptitiously into the bustling Wynwood arts district. The largely raw menu is nothing if not unique, and while the idea of "raw" food can frighten even die-hard herbivores away, his creations are all surprisingly satisfying. From the kimchi dumplings with ginger foam to the bahn mi lettuce wraps; from the spicy hearts of palm salad to the kelp noodles with olive puree — Kenney reimagines vegetables in truly innovative ways. And the desserts, oh the desserts! Try the strawberry hibiscus cheesecake or the starfruit tart with macadamia mascarpone. Or both. This isn't the place to hold back — food comas are impossible with Kenney's light, vibrant cuisine. Eat all you want; you won't regret it in the morning. Oh, and don't overlook the delightful cocktail and wine menu — because who says vegans don't drink?
6. Manna Life Food
Photo: Manna Life Food
Two words: superfood arepas. Isn't that an oxymoron, you might wonder? After all, arepas are traditionally stuffed with meat and cheese. But superfood arepas are something else entirely — a magically nutritious invention that exists only at Manna Life Food. Manna opened last year, a cheerful, airy addition to downtown Miami's lineup of lunch spots. The eatery's superfood arepas are made with organic corn, chia and golden flax seeds, sea salt, and coconut oil, and come with a variety of toppings, from peanut butter and chia jam to coconut meat ceviche to falafel and hummus. At Manna, nourishment is key, so it's not just arepas that'll do your body good — every menu item is jam-packed with nutrients. From colorful life bowls to nori wraps to smoothies to soups, this is a place where you can quite literally eat the rainbow. And, there are more than a dozen superfood boosters (think chlorophyll, maca and chia seeds) that can be added to almost anything — so this is the place to power up.
Hannah Sentenac is a freelance writer and journalist who covers veg food, drink, pop culture, travel, and animal advocacy issues. She's written for Live Happy magazine, Foxnews.com, MindBodyGreen.com, and numerous other publications and websites. Hannah is also the Editor-in-Chief of LatestVeganNews.com, a publication dedicated to positive, original news from the vegan and plant-based world.