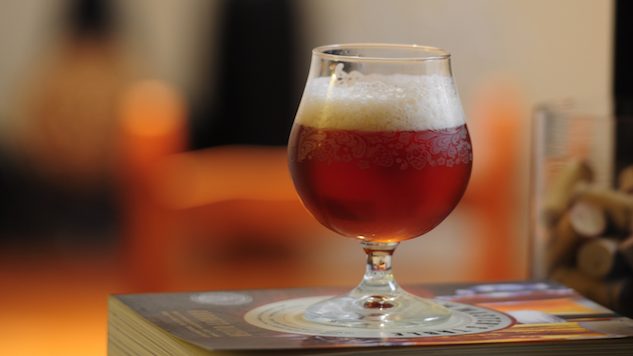 It's time we stop stereotyping the ever-evolving world of beer. Sure, the days of crushing cans of Natty Light and Budweiser were fun in college, but there's never been a better time to explore the craft beer industry and the complex spectrum of flavors and mouthfeels it has to offer. According to the Brewers Association, 78 percent of adults of legal drinking age live within 10 miles of a brewery, so there's no excuse not to try a new brew when you can. Whether you're a beer connoisseur or not, there's a craft beer to satisfy your taste preference, thanks to brewers' abilities to create unique styles of beer with a variety of twists.
The biggest—incorrect—assumption people make when it comes to beer pairing with food is that the dish needs to be carnivorous and heavy. John Schlimm, an award-winning cookbook author, fifth-generation family brewer and craft beer specialist, debunks the idea that plant-based food is bland and therefore an unsuitable companion to beer. Upon seeing a need for a quality resource for both strict vegetarians and those who simply enjoy vegetarian cuisine with a side of meat, his latest work proves that the wide variety in flavors of vegetarian and vegan cuisine makes it perfectly suited for beer pairings.
A recent study published by Vegetarian Times showed that 7.3 million U.S. adults follow a vegetarian-based diet, and it's a safe assumption that some of those millions of people are beer lovers. "We wanted to help educate consumers on the different types of beer styles available to them and show how these styles have a variety of flavor profiles that pair well with more than just barbecue or steaks," explained Schlimm. If you aren't a craft beer expert the choices can be overwhelming, so here's an overview of Schlimm's guide on How to Pair Craft Beer with Vegetarian Cuisine.
When it comes to pairing craft beer and vegetarian food, it's important to focus on three simple tips:
– Giving great compliments: We tried to pair similar flavor profiles together. We found Smoother/Malty Beers paired well with Sweet Food. More hoppy beers tend to pair well with savory food.
– Finding a balance: Balance your craft beer and vegetarian food pairings by mixing and matching smoother, sweeter, and subtler-flavored foods with more intense, palate-grabbing beers, and vice versa.
– Play the field: Everyone's palate processes flavors in unique ways. A fun, easy way to pair is to offer a spectrum of craft beer styles for sampling in small glasses with each vegetarian dish you serve. Let your guests choose their favorite match.
Schlimm's guide features 30 pairings in all, which include desserts and cheese pairings. Throwing a get-together? Try pairing a Vienna Lager with artichoke dip or a brown ale with jalapeño poppers. Both pairings illustrate how sweeter flavor profiles compliment the creamy saltiness and bite of these fun foods. Opt for a more bitter Irish red ale with a sweet tofu or a light-bodied cream ale with spicy tofu. Having Italian? Pop open a hoppy Altbier, which compliments all sorts of pasta dishes.
Obviously no meal is complete without dessert. When it comes to fruity, sweet berry pies, look for a beer that's also relatively fruity with hints of malt and hop, like a Kölsch. And for the chocolate lovers, look no further than a Doppelbock—with a rich maltiness and caramel aroma, it's the ideal beer to accompany anything from chocolate cookies to cake and brownies.
When it comes to the general rules and guidelines for pairing craft beer and food, keep in mind that in breaking those rules, great flavor combinations can be discovered as well. Schlimm learned about the basics and complexity of beer flavors and food pairings the old-fashioned way: a lot of research. In other words, drinking, eating and repeating.
"With tens of thousands of different beers at our fingertips, I don't believe there is such a thing as a 'non-beer lover' anymore. Instead, I think some current 'non-beer drinkers' just haven't found their perfect beer-match yet."
So how do non-beer lovers convert? "My newest cookbook is The Ultimate Beer Lover's Happy Hour, a collection of more than 300 recipes and related craft beer pairings, including cocktails that all use beer as an ingredient. This is my sudsy love letter to both beer lovers (of course!) and non-beer drinkers, especially as a way for the latter group to start having some fun with beer."
For non-beer lovers, start experimenting with beer by using it as an ingredient when making various dishes, such as chilis, vegetable soups, dips, sauces and marinades. "Just a few teaspoons of beer can transform a dish from ordinary to eyes-rolled-back-in-your-head delish!" For example, about an hour before a pot of veggie chili is done cooking, add a bottle of IPA, Amber Lager, Hefeweizen or even a Stout. Or, add a teaspoon or two of beer to a favorite party dip.
For those looking to start with a real splash, Schlimm suggests serving a beer cocktail at your next party. His favorite? The "Beach Party Punch" from The Ultimate Beer Lover's Happy Hour. The ingredients include: rum, vodka, amaretto, gin, beer, orange and pineapple juices, ginger ale and lots of ice.
All and all, Schlimm makes the point that you should be drinking the beer you love. "The beauty of having endless options of beers and plant-based dishes is that pairing craft beer and food is literally a 24/7 party that never ends."
Hailing from California, Chelsea is an inquisitive dessert enthusiast and Golden State Warriors fan. Since graduating from Columbia University, she has amassed a colorful professional background, with experiences in industries that include news production, radio, public relations & media communications. Upon realizing that her true passion revolves around traveling the world, immersing herself in new cultures and eating, she is now a full-time freelance journalist, based in New York City. Chelsea's work has been featured on Thrillist, The Daily Meal, Yahoo! and MSN, among other nationally recognized outlets. Follow her on Instagram and her blog .