Is being vegetarian in the land of rotten shark and edible puffin (as opposed to inedible puffin, which I consider all puffins, the cutest animals ever) a total contradiction? My best friend Piper and I recently ventured to Iceland to get lost in the land of fire and ice. Piper is vegetarian and I eat a lot of vegan food because I'm dairy free, so we approached our trip optimistically looking for vegan and vegetarian options at every opportunity. In a land where natural vegetation is rare to say the least (picture endless empty country fields and acres of lava rock) and a hot dog is the national food, we were afraid vegetables would be not only sparse, but expensive.
We found that this was not necessarily untrue—all food was expensive in Iceland, even outside of Reykjavik, but at least vegetarian food seemed to be a few thousand kronur less. Many restaurants had one vegetarian item. The Backpackers Hostel in Akureyi proffered a serviceable red pepper and spinach veggie burger with lime-honey sauce, especially when served up with a pint and a cookie for dessert.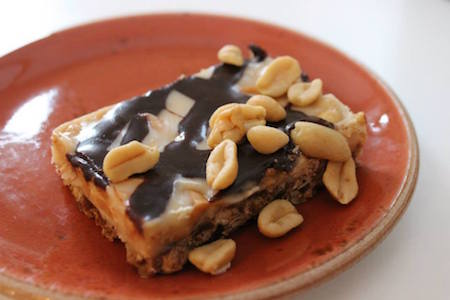 Other restaurants in Iceland without explicit vegetarian menus were accommodating. They could do a plain cheese (for Piper) or marinara with veggies (for me) pizza. Or, at a lovely small harbor-side fish restaurant, where nothing on the menu was vegetarian, they happily made a salad full of veggies and nuts for us.
In Husavik, we found the main restaurant near the whale-watching companies offered an Asian menu with vegetarian stir-fries, which was a welcome change after a week and a half of mostly marinara or cheese pizza, french fries and salad.
In hostels, guesthouses and Airbnb rentals, we were able to fare heartily and well. We visited Bonus and other grocery stores, purchasing chickpeas, pasta, veggies and sauces. At our cabin in Brimnes, we made a delicious chickpea stir-fry with leftover dried herbs another guest had left behind. We lit candles and had a very pleasant dinner, then hopped into the cabin's outdoor hot tub with frosty beers and relaxed the evening away watching birds fishing on the stream.
Where we least expected it, we found gold. We pulled in after a long (and I mean long—those fjords take forever to circumnavigate!) drive around the fjords to Siglufjordur, and followed our noses to a workman's cafe. When we walked in, the cafe seemed to come to a screeching halt as the 40 or so fishermen and construction workers looked up in surprise at the blue-haired gal and the Asian gal, clearly out of place.
There, in this cozy, beautiful tavern, we found a warm welcoming host and a veggie quiche made with broccoli, onions, mushrooms and carrots. Were there vegetarian fishers?
Flexibility is the key with restaurants—and openness. You may not have heard of that strange vegetable in your quiche before, but it might be worth a try. I had no idea what romanescu was when I was in Montreal, but I was willing to try it!
However, vegetarians don't have to suffer through a week of marinara pizza and french fries. Advance work was very helpful to our trip. Search the world map on HappyCow.Net and print out a list of vegetarian-friendly destinations before you leave home.
Check in advance with Airbnb and hostels, as well as guesthouses with kitchens, to see if you can fully use their stove and/or oven for lunch and dinner. If you're staying in a hotel, check in advance for one with a mini-fridge—it's possible the hotel may offer them, for a charge or for free. Camping is a good vegetarian option too, but with the bad weather we had while in Iceland, we missed out on a fire-cooked dinner under the stars.
Purchasing or bringing along a flavoring agent that doesn't expire, such as hot sauce, is another technique for vegetarian travels. A mini Sriracha or Tabasco bottle packed in with your toiletries could go a long way in eliminating blandness on your trip.Pack protein bars and protein powders for emergency situations in which there are no vegetarian items.
Learn a few words of the language, especially in regard to vegetarian terms. I was vegetarian for eight years, and I traveled to many countries including France, Italy, Mexico, Germany, Switzerland, and the Dominican Republic, and I lived in Seoul, South Korea while I was vegan. Knowing a few vegetarian terms in every major language was enormously helpful to my travels. In Korea, I quickly learned the terms for "vegetarian" (I had already known the terms for "broth," "egg," and "fish sauce") so that I could avoid animal products. Because vegetarianism may be a different or confusing concept in some countries, such as those where fish is considered vegetarian and red meat is the only "meat" to people, knowing smaller terms is enormously helpful.
If you have a very special diet to accommodate with multiple allergies, think about trying to hire a private chef or a food tour guide while you are traveling.
Bon voyage and bon appétit!
Dakota Kim is a food writer, gardener, mushroom hunter and burlesque producer living in Brooklyn. She likes to brew strange Korean medicinal teas and bake vegan desserts. She is currently working on a cookbook featuring burlesque performers called Bombshell Bakers. Tweet her at @dakotakim1.
Landscape photo by Moyan Brenn CC-BY
Food photos by Dakota Kim