What's the Organic, Vegetarian Fast Food of Amy's Drive Thru Really Like?
Photos by Nicolas Grizzle
Food
Features
Vegetarian
There is a magical place where that bastion of unhealthy decisions known as "fast food" is actually not that bad for you. Where a "drive thru" yields food that is vegetarian, organic, genetically unmodified and cooked to order. There are sodas, yes, but Coca Cola, Pepsi and other brand names do not exist in this land. The packaging is compostable. And the whole thing "runs on love", as their slogan goes. Welcome to Amy's Drive Thru in Rohnert Park, California.
Amy's Kitchen is best known for delicious vegetarian and organic grocery items: frozen burritos that don't come back to haunt you; mac and cheese with real cheese; I-can't-believe-it's-not-meat canned chili. Now, the company has taken its $300-million annual gross health food approach to an industry that prides itself on being the polar opposite of everything Amy's stands for. Will it work?
Young food-conscious Millennials fond of food photos flock to the restaurant as a destination eatery, as do gluten-free vegans with a short lunch break. But the food has to be good enough to attract the burger-and-fries fast food lovers at least every once in a while to succeed past the hype. The good news for Amy's is that for the most part, it is.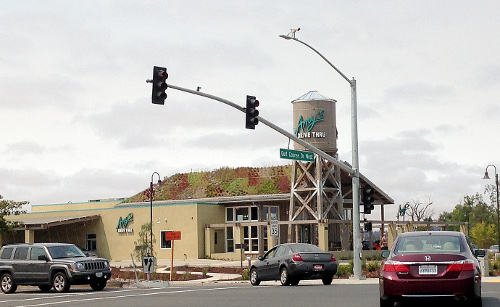 The Amy burger ($4.29) is a double veggie patty with double cheese, crisp lettuce, ripe tomato, fresh onion, pickle and Fred's secret sauce. It's far tastier than even the best Big Mac, but not as good as In-N-Out's Double-Double (nothing is though, so that's not really fair). The best thing about the burger isn't the patty—which is actually pretty good—but the supporting cast. The bun is soft and chewy, the vegetables actually contribute desirable flavor, and over the course of several visits, every burger I've seen actually looks like the picture on the menu.
The fries ($2.49) are better than most fast food options, especially when smothered in chili and cheese ($3.49). Salads ($5.99-$7.99) are large and flavorful, which is what happens when vegetables are a priority instead of an afterthought. There are three dressings to choose from—balsamic, raspberry vinaigrette or ranch—and every salad just gets better with a sprinkle of goat cheese ($.75 extra).
The burritos, burrito bowls and mac and cheese are fresh versions of the staples in every modern hippie's freezer, and they're priced about the same. Individual pizzas ($5.89-$6.50) are nothing to write home about, but are a good option for picky eaters, especially young ones.
Drinks are a mixed bag. Due to their self-imposed rigid standards, Amy's makes its own sodas and milkshakes. The vanilla milkshake ($2.99) builds anticipation before the first sip (or bite, since it's so thick) with flecks of real vanilla speckled throughout the creamy cup of contentment, and it delivers on that promise in your mouth. The non-dairy version ($3.99), while an admirable coconut-based substitute, would not be my first choice in a lactose intolerance-free world. Their handmade sodas are strange in a bad way, and California is in a drought anyway, so just stick with milkshakes. YOLO, right?
The restaurant is a mix of genuine compassion for human health and poignant marketing. There is not an ounce of meat to be found on the premises, and strict standards maintain that the vegetables, beans, grains and dairy must be certified organic and free of genetically modified organisms. Everything on the menu can be made vegan or gluten-free, and they won't even roll their eyes when you ask. But the place also has its share of gimmicks.
The living roof sure looks cool, but it's far too small to supply any food for the restaurant. And that water tower makes the restaurant easily identifiable from the freeway, but again, it's far too small to be of any practical use. The interior has a homey Americana vibe with a palette of faded reds, whites and blues, and giant one-tree slabs make for beautiful picnic tables outside.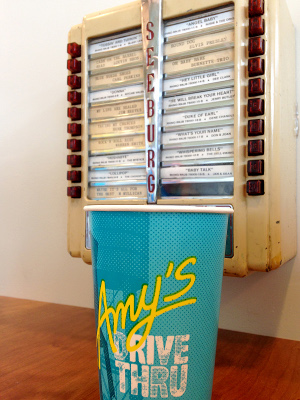 The idea that a drive-thru restaurant runs on love and not gasoline is absurd. There aren't enough electric cars, even in liberal Northern California, to operate a restaurant that relies on automobile traffic without a carbon monoxide cloud shadowing the living roof at peak hours. But hey, they're trying.
It's worth noting that although vegetarian, organic and GMO-free foods are a healthier lifestyle choice, it's not as if one would lose weight by eating at Amy's Drive Thru every day. The Amy burger has 770 calories, 40 grams of fat and a whopping 1,440 milligrams of sodium. Chili cheese fries have 590 calories, 30 grams of fat and 760 milligrams of sodium. But it's organic, so it balances out, right? At least that what I tell myself every week, and I can live with that.
Nicolas Grizzle is a freelance writer in Northern California. Follow him on Twitter @NicolasGrizzle.