Flickr/star5112
"There's no way I'm eating there," my brother grumbled as we approached the restaurant. He was able to see the queue of hungry diners crammed into the restaurant's narrow vestibule—it was too cold and rainy to wait outside—but it wasn't the long wait for a table that got him. He was visiting for the weekend, and we thought we'd take him to Ken's Artisan Pizza, an indisputably excellent mecca of lovingly-made pies in Portland, Oregon.
"This place is full of fucking yuppies," he continued as he peered through the window. "I'm not going in."
Usually he's not like this, my brother, but he'd just emerged from living in a remote yurt deep in the redwoods for a month; he just wasn't up to facing a gaggle of wineglass-holding foodies. We ordered in from a decent neighborhood joint, and we drank beer.
Seriously, though, great pizza (or even pretty good pizza) sings when it's served with wine. National Pizza Day was February 9, but in our minds, it's every day. Why not exploit the anything-goes nature of pizza toppings and do some creative wine-and-pizza pairings at home? With a little advance prep and a trusty pizza dough recipe, you can have a marvelous fancypants pizza night, and what you save on your bill, you can channel into upgrading (or multiplying) your wine picks. It's February, nothing fun is going on…why not invite some friends over and uncork a succession of bottles?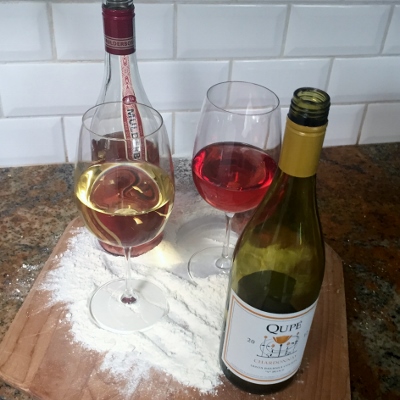 Paste's dynamic duo of food editors indulged in a transcontinental pizza party (Amy in California; me, Sara, in Ohio) and came out with purple teeth, wide smiles, and huge bellies. Here's our menu to get you inspired. Also: you can still pair wine with takeout pizza, if you're feeling lazy and/or have access to a great spot nearby. We're not here to judge.
Caramelized Onions, Arugula and Pecorino Romano with Chardonnay (Amy)
My pizza dough of choice is a very basic olive oil dough from Jeff Hertzberg's Artisan Bread in Five Minutes a Day. Being a vegetarian-tending household, I went with a slightly embellished pie with caramelized red onions, arugula and a little pecorino. Prepared tomato sauce from a good local market was used.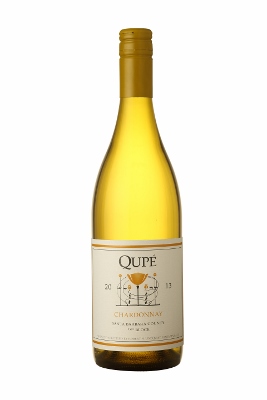 And while admittedly a pizza with raw greens on it is almost always a candidate for a Sauvignon Blanc or a Pinot Grigio, I happened to have a bottle of Qupe Chardonnay ($20) in hand so thought I'd just see what happened. Santa Barbara County produces a lot of good, classically coastal chards, and Qupe's Y Block is definitely one of the tasty ones. A strong Meyer lemon character stands up to the salt and pepper bomb that is arugula and Pecorino Romano—a lusher, more warm-climate style wine would not have fared as well. This was also a very simple pie, though with assertive flavors, and the pairing was better than I thought it might be. Crisp, refreshing, light bodied enough to cut the aggressive greens and salty cheese without dulling it. Friendly to olive oil. A fresh, citrusy bouquet with a little apple and pear action for good measure. This wine would have done equally well with Taleggio and mushrooms, or artichokes, or with chicken, if you're the sort who considers chicken a pizza ingredient.
Melted Leeks and Queso Fresco with Sauvignon Blanc (Sara)
A truly successful at-home pizza night starts with the dough. In a nod to my beloved brother, I like to use Ken Forkish's pizza dough recipe (yes, he of Ken's Artisan Pizza) with a poolish as a starter (from Forkish's excellent Flour Water Salt Yeast), but it's a little slack and unwieldy to work with at times, so Chris Bianco's tried-and-true dough recipe isn't a shabby foundation, either. Whatever recipe you opt for, making the dough about 8 to 24 hours in advance and letting it rise in the refrigerator pays off in both the quality of the pies and in your ability to really relax into your pizza night.
Teeny matchsticks of pearly shredded leek, cooked slowly in a few tablespoons of butter over low heat for twenty minutes (two medium leeks prepared this way will top one 12-inch pizza) are so tender and sweet that you could easily forgo the cheese. A sprinkle of finely chopped fresh thyme before the pie goes into the oven can't hurt, either.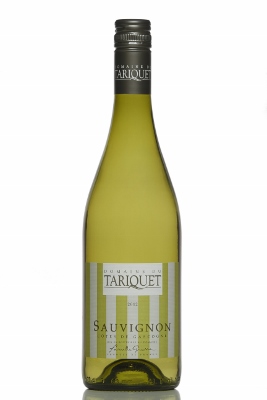 We paired this with a bottle of Tariquet Sauvignon Blanc ($12), a sleek, well-balanced wine from Côtes de Gascogne in France. The hits of mineral contrasted nicely with the unctuous leeks, and the floral notes ushered in a lush, pastoral freshness welcome on a chilly night. I kept on going back to this wine long after the leek pizza was all gobbled up, though I suspect it would have played nice with Amy's Chardonnay, too. (Also, I'm with Amy—chicken has no business on pizza.)
Margherita with Cabernet Rosé (Amy)
Because I am preposterously underinformed about South African wines, I copped a tip and tried a Cabernet rosé from Mulderbosch Vineyards ($14) with the Margherita. Upshot: the pairing was great. Although Cabernet Sauvignon is not my first choice for a pink (my bias is toward pinots and Grenache, but I am nothing if not open minded!) this was a wonderful little wine, with a very aromatic nose that really let the classic-for-a-reason tomato-basil flavor profile sing.



The wine was youthful, refreshing, and light. In fact, this wine was great with a pizza on a winter evening but will be a lot of fun to return to when picnic season rolls around. It's a racy little wine with a lot of blood orange on the nose as well as exotic, earthy aromatics like sandalwood. It can handle assertive vegetal flavors (think salade niçoise) and seafood just as gracefully as a simple pizza. A win.
Red Sauce and Cured Meat (and possibly even kale) with Pino Nero (Sara)
There are a lot of flavors going on with red sauce pizza and its many accoutrements, so you don't want to go with anything too muscular, wine-wise. The unanimous favorite pizza of the night was topped with sautéed kale and little cubes of really great salami (upgrading from crummy supermarket pepperoni to something chewier and less greasy pays off big-time). Salty cured meat, garlicky bitter greens, and a thin layer of tangy tomato sauce all met their foil in oozy blobs of fresh mozzarella. The velvety Abbazia di Novacella Alto Adige Pinot Nero ($25) we enjoyed with this pie played nice with the heft of the cured meat, and its hints of currant softened the intensity of the sautéed kale.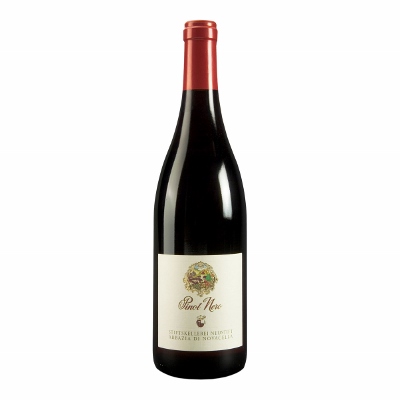 Also, it's Italian, so it makes the whole fancypants-pizza-at-home scene feel more authentic. (And as for that kale: this recipe is a good starting point, though you may want to cut pack on the pepper flakes a bit for pairing with a red wine.)
Amy: Sorry, beer. You still get custody of burrito night, but the Adult Beverage of Italy and France may have just stolen your pizza crown.