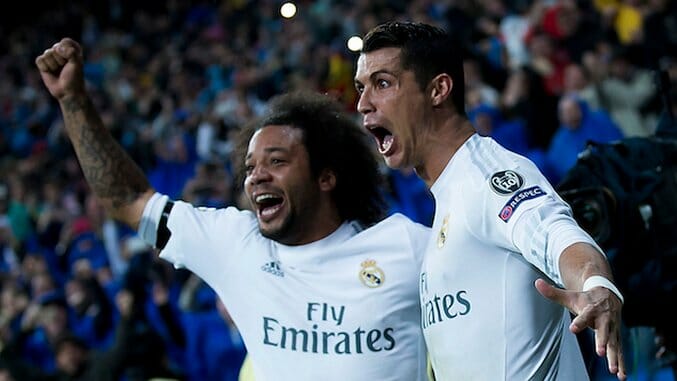 Today, two more teams will book their places in the Champions League semifinals. More than likely those two teams will be Barcelona and Bayern Munich, elite clubs who have more money than God and are probably more popular.
On Tuesday, Manchester City (!) and Real Madrid locked in their semifinal spots. Despite City's status as nouveau riche and Real Madrid's status as…well, Real Madrid, nothing about their respective victories was straightforward.
City had to knock off Zlatan Ibrahimovic and PSG, after all, and it's not usual that one simply knocks off any team involving Zlatan. As human beings slash/forces of nature go who aren't confined to the Marvel universe, Zlatan is up there.
Meanwhile, Real Madrid had to overcome a two-goal first leg deficit against Bundesliga side Wolfsburg. The shocking hole was made by a flat performance in Wolfsburg last week, a performance that brought into question the playing greatness of Cristiano Ronaldo and the managerial talents of Zindine Zidane.
Of course, Ronaldo is otherworldly (he might actually be a super hero) and brought Los Meringues back level in the first 17 minutes (the two goals came a minute apart). He then went on to score one of his patented drop-shot free kicks to a) complete his hat trick and b) put Real Madrid into the semifinals.
If all of that sounds like it would make for great theatre and fodder for the wiles of Twitter, you'd be right! Twitter managed to score a few goals of its own yesterday, when it wasn't marveling over Ronaldo or getting into stupid arguments about whether Ronaldo is better than Messi or a big game player or a robot sent back through time to save Sarah Connor. Sigh.
So, without further ado, enjoy 20 hand-curated Tweets about Tuesday in the Champions League.