Do #WeekendWarriors Receive the Same Health and Physical Benefits as Daily Exercisers?
Photo by iQoncept/Shutterstock
Health
Features
Exercise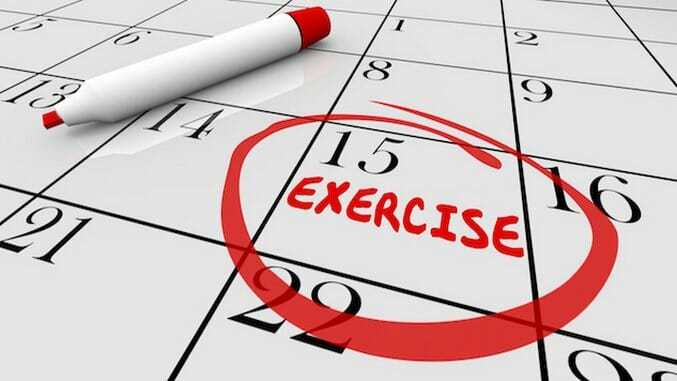 This article is not meant to diagnose or provide medical advice—that responsibility lies with physicians. The author is not a licensed medical professional.
Let's face it—most of us are very busy. Whether it's because you're commuting multiple hours to work each day, working regular late nights in the office, attempting to raise children or balancing a family with a full-time job, there are never enough hours in the day. For many who lead busy lives, exercise is put off until the weekend. And then, it's make up time. As weekend warriors, you may spend two to three hours at the gym both days, train for races or take double fitness classes. But is it healthy? Are you receiving the same health benefits and will you be as physically fit as someone who exercises regularly, five to six days a week? Basically, do workouts roll over?
The short answer is no.
"The problem with weekend warriors is that if you sit on your behind all week and you aren't doing much of anything those days, your body isn't primed to turn on from zero to 100 on the weekend," explains Pamela Peeke, M.D., founder of the Peeke Performance Center for Healthy Living and author of Body For Life for Women. "As you get older, it's not a great thing to throw yourself into high level stress when your body isn't primed to do that. You really have to be careful because you can increase your risk for cardio attack and injure yourself more if your body isn't acclimated to a particular activity. For example, if you haven't run all week and want to do a six miler Saturday, it will be much easier to injure a joint or tendon. You are also not getting the health benefits when only exercising on the weekends."
Something is better than nothing, right? So, even for those who have a lifestyle with very limited time during the week, experts advise that squeezing in 15-20 minutes a few days a week will help improve overall health and fitness. It will also prevent plateaus in weight loss or body transformation, which happen more regularly during limited exercise.
"The duration of your exercise routine matters less than the frequency," advises Jonathan Ross, founder of Aion Fitness and author of Abs Revealed. "If you take five days off, then it is always going to be just two days on, and your body will adapt more to being off than being on. If you have just a short amount of time each day, then do a 10-20 minute workout that is more tiring. Nonstop continuous movement for 15 minutes is plenty challenging."
National guidelines advise that adults either exercise 150 minutes of moderate aerobic physical activity weekly or 75 minutes of vigorous aerobic physical activity weekly. Both should be spread out over multiple days for at least 10 minutes a day. Incorporating short workouts on busy days will provide many of the benefits of exercise, including decreased risk of numerous diseases, increased mental performance, improved sleep, prolonged life expectancy and it even leads to a better sex life.
Shorter daily workouts can take the form of High Intensity Interval Training, commonly known as HIIT, which goes through a cycle of intense bursts of exercise that require 100 percent focus and energy, followed by short, sometimes active, recovery periods. These routines keep the heart rate up and burn more fat in less time. HIIT workouts can be done anywhere, do not always require equipment and many take under 30 minutes.
"What we see in all the new research is that you want to intersperse some brief spurts of intensity or vigorous exercise," says Dr. Peeke, who is also a national representative for the American College of Sports Medicine. "When you do that, you are able to really decrease the risk of disease, and it makes it much easier to stay strong and maintain body composition. The key is to push yourself three times a week with HIIT and the rest with moderate activity."
According to Dr. Peeke, it's not just about incorporating several workouts throughout the week, but also maintaining a level of physical activity everyday. She recommends "assuming the vertical" as much as possible to increase physical activity, especially for those who do not have time for long workouts during the week. Simple changes, such as standing and pacing while talking, or taking the stairs instead of the escalator or elevator, will enhance the metabolic process throughout the day.
"Look for little opportunities to do things during the day," suggests Ross, who is also a representative for the American Council on Exercise. "If you can, close your office door, do 10 squats off your office chair. Look at the world as opportunities to move instead of not move. And begin to examine your everyday surroundings and things you encounter as opportunities to create movement and strengthening opportunities. Whatever you love about life, whatever you are most interested in, whatever you care about the most, you will get more out of them and you will enjoy them more fully when you are exercising regularly and are fit."
So, next time you see someone hashtagging #WeekendWarrior for a Sunday triathlon after they spent the week sharing mouthwatering ice cream and #NetflixAndChill snaps, don't feel like a failure because you've just spent the week doing short bursts of exercise ever other day and didn't close it out with some ridiculously rigorous one-off workout. Keeping up your exercise in the ever-moving world in which we live is the real achievement.
Gia Miller is a health and wellness writer living in Katonah, New York.