Holistic Travel: These Hotels Help You Shape Up for Summer
Top Image Courtesy of AAlonzi
Health
Features
Fitness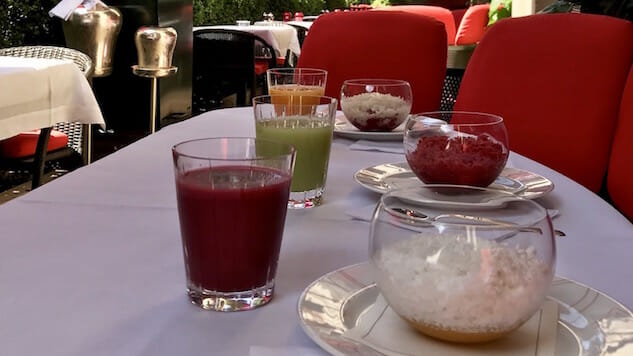 Winter always gets a bad rap as a season where packing on the pounds seems inevitable, from the moment Thanksgiving feast hits the table to the time you're indulging in spiked eggnog or fondue on the slopes. While January 1st may signal the start to a new year—and diet—all of this hard work seems to wash away the second summer rolls around. In an article in this month's Shape magazine, author of The Small Change Diet, registered dietician nutritionist Keri Gans, explains how she is seeing a trend toward women putting on more pounds during this "party season" than during the winter holidays. "September is the new January—the month people try to take off the weight they put on," she states. Barbecues, beer and beachside parties are just a few factors to blame.
"Generally people start losing weight in summer as it is easier to eat lighter meals such as salad again. However, when the summer holidays come along, there is a trend of weight gain," explains registered dietician Kim Hofmann. "I find during this time people don't want to have to think about eating healthy, and want to be 'off' everything, including diet and work. It is a time for fun, and how much fun is it to be eating healthy?"
While you can still let loose in summer sipping rosé while lounging on a beach in the South of France, or sampling decadent truffle-filled pastas and creamy scoops of gelato while roadtripping through Italy, not all of your daily diet and exercise routines have to go the moment you're on vacation mode.
Luckily, hotels are taking notice of travelers' needs and honing in on health, making it simple to stay fit during summertime travel while still indulging in the best a destination has to offer. The recently revamped Hotel Es Vivé Ibiza, for example, is now dubbing itself the party island's "healthiest hotel," with a new 24-hour balance package that blends 12 hours of "pretox" (think rooftop cocktails and late-night dancing at one of the island's legendary clubs) with 12 hours of detox the following day.
"The trend toward health-focused hotels is a true sign of the times and a natural progression of Ibiza's tourism," explains owner Jason Bull. "Ibiza lovers of 20 years ago still want to spend time on the island, but they have a more health-conscious outlook on life—and a bigger budget. They want to indulge, but they also want to look after themselves. Ibiza fans are growing up and Hotel Es Vivé, along with many of the other leading hotels, are embracing the evolution."
Following a $2.85 million renovation two years ago, Hotel Es Vivé has repositioned itself as the "Art Deco haven for health-conscious hedonists," with everything you need to stay fit on the road, from Pilates and kundalini yoga classes to a juice bar and locally sourced menu. Not only does the newly extended sky roof serve as a prime place for practicing sun salutations, it's also home to the island's first and only Prosecco bar. So after an evening of bubbly, you can sweat out the toxins the next day with a yoga session, spa treatment and detox cocktail of the ginger and green apple variety.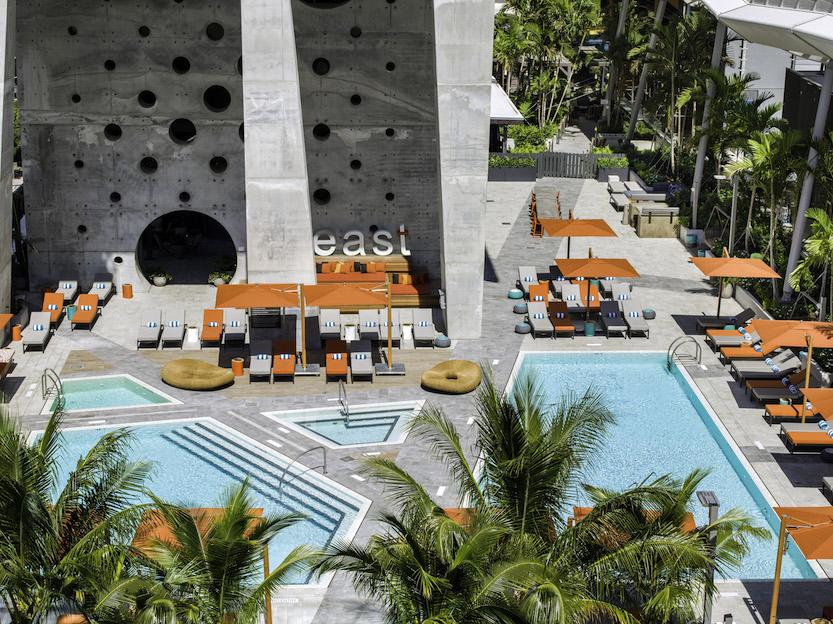 Image: Courtesy of EAST, Miami
In the U.S., hotels like EAST, Miami are partnering with top boutique fitness studios like Equinox to offer rooftop sweat sessions, ensuring travelers keep their bikini bodies all season—and year—long. Dubbed BEAST (Body by EAST), the free, two-hour outdoor fitness series takes place one Sunday per month on the fifth floor deck, wrapping up just before brunch begins.
A Sunday staple known for being quite indulgent (and calorie-laden), brunch at EAST, Miami's Latin American eatery, Quinto La Huella, can be as decadent as you'd like, whether you opt for the egg white omelet with kale and goat cheese or dulce like the apple pancakes with Chantilly cream. And if you really want a summertime indulgence, follow the whole "detox to retox" mentality, topping off brunch with bottomless rosé.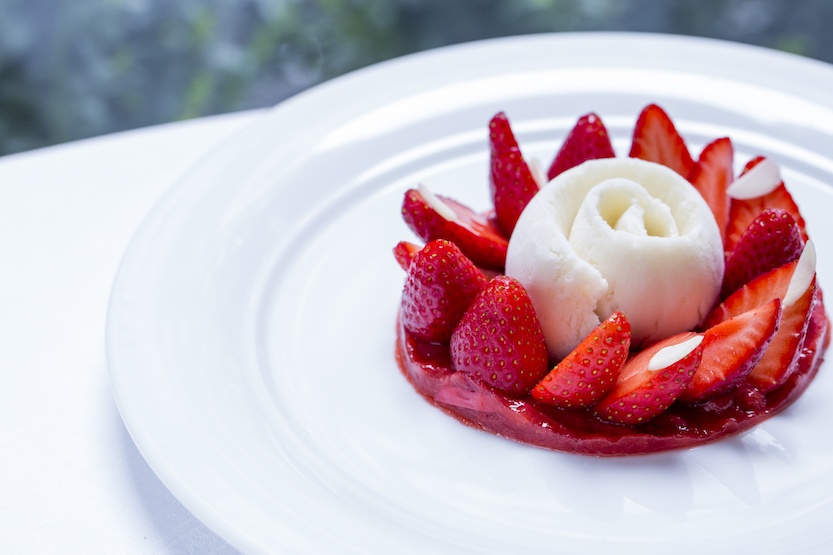 Image: Courtesy of P. Monetta
Some may argue that food is the key to truly experiencing a destination. Can you really visit Madrid without trying cured jamón ibérico and tapas? Or Paris without eating your way through the city's boulangeries, fromageries and patisseries?
At the legendary Hôtel Plaza Athénée in Paris, guests can have their cake and eat it too this summer in the form of light, low-calorie desserts. Take a seat on La Terrasse Montaigne, which spills out onto the haute couture shopping street, and sample one of the seasonal sweets that allows travelers to savor the best of the city's pastries sans the heavy calories. The hotel's pastry chefs have partnered up to craft the new menu (with desserts clocking in as low as 70 calories) that's just as chic as the spot it's served in. Think strawberry compote, confit of exotic fruit, and lychee granita sitting delicately on a bed of raspberries.
This new menu is one way to keep calories in check, but according to Hofmann, the main thing to keep in mind while on vacation is listening to your body. "It is important to remember that during holidays, your eating routine will change, but no matter how hotels cater, you can always find a healthier option," she says. "And the key is portion. You don't have to eat everything on your plate."
---
Lane Nieset is Paste's Jet-Set Bohemian columnist and a freelance writer covering all things travel from her home base in Nice, France.