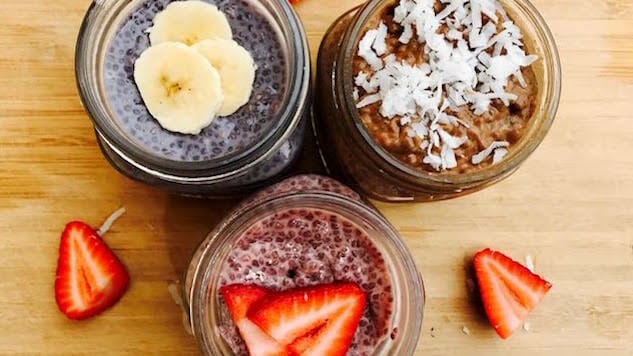 I'm guessing pudding may not be on your fitness food radar, or even come close to your idea of workout fuel. But I'm not talking about the artificially colored powder that comes in a 3 ounce box, or a little plastic cup with a foil wrapper. You remember; the kind your mom served as dessert after you ate all your meatloaf.
As great as pudding cups were and still are, they have little nutritional value. Fortunately for the fitness-minded, there is a way to transform this empty-calorie snack into a nutrient-packed powerhouse. Chia seeds provide a modern spin on this old classic. These little things can absorb ten times their weight in water—making them incredibly hydrating and filling. Just two ounces has more calcium than a cup of milk, over twice the amount of omega-3s than six ounces of salmon, and nearly all of the fiber you need in a day. Considering they're also a great source of plant-based protein, a daily serving goes quite a long way.
Chia seed's popularity got a boost in the bestselling book, Born to Run, which publicized their significance in the diet of the Tarahumara Indians, a tribe of super-athletes known to run hundreds of miles at a time. The book highlights chia seeds for their energy-boosting and healing powers, and probably saved them from going down in history as the hair on a fake pet.
The uses for chia seeds are about as endless as their list of health benefits. They quickly form a gel substance when soaked, making them a great egg substitute for vegan cooking. Their mild flavor makes them an easy addition to thicken sauces, or add more protein, fiber, and antioxidants to recipes.
Chia seed pudding isn't new—it's widely featured throughout social media—but you may not be aware of just how many options there are, or the fun and variety it can bring to healthy eating. The seeds will absorb any flavor you choose, as long as you have the right liquid-to-seed ratio. Soak them in homemade strawberry juice, your favorite green smoothie blend, or coconut milk mixed with chocolate cacao powder.
The simplicity of chia seed pudding—on top of its impressive nutrition profile—makes it an obvious choice for a quick breakfast or snack. I know I was excited to re-introduce pudding to my life, and the fact that it's nourishing at the same time is very good news.

Ingredients:
-½ cup chia seeds
-2 cups coconut milk
-¼ cup cacao powder
-¼ cup maple syrup
-½ tsp vanilla, optional
Directions:
-Combine all ingredients in a bowl.
-Refrigerate in air-tight container 3-5 hours, or overnight.
-Stir well to break up any clumps.
-Topping ideas: cashew cream, coconut whipped topping, coconut flakes, fresh fruit
---
Ashley Sigmund is Paste's Recipe for Fitness columnist. She is a Denver-based dietitian promoting wellness through whole foods and plant-based nutrition.