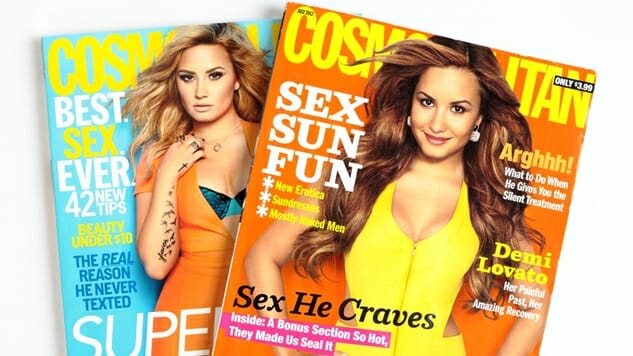 My title may seem a bit extreme, but I'm just following Cosmopolitan's lead. Elizabeth Narins wrote an article that could have been an interesting and thoughtful piece about a woman struggling with cancer and the subsequent complications that she endured—but instead, the author framed it in about as clueless a manner as possible, as this was the title of her article:

After evoking the internet's outrage, it has since been changed to "A Serious Health Scare Helped Me Love My Body More Than Ever." If you're thinking that perhaps this title was simply the work of an overzealous editor hungry for clicks, here was the second to last sentence in the piece:
Simone's weight loss success is proof that ANYONE can lose weight without breaking a sweat simply by eating more mindfully—no gym required.
I say was because it has since been cut too, but a Google search of the phrase still turns up the article.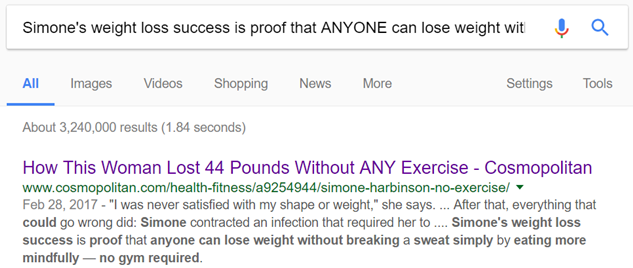 Much of the piece has been cut or altered since its initial publication, but you can view the original post here. It's hard to tell whether this was more insane or insulting. It's primarily a story of Simone Harbinson's struggle with a rare form of cancer, but this battle is viewed through the lens of weight loss and body image issues, and it produces juxtapositions of powerful passages like this:
After that, everything that could go wrong did: Simone contracted an infection that required her to be quarantined; a partial lung collapse left her wearing an oxygen mask; internal leakage led doctors to insert a temporary drainage pocket into her back; and a blood clot complicated her intravenous catheter.
Connecting to ones like this a few paragraphs later:
After her surgeries, though, Simone describes her eating as even more erratic. Her binges became more frequent. She'd walk every few days for fresh air, but that was the extent of her workouts. So it came as no surprise when excess weight piled on. "I just wasn't in the right mindset to do anything," she says. "I really struggled most days to comprehend what I had been through."
So though Cosmo's lens in this article, cancer was initially a problem insofar as it negatively affected her diet. The implication behind the piece is that even when women are literally fighting for their lives, they still should feel pressured to conform to America's impossible beauty standards. The thing that makes this column so enraging is that it is a powerful and gripping story of a woman struggling with cancer and the obstacles that arose from it. It's actually really good if you completely remove the angle about weight loss. This passage is harrowing:
Feeling like she had to be strong for her family after everything they'd been through, but simultaneously unable to function, Simone remembers calling her father from the floor of her bedroom—a literal call for help. "I was in a really dark, scary place," she says. He encouraged her to seek mental-health treatment, at which point Simone was diagnosed with post-traumatic stress disorder triggered by her cancer diagnosis.
HOW THE FUCK IS THIS A COLUMN ABOUT WEIGHT LOSS?!?!?!?
This is particularly enraging to me, as I lost my mother to cancer, and I saw how it affected her weight—and no one in their right mind would say it was healthy, yet that's how this saga is framed. Harbinson experienced a litany of problems and spent much of her time in a hospital, which lead to a new diet, and that is primarily how she lost 44 pounds. The cynical former title implies that she made a choice in order to lose that weight, when the story reveals that it was anything but.
Now, some of you may say that I'm expecting too much of Cosmopolitan, and that vacuous bullshit like this is something we should come to expect from them, but that is trafficking in the same cynicism and sexism as the angle buried in this awful column. As Lauren Duca has demonstrated with her amazing work over at Teen Vogue, these magazines which have the reputation of solely focusing on women's fashion tips can be and have been so much more than that. Hell, Cosmo has done capital-J journalism itself—like when Prachi Gupta grilled Ivanka Trump on her father's child care and maternity leave plan during the campaign. I'm not sure that I saw or read another interview with any member of the Trump camp that was more focused on policy than that one.
Which is why this "Cancer is the Secret to Losing Weight" column is so insulting. It confirms so many biases that so many good journalists at places like Cosmo fight through every day. It's one thing to write a clickbait title—that's a fact of life in this business—but it's quite another to frame a true story in such a disingenuous manner, and even more so when that angle plays in to stereotypes that people throughout their besieged industry fight back against every single day.
Jacob Weindling is Paste's business and media editor, as well as a staff writer for politics. Follow him on Twitter at @Jakeweindling.