What Does It Say About the Media When They Flock to Photograph a Small Flame Contained within a Trash Can?
Photo by Aaron P. Bernstein/Getty
Media
Features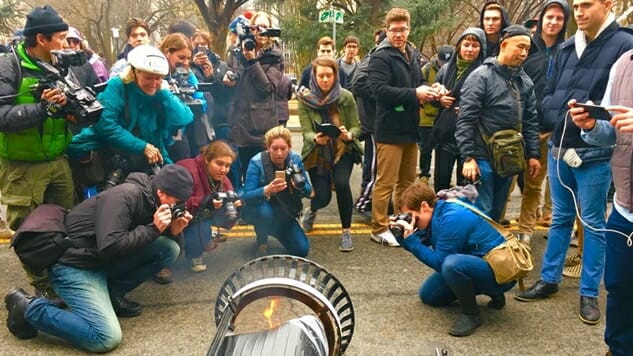 Ok, I get it. Your editor wants some visuals of the protests in D.C following the inauguration of our new president. If there's pepper spray being shot into someone's eyes, or a boom from a sting ball grenade, maybe you should have a photo or video clip of that, or the aftermath. If people are helping each other up after being stampeded or white nationalist leader Richard Spencer gets randomly punched on camera, that's worth it.
But a trash can? This photo has been floating around social media all weekend, taken by a reporter who decided to go meta on it all.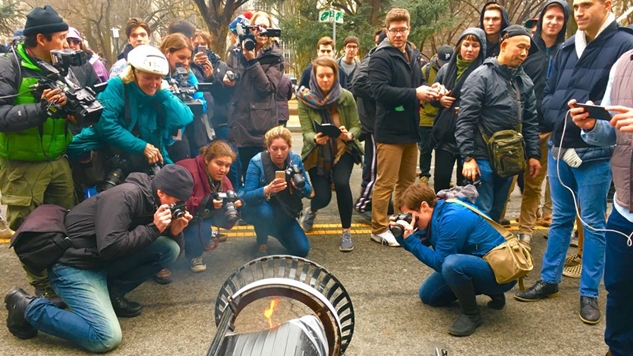 Photo by Evy Mages
A broader look at some trash can burning:
Trash can burning up the street from where protesters smashed in Starbucks store windows earlier today pic.twitter.com/iFEPKzPoeM

— Colleen Hagerty (@colleenhagerty) January 20, 2017

A small portion of DisruptJ20 marchers lit some trash cans and other usually stationary objects near the Washington Post office Friday afternoon, leading to the trending "13th and K Street," on Twitter. In the photo, and from a tweet from BuzzFeed video producer Dorsey Shaw, you can see that dozens of reporters are huddling to get a good shot of a tipped over trash can with a rapidly extinguishing flame.
This is one of the saddest things I've ever seen on this website and that's saying a lot pic.twitter.com/XlZ1qhJdpc

— Dorsey Shaw (@dorseyshaw) January 20, 2017

A few bystanders look amused. The Washingtonian made some very wise points about the searches for metaphor (aka via bad photojournalism).
Some journalists are digitally rolling their eyes.
any good coverage from the protests that aren't 20 reporters standing around the same burning trash can?

— Kelsey D. Atherton (@AthertonKD) January 20, 2017

At least other people went to photograph the burning limo. Interim D.C. Police Chief Peter Newsham said a total of 217 people were arrested during incidences of violence during the protests, and were charged with rioting. Six officers sustained minor injuries.
Hundreds of other photographers took excellent photos. Matt Pearce of the Los Angeles Times tweeted out this photo of a limo burning with the words, "We the People" scrawled onto the side.
Someone set the limo on fire. pic.twitter.com/y4AFr5HNjk

— Matt Pearce (@mattdpearce) January 20, 2017

Another photo, from Reuters photographer Adrees Latif, shows a police officer falling to the ground as another pepper sprays protesters. This photo, by Bryan Woolsten for Reuters, shows African American protesters in fake chains linking arms near the entry point to the Trump inauguration. There is depth, controversy, and questions that arise to each on of the images mentioned.
Great protest photography should say a lot more than a close up of a flame burning someone's subway ticket at the bottom of a trash can. This is the sort of thing that gives journalists and photographers a bad rap. Online, trolls were mocking the reporters, and they're not in the wrong.