The warmer months are a prime vacation time for many. In fact, as we delve deeper into summer, some of us may be reserving a seaside hotel, planning a road trip or booking an international flight. Whether or not you've got an exotic vacation planned, you can imagine your own summer escape by watching some picturesque films. Here are a few movies whose idyllic settings would make excellent vacation spots:
1. Forgetting Sarah Marshall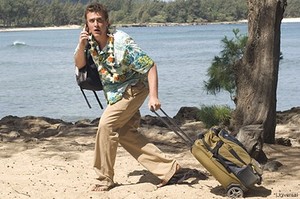 Jason Segal takes a Hawaiian vacation to put thoughts of Kristen Bell out of his mind, and we can pretend we're the ones forgetting our troubles as we enjoy the film's tropical setting. The movie was filmed at Turtle Bay Resort on O'ahu Island, the site of numerous Hollywood films. If its impressive client list doesn't win you over, check out some photos of the surrounding beach and accommodations. If you want to hang out at the beach virtually, Turtle Bay even has a webcam feed that faces Kuilima Cove and the resort's East side.
2. Mamma Mia!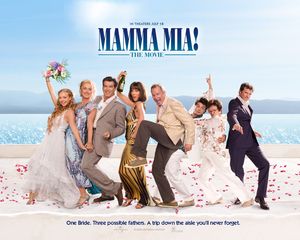 Besides song-and-dance numbers featuring Pierce Brosnan and Meryl Streep, Mama Mia! also features the sun-drenched sands and glistening waters of Greece. Visit the beautiful city Skiathos, which offers plenty of restaurants, shopping and activities (you can take a water taxi around the island). Or maybe you just want to lounge on the beach listening to Abba on your headphones. Afterwards, you can return to your room at the Atrium Hotel, which has a balcony with a sea view and costs about $160 a night.
3. Marie Antoinette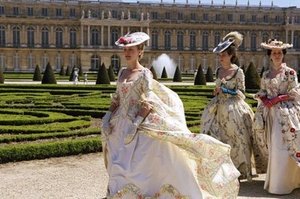 Sophia Coppola's lavish period film features the stunning Palace of Versailles. Minus the controversy surrounding Antoinette, sightseeing at the ornate palace would be an awesome way to spend a week off. Get a ticket to tour the palace or see the Musical Gardens. Admission to the permanent collections at Versailles is free for those under 18, and certain tours are free on the first Sunday of each month between November and March. Between munching on macarons and soaking in the sophisticated atmosphere, you can return to your comfortable bed and breakfast or enjoy some french cuisine at a local restaurant nearby.
4.Midnight in Paris


Because who wouldn't want to take a trip to Paris and hang out with icons like Hemingway and the Fitzgeralds? The quintessential European destination is teeming with culture. Dine at Le Grand Vefour, the restaurant where Gil meets Earnest Hemingway for the first time, or take a day trip to Giverny, where Claude Monet had his garden and home. Some of the hotel scenes in the film took place at Le Bristol Paris, a hotel at the heart of Paris' fashion and arts district. For a more warm, homey feel, there's always B&Bs like La Villa Paris, which is near public transportation but tucked away from crowded tourist areas. You may not be able to time travel to the 1920s and become chummy with Hemingway, but you will be able to experience some memorable sights and cuisine and maybe read some The Sun Also Rises.
5. 50 First Dates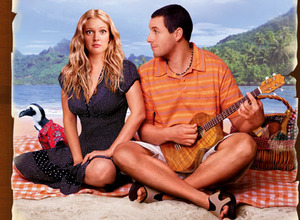 This Adam Sandler flick may follow the typical rom-com formula, but its sunny Hawaiian setting is nothing to scoff at. Also filmed on location in O'ahu, 50 First Dates boasts an envious backdrop. Unlike Sarah Marshall's Turtle Bay, this movie setting is more tiki-hut fun than big-scale luxury, but it's beautiful nonetheless. Enjoy yourself at the Moli?i Gardens Gardens or take a day trip to beach town Kailua.
6. The Lord of the Rings Trilogy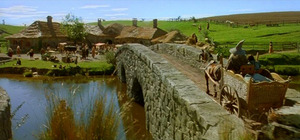 Obviously disregarding Mount Doom and other such life-threatening areas of Middle Earth, Lord of the Rings settings like the Shire and elven outpost Rivendell would be breathtaking to visit. The series was filmed in New Zealand, so we can be assured that the views would be breathtaking. In fact, you can even take guided tours where you can visit Lord of the Rings sites such as Hobbiton, Edoras or the Misty Mountains. Wellington, New Zealand's capital, is known for its arts, culture and beauty. Kick back at Oriental Bay, the city's beach and waterfront walk. Or for the more active traveler, take a walk on the Makara Track, a 3.7-mile loop that hits some stunning vantage points. You won't be seeing any furry-footed Hobbits, but you will be able to take in some of New Zealand's natural beauty.
7. Pirates of the Caribbean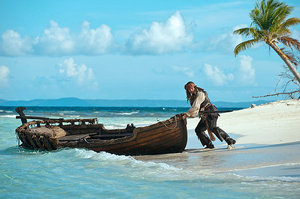 Maybe it wouldn't be so great to take a cruise on the Black Pearl, but the tropical islands the cast often finds themselves on wouldn't make too shabby travel destinations. Many of the scenes from Pirates were filmed on-location in Dominica, an island along the Eastern Caribbean archipelago. Go for a dive and explore sea vents, coral reefs and sea turtles. Hiking is another popular activity, and the island is full of nature trails that pass through rain forests and waterfalls. Adventurers won't even need to cut away the underbrush with a pirate sword. You won't have to sleep in a ship either, and can instead opt for a room like the ones at Cocoa Cottage, a colorful Guest House nestled in the rainforest. Where's the rum?
8. the Harry Potter movies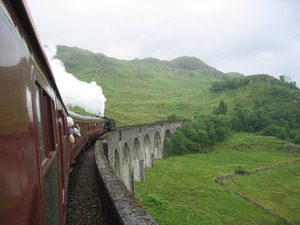 Riding the Hogwarts Express, exploring the castle, lounging by the Great Lake, visiting Hagrid's hut, practicing magic: Hogwarts has much to offer for the curious traveler. However, we Muggles will have to make do with visiting some of the franchise's filming locations, such as the famous King's Cross Station or the sleek Millenium Bridge (which was destroyed by Deatheaters in Harry Potter and the Half-Blood Prine). Visit Alnwick Castle, which was used for many of the exterior shots of Hogwarts in the first two films, and if you want to dine like a Gryffindor, check out the University of Oxford, the inspiration for the Great Hall. You can also tour the Warner Bros. Studio in London and get a behind-the-scenes look at sets, costumes and props, like Dumbledore's office and Harry's Nimbus 2000. Or, if you want to travel a little closer to home, you can always enjoy some butterbeer over at the Wizarding World of Harry Potter at Universal Orlando.
9. Amélie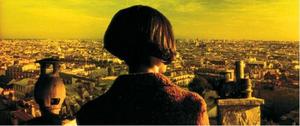 Paris is often romanticized as an incredible city to visit, and Amélie's vibrant and saturated setting makes it seem even more desirable. Amélie lives in Paris' Montmartre neighborhood, an area long favored by artists. In quirky Amélie fashion, you may want to stay at the retro-style Hotel Regyn's near the Place du Tertre and the Sacre-Coeur (the place where Amélie drew blue arrows on the ground to lead Niro to his photo album). The impressiveness of Paris' monuments goes unsaid, but be sure to check out the Montmartre Carousel, which makes an appearance towards the end of the film, and the Café Les Deux Moulins, the art deco eatery where Amélie works.
10. Breakfast at Tiffany's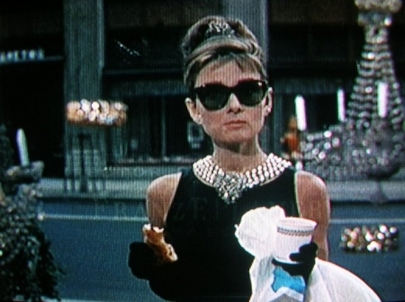 New York City is atop many a vacation list, and this Audrey Hepburn film makes Manhattan's swanky East Side seem unmissable. The first stop is the most obvious: the Fifth Avenue Tiffany & Co. featured in the film's opening scene. After you've stopped there—and maybe nibbled on a pastry—be sure to take a look at Holly Golightly's 2,880-square-foot apartment on East 71st Street. If you don't want to drop $600 a night at the famous Plaza, consider less expensive options such as the Americana for $98 or Mayfair New York for $119. Take a New York TV & Movie Sites Tour to see more iconic sites (like the coffee shop from Friends).