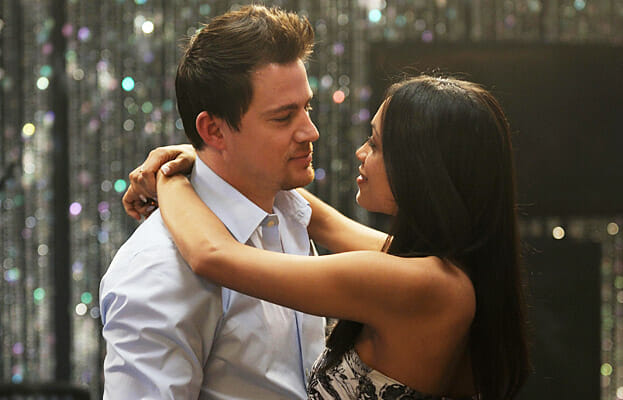 2012 has been Channing Tatum's year. After making ladies swoon with the unabashed romance The Vow, he revealed he has comedic chops as well in 21 Jump Street. Then he put on a producer's hat—and took everything else off—for Magic Mike, a wildly successful collaboration with director Steven Soderbergh, loosely based on Tatum's own short stint as a stripper. His very first project as a producer, though, was this ensemble drama centered on a high school reunion directed by first-timer Jamie Linden, who penned another unabashed romance starring Tatum, Dear John.
10 Years bears many of the hallmarks of your standard reunion movie (including American Reunion, the American Pie sequel released earlier this year): Tatum plays Jake, the high-school stud nervous about seeing his first love Mary (Rosario Dawson) again, despite the fact that he's ready to propose to Jess (Tatum's real-life wife and Step Up costar, Jenna Dewan-Tatum). Marty (Justin Long) breezes in from New York City, but his Wall Street lifestyle may not be all that he claims. AJ (Max Minghella) reprises his not-so-friendly competition with Marty for the attention of party girl, Anna (Lynn Collins).
Meanwhile, Reeves (Oscar Isaac) is a bona fide rock star now shyly making his move on his high-school crush, Elise (Kate Mara). Cully (Chris Pratt) is on a mission to apologize to all the classmates he bullied; his one-time-cheerleader wife Sam (Ari Graynor) watches on in horror as he reverts to his douchebag ways. And Garrity (Brian Geraghty) has changed in a manner that surprises both his classmates and his wife, Olivia (Aubrey Plaza).
Writer-director Linden, predictably inspired by his own high-school reunion, didn't so much write a script and cast it as develop roles with the actors who would play them, a process that played to the performers' strengths: Tatum is sexy and sweet (again), but Pratt particularly is at once hilarious and honest—"You don't have to pretend to like my kids," he says—a buffoon whose antics reveal a sobering truth about the effect of his teenage antics. And Linden reveals these characters' backstories and motivations not through extensive exposition but by pushing them together and watching how they interact, his camera moving fluidly throughout the room, pausing here, then there, to capture the storylines as they develop.
The concept isn't especially original, and the answer to the central mystery—what happened between Jake and Mary?—is a bit anticlimactic. But the movie does speak to a universal experience and is well enough executed to satisfy the date-night crowd—a modest yet respectable first chapter of Channing's producing career.
Director: Jamie Linden
Writer: Jamie Linden
Starring: Lynn Collins, Jenna Dewan-Tatum, Rosario Dawson, Brian Geraghty, Ari Graynor, Oscar Isaac, Ron Livingston, Justin Long, Anthony Mackie, Kate Mara, Max Minghella, Aubrey Plaza, Scott Porter, Chris Pratt, Channing Tatum
Release Date: Sept. 14, 2012