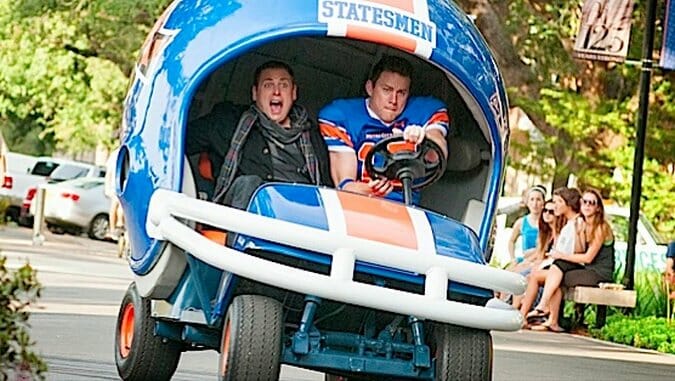 There wasn't necessarily reason to attach a lot of expectations to 2012's 21 Jump Street, but the irreverent and self-referential reboot of the same-named, late-1980s TV series that helped launch the career of Johnny Depp delved into young male anxieties and issues of adolescent-adjacent friendship with considerable aplomb. Its sequel, 22 Jump Street, even more fully embraces and explores masculine relationship dynamics, while also wittily working over like a heavyweight's speed bag Hollywood's empty-headed love of franchising. Abundant in charm and loose-limbed energy, it's a guaranteed crowd-pleaser, possessing everything one wants from a big Hollywood studio action-comedy.
Following the success of the clandestine 21 Jump Street program that saw them take down a high school drug ring, partners Morton Schmidt (Jonah Hill) and Greg Jenko (Channing Tatum) are busy working narcotics cases when a local college student's death prompts Deputy Chief Hardy (Nick Offerman) to once again send them undercover. Hardy advises Schmidt and Jenko to do the exact same thing that they did last time (part of the film's tongue-in-cheek skewering of sequel culture), and Captain Dickson (Ice Cube) provides the pair with a ready-made link to whom they believe to be the prime suspect.
Naturally, things get a bit more complicated. During the course of their investigation, Schmidt develops a sexual relationship with Maya (Amber Stevens)—who has taken in as her living partner Mercedes (a winning Jillian Bell), the oddball ex-roommate of the aforementioned overdose victim—but he has trouble adjusting to Maya's casual, no-strings-attached attitude. Schmidt also has problems dealing with Jenko's burgeoning bond with football players Zook (Wyatt Russell) and Rooster (Jimmy Tatro). As they work to solve the case, the pair's closeness is again tested.
Much fun is had with college culture (quick-hit riffs on dorm decorations, co-ed bathrooms, slam poetry and early-morning, cross-campus "walks of shame"), as well as Jenko's dim-bulb status (he confuses Cate Blanchett with the expression "carte blanche") and Schmidt's decidedly non-youthful appearance. But the characters' core personality differences and the rift that it feeds ("Maybe we should … investigate other people," suggests Jenko) is again at the nucleus of this comedy. This means hearty helpings of humor centered around people mistaking Schmidt and Jenko's relationship for something more than platonic, but it is also cannily mirrored in a pair of twins (Keith and Kenny Lucas) who live across the hall in their dorm. In much the same fashion that Superbad was in significant ways a young male love story about the surging apprehensiveness surrounding forced separation from a best friend, so too is 22 Jump Street a movie that delights in articulating oft-unspoken male feelings.
To this end, the film's first point of contact and connection is naturally as a vehicle for Hill and Tatum, who again evince a great rapport. With less committed actors, this concept doesn't fly. But returning co-directors Phil Lord and Christopher Miller, the team also behind the wickedly fun and smart The Lego Movie, have an innate knack for mixing hijinks and comedy, and their whip-smart pacing is the fuel that powers 22 Jump Street.
Yes, there's a certain shagginess as the movie winds toward an action-oriented conclusion that contorts to include perhaps a few too many characters. But the screenplay, by Michael Bacall, Oren Uziel and Rodney Rothman, is otherwise quite strongly structured, and anchored throughout by strong joke writing that remains true to the established nature of its characters while also getting in some raucous meta digs. In today's day and age, it's thrilling to see a mainstream comedy that juggles a lot of genuine ideas and maybe half-fumbles one or two of them rather than suffer from a lack of anything to say. Grading on a curve? Maybe a bit, but that's part of college life, too, right?
Brent Simon is a regular contributor to Screen Daily, Paste, Magill's Cinema Annual and Playboy, among many other outlets, as well as a member and former three-term president of the Los Angeles Film Critics Association. You can follow him on Twitter and on his blog.
Directors: Phil Lord, Christopher Miller
Writers: Michael Bacall, Oren Uziel, Rodney Rothman (screenplay); Michael Bacall, Jonah Hill (story)
Starring: Jonah Hill, Channing Tatum, Amber Stevens, Wyatt Russell, Jillian Bell, Keith Lucas, Kenny Lucas, Jimmy Tatro, Nick Offerman, Ice Cube, Peter Stormare, Rob Riggle, Dave Franco, Marc Evan Jackson, Patton Oswalt
Release Date: June 13, 2014