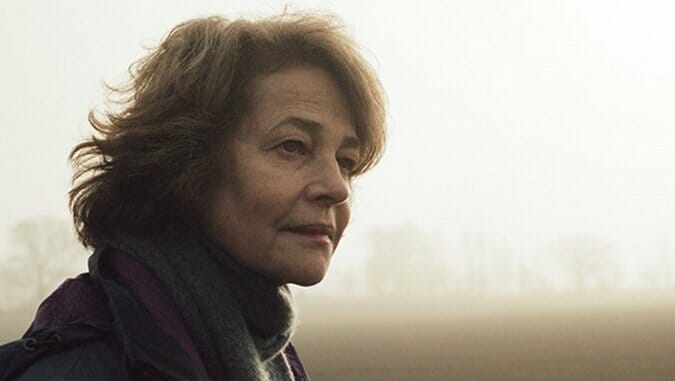 Sometimes it's better not to ask, sometimes it's better not to know. For the married couple at the center of 45 Years, the introduction of a person from 50 years ago ends up becoming a ghost in their lives. Like most long-term relationships, the characters in this stripped-down drama are haunted by things from the past that we can't see, can only infer. But in 45 Years, those invisible presences seem to walk the rooms, silent but perceptible.
Based on a David Constantine short story, and written and directed by Andrew Haigh (who previously made the 2011 romance Weekend), 45 Years spends a week with Kate (Charlotte Rampling) and Geoff (Tom Courtenay) as they're about to throw a party for their 45th wedding anniversary. Theirs appears to be a loving, well-worn life together, and to most of us, it seems enviable: They have a beautiful home on a sprawling lot out in the country, and they seemingly don't have a care in the world. He had heart surgery five years ago, but all in all nothing too traumatic has visited their marriage.
And that's when Geoff is shocked by a letter informing him that Katya, a woman he dated long before Kate, has been found. He and she had been hiking the Alps when she fell to her death, her body missing for half a century. Kate has a vague memory of this woman's existence—that was long before she started dating Geoff, and she never met her—but the letter seems to bring about a change in both of them. Geoff is suddenly a touch more distant and withdrawn. And that makes Kate suspicious of what went on in the past before she and Geoff were a couple. (And although it's never mentioned, even the similarity in the names Kate and Katya feels like too much of a coincidence for Kate, who starts silently comparing herself to Geoff's old flame)
An intimate drama consisting mostly of scenes between the two, 45 Years turns its title into a testament and a weight. The decades accumulated between Geoff and Kate have created a reserve of deep feeling and affection, but the presence of Katya's memory makes the marriage start to feel like a long-running burden, a dull routine in contrast to the unknown romance that transpired between Geoff and Katya, whom (Geoff admits) he would have married if she hadn't died.
Consequently, 45 Years, which is told from Kate's perspective, is a meditation on learning to live with the things you can't forget. If she was a different person, perhaps she wouldn't let this letter, and her husband's reaction to it, so unsettle her. But after so many years married to this man, she can only be herself, and that comes with it an uneasy acknowledgement of her dissatisfactions with Geoff—and perhaps the feeding of a long-existing worry that she wasn't enough for him. The more he insists there's nothing to his thoughts of Katya, the more she distrusts it, especially when she catches him in the middle of the night going into the attic to find an old photo of her.
At its very best, 45 Years delineates the invisible nuances of marriage, how subtle changes in behavior can hint at larger concerns and emotional disruptions. The actors are models of restraint, revealing little about how their characters are feeling but expressing much on their faces. (For Rampling, it's dissatisfaction and worry. For Courtenay, it's a vague bewilderment, as if Geoff checked out of life a while ago.) And because Haigh doesn't spell out what went on between Katya and Geoff, 45 Years is ripe with quiet ripples of unspoken guilt and uncertain questions. Is Geoff hiding something? Is Kate reading too much into his silences? As they get ever closer to their 45th wedding anniversary, are they reaching an impasse? Or is it just a natural evolution in a relationship that's always in the midst of ebbs and flows—in a relationship like any other that's lasted so long?
As beautiful and delicate as 45 Years is, it is somewhat disappointing that Haigh eventually reveals a secret that changes our understanding of the past. And while that reveal is nicely done, it nonetheless feels a bit like a letdown, creating a concrete way to feel about these characters as opposed to the nicely ambiguous mystery that Haigh and his cast had orchestrated earlier.
Which is not to say that the film's ending isn't sufficiently moving. Perhaps predictably, 45 Years is building to a finale at the anniversary party in which everything that's been dredged up over the course of the film will be resolved in some way. That is what ends up happening, but not in a way that's expected. Marriages that go on for 45 years have their ups and downs. But the last few moments of 45 Years suggest that they can also have their clearly marked moments of catharsis.
Director: Andrew Haigh
Writers: Andrew Haigh (screenplay); David Constantine (short story)
Starring: Charlotte Rampling, Tom Courtenay
Release Date: Screening at the 2015 Toronto International Film Festival
---
Tim Grierson is chief film critic for Paste and the vice president of the Los Angeles Film Critics Association. You can follow him on Twitter.