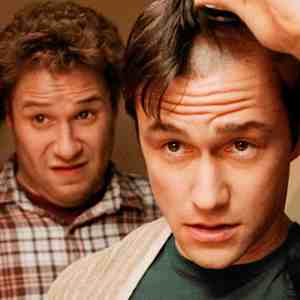 Drawing on his personal experience as a young cancer survivor, first-time screenwriter Will Reiser, who met producer-star Seth Rogen on the set of Da Ali G Show, crafts a funny and poignant portrait of the disease. His protagonist Adam (Joseph Gordon-Levitt) is among the unlikeliest of victims—a 27-year-old runner who works at National Public Radio and resists his diagnosis because, as he tells his doctor, "I don't smoke. I don't drink. I recycle." Yet 50/50—the odds he's given for survival—is as much about Adam's struggle back to life as how his illness touches those around him, for good and for bad.
Back pain prompts Adam to get a checkup. (He's insured, apparently, so financing his ordeal is not an obstacle in this particular story.) His doctor won't make eye contact as he rattles off his diagnosis in unsympathetic jargon: There's a tumor lodged along Adam's spine. As shocked as Adam is at the finding, breaking the news to his loved ones is almost as difficult, and Reiser mines humor from how everyone around Adam reacts badly to this information.
His oppressive mother (Anjelica Huston), who's already caring for her senile husband, threatens to move in. His live-in girlfriend Rachael (Bryce Dallas Howard), an abstract artist, doesn't want to abandon him but fails him time and again. (Her ultimate betrayal is one aspect of the script that could have used more development.) And his best friend Kyle (Rogen) sees Adam's illness as an opportunity to meet girls and get laid.
Naturally, among the film's funniest moments are the improvised exchanges between Rogen and Gordon-Levitt, but there's an inherent sweetness, too. (The scene used prominently in the film's trailers in which Adam uses Kyle's, um, body trimmer to shave his head sets the tone for their relationship—at once inappropriate and supportive.) One can sympathize with how Rogen's schtick could get annoying—early in the film Adam mocks his friend's Muppet mannerisms behind his back—especially when one is facing a possible death sentence. But Kyle is trying—more than we even know at first—which is all anyone can ask from a young man confronted with mortality, and the brotherhood at the heart of Rogen's oeuvre prevails.
Meanwhile, Adam—who insists that's he's "fine," that he's never felt calmer—is forced to reassess his existence. A perfectionist, he refuses to file his story on a distant volcano nobody cares about until "it's good." Cautious to a fault, he doesn't drive because automobile accidents are the "fifth leading cause of death." Yet suddenly his health and his life are totally out of his control. His situation, however, opens up his world view to new possibilities and relationships, including those with his fellow chemotherapy patients led by Alan (Philip Baker Hall), purveyor of weed-laced macaroons.
Shepherding him through his emotional and psychological journey is therapist Katherine (Anna Kendrick), a 24-year-old student for whom Adam is her third-ever patient. Skeptical of the process, Adam challenges her by-the-books approach. Their scenes together are particularly brilliant in how they push beyond the first joke. When Katherine's attempt to pat Adam comfortingly falls flat, instead of playing the moment for that one laugh, he calls her on it, and she tries again. Patient becomes teacher as she practices touching him. Kendrick is splendid in her discomfort, betraying growing affection for her client.
The second theatrical release this month about a young person with cancer, 50/50 hits many of the same emotional and narrative touchstones as Gus Van Sant's Restless—embracing life and falling in love while facing death. But writer Reiser, producer Rogen and star Gordon-Levitt, under the direction of Jonathan Levine (The Wackness), tap into the wonderful complexity of the material: Cancer is awful, but it's instructive and loving and funny, too.