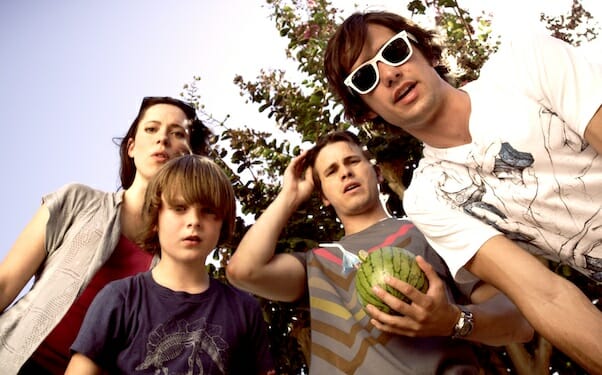 A Bag of Hammers is like the funny guy at parties. He's not perfect, maybe a bit of a lush and flabby around the middle, but you love having him around.
The feature debut from Director Brian Crano follows two cheeky criminals as they steal cars from funeral goers. Ben (Jason Ritter, NBC's Parenthood) and Alan (Jake Sandvig Easy A) are best friends with a mysteriously dark past, yet they are harmless felons who share the wit and maturity of teenagers.
When an out-of-town woman and her son rent the house next door, a change begins in the carefree dynamic that inhabits their lives. The young men find themselves quickly drawn into a wholly different sense of morality as it becomes clear that the 12-year-old boy, Kelsey (Chandler Canterbury, After.Life, Knowing), is being badly neglected by his high-strung mother, Lynette (played by The Good Wife's Carrie Preston).
Alan's sister, Mel (Rebecca Hall, The Awakening), is the first one to raise suspicion when she catches a glimpse of Kelsey's kitchen, which is dark, dirty and devoid of any food or familial warmth. She is adamant that Alan and Ben should notify the authorities. The friends try not to be concerned and shrug it off as "none of our business." It is not long, however, before Kelsey becomes their business, and they have to become role models overnight.
A Bag of Hammers is well shot and well acted. The performances, ranging from improvisational to seriously disciplined and coupled with the overall pleasing characters, make this film very easy to watch. Not all independent films that have run the festival circuit can say the same, which is undoubtedly why Hammers was so well-received in these arenas. The music and scoring are also of an offbeat but friendly nature and help keep the film well-paced.
Where Hammers struggles is in its story and in some stretches of dialogue. There are truly brilliant scenes that occur through out the film—watch for a particular hard-hitting monologue from Ritter to Chandler Canterbury's Kelsey in the diner about two-thirds of the way in—and these are what give the film its shine. Yet there are also scenes that are so completely obvious and self-aware that you wonder if it was the same writer. (Crano and Sandvig wrote the film together, so perhaps there were some disconnects in this partnership that have left it feeling flabby in places.) The plot itself could use some extra polish and clarity to bring the audience along from beginning to end without the unintended bumps that occur.
A Bag of Hammers is not a family film per se—the profanity will surely earn it an R rating—yet it is a touching film about relationships. It is about doing the right thing, yet not about retribution. The most awkward part of A Bag of Hammers is simply this—it is a film that is sincere and meaningful but somehow still feels shallow.
Even though A Bag of Hammers leaves one puzzled in places, it is good fun to watch and will certainly leave audiences looking for more from Crano as well as his extremely talented cast of performers.
Director: Brian Crano
Writer: Brian Crano, Jake Sandvig
Starring: Jason Ritter, Jake Sandvig, Chandler Canterbury, Rebecca Hall, Carrie Preston
Release Date: May 11, 2012 (limited)