A Live Read Play-By-Play: 10 Memorable Moments from the Major League Performance
Images courtesy of Wireimage and Film Independent.
Movies
Features
On Thursday night at the Los Angeles County Museum of Art, Film Independent wrapped its Live Read series for the season with guest director Joe Manganiello stepping in for event creator Jason Reitman, choosing the film and tapping the cast for a live, on-stage reading of a classic script. Sticking with Reitman's "tradition," the film's title and actors were revealed on Twitter only days ahead of the event. He also managed to save a couple surprises just for the audience.
To mark the start of major league baseball season and to wrap up Live Read's spring session, Manganiello selected Major League, which he described as "the most quoted movie of my entire life." The 1989 film depicts a motley crew of Cleveland Indians (played by a cast that included Tom Berenger, Corbin Bernsen, Wesley Snipes and Charlie Sheen) who manage to win despite the actions of the club's evil owner, Rachel, a former showgirl who needs the team to lose so she can move the franchise to Miami.
The Live Read predictably proved to be a riotous matching of wits, with the cast bringing their A games despite having never rehearsed together. Here are 10 memorable moments from the Major League event:
1. Joe Manganiello must have an awesome fantasy baseball record.
He knows how to pick a team. His Major League cast included (starting at the left):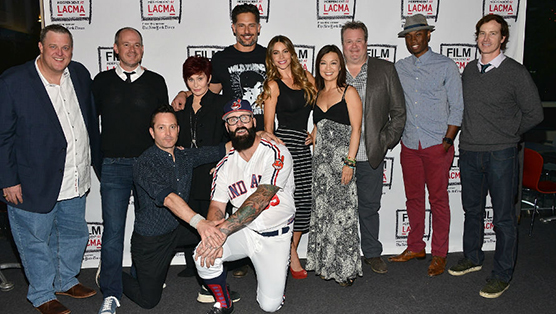 Billy Gardell as Lou Brown, originally played by James Gammon; Rich Eisen reading stage directions; Thomas Lennon as Harry Doyle, originally played by Bob Uecker; Sharon Osbourne as Rachel Phelps, originally played by Margaret Whitton; Manganiello himself (top) as Jake Taylor, the role originated by Tom Berenger; current free agent Brian Wilson (the hirsute pitcher and not the Beach Boy) as star Ricky Vaughn, originally played by Charlie Sheen; Sofia Vergara as Pedro Cerrano (more on that below); Ming-Na Wen as Lynn Wells, originally played by Rene Russo; Eric Stonestreet as Charlie Donovan and Eddie Harris, originally played by Charles Cyphers and Chelcie Ross, respectively; Robbie Jones as Willie Mays Hayes, once played by Wesley Snipes; and Rob Huebel as Roger Dorn, played before by the gruff Corbin Bernsen.
2. A surprise casting twist?
Manganiello sprung a big surprise on the audience when announcing that he'd selected his fiancée Sofia Vergara to play Pedro Cerrano, a superstitious hitter who uses "voodoo" to help him peg curve balls. In the film, the character is inhabited by Dennis Haysbert … obviously a long shot from Vergara.
3. Best introduction of the night.
Of course, Manganiello hit a home run with Vergara's entrance: "You've loved her for six years in the role of Gloria in Modern Family…and you'll love her next year in the role of Mrs. Manganiello…"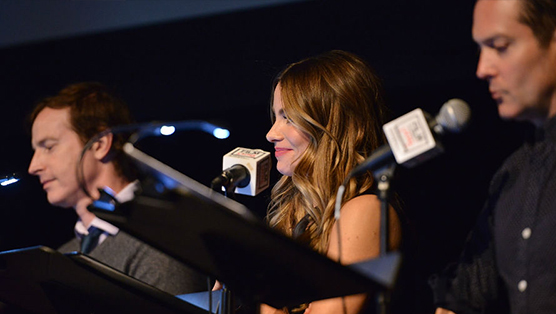 4. Pittsburgh roots run deep.
Manganiello's Steel City pride shone through as he noted that both Gardell and Ming-Na Wen hail from the Pittsburgh area. Fun factoid: He and Wen both attended Mt. Lebanon Senior High School (a few years apart).
5. A special guest in the house…
Sitting in the audience was Major League's writer-director David S. Ward. While his oft-quoted film garnered him an ample amount of fame, many in the audience were surprised to learn that he also won an Oscar for Best Original Screenplay for The Sting in 1974.
6. Just an excuse to wear a wig.
Wilson proved himself a bit of a ham and brought his own costume and props to play Ricky "Wild Thing" Vaughn. He walked out on stage wearing his trademark beard, sunglasses and full Indians uniform—with number 99 on the jersey. When he had to play a minor female character, he pulled a long, dirty blond wig out of a plastic bag and wore it for the short scene.
7. Magic Mike meets golden mic.
Thomas Lennon (Reno 911) must have practiced a little voodoo to channel his inner Bob Uecker. He sounded exactly like a pro baseball broadcaster, just with—let's say—bluer color commentary.
8. The MVP.
In switching up the usual Live Read roles and rotation, Manganiello took the romantic lead for himself and assigned the stage directions to sports broadcaster Rich Eisen. It proved to be a winning combination because Eisen was outstanding in reading Ward's detailed script. The audience broke into applause every time Eisen nailed the long, descriptive montage sequences, not even missing a beat when the mics went dead for a minute, fitting in perfectly with the spontaneous nature of a Live Read.
9. A Chariots of Fire reference.
The cast performed with aplomb, showing off how funny Ward's script truly is. Robbie Jones, who worked on One Tree Hill with Manganiello, did the most "acting," donning black batting gloves several times during the action scenes. And when the script called for base running sequences, Jones recreated Chariots of Fire, slow-mo running from his chair to the delight of the audience.
10. The alternate ending.
Ward's original ending for Major League was panned by test audiences, so he had to write and shoot another for the theatrical release. Manganiello's team performed the original script that turned Rachel from villain to unsung hero. Osborne read lines that revealed Rachel wasn't a malevolent owner after all; she was, in fact, a scouting genius who picked the players and coach on the team for specific reasons. She wanted them to win and used reverse psychology and cruelty to band them together against a common enemy—her.
---
Christine N. Ziemba is a Los Angeles-based freelance pop culture writer and regular contributor to Paste. You can follow her on Twitter.