John Krasinski and Emily Blunt Talk Working Together on A Quiet Place
Photos by Nicholas Hunt/Getty, Alberto E. Rodriguez/Getty
Movies
News
A Quiet Place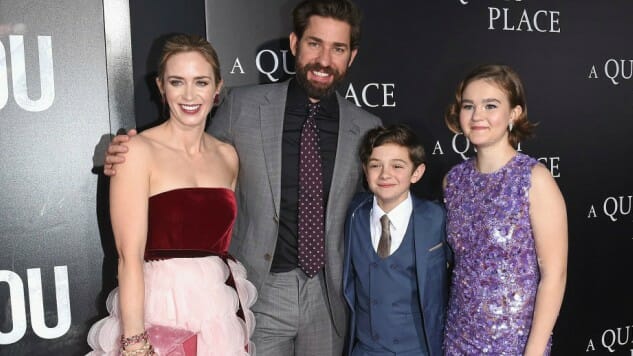 Superstar couple John Krasinski and Emily Blunt stopped by separate late-night talk shows to discuss what it was like to work with each other on A Quiet Place, also continuing to gush about their amazing relationship. Krasinski and Blunt have been married for eight years and have two daughters. After the birth of their second child, it really inspired Krasinski to write this story.
In the interview with Jimmy Fallon on The Tonight Show, Krasinski went on and on about how amazing his wife is and the hesitancies they both had before working together.
"I've always been the biggest fan of her, but not until you're in the room when she does what she does do you know why she's so phenomenal," he said. Have never worked with his wife before, he said, "She's unbelievable. The most talented, powerful … kindest person. She makes everyone around her better. So honestly, that was my experience." Krasinski jokingly said that since this was the best experience he's ever had, he's now retired.
Krasinski continued to tell Fallon that he definitely married up. He recalled a funny interaction with a London customs officer when he went to visit Blunt during filming of Mary Poppins Returns. The A Quiet Place director and star explained the comical story as follows:
"He says, 'Who are you visiting here?' I said, 'My wife.' And he says, 'Is she an actress?' I said, 'Yeah.' He said, 'Would I know her?' I went, 'I don't know, man, her name is Emily Blunt.' He seriously goes, 'You?' and I went, 'Yeah.' And he goes, 'You? You married Emily Blunt?"
Krasinski added that the man then angrily stamped his passport and told him to "just go."
On Late Night with Seth Meyers, Blunt recalled how she and Krasinski met. The actress claimed it was a lame story and you'll find that it's, in fact, extremely ordinary. "I was in a restaurant. He was in the restaurant. I was sitting with a mutual friend. This is our romantic comedy. This is it. Write it," Blunt explains in a comical fashion.
A Quiet Place arrives in theaters tomorrow night, but we at Paste have already issued an opinion—read our review here and check out the intense trailer here.