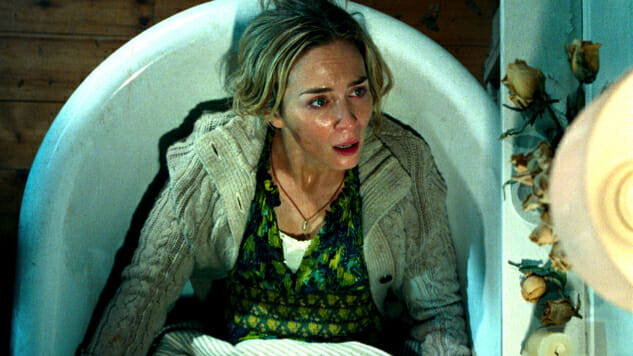 Director-star John Krasinski's A Quiet Place proved to be yet another major horror box office sensation in 2018, raking in excess of $340 million with a budget of less than $20 million. Given that kind of success, a sequel was always in the cards, even if some fans might believe the first film stands more soundly on its own. Now, though, thanks to new cast member Bryan Tyree Henry, we have a few plot details on said sequel. In an interview with Observer, Henry let slip that the Quiet Place sequel would probably dive into more of the origins of the blind monsters that plagued the Abbott family in the first film.
"We'll see more of that family continuing to survive and finding out that they're not the only ones. And I think that we're also going to get a few answers to the origin of where and how this whole thing happened. I think that people want to know that. But I think you're just going to see another side of it…more of humanity that survived this thing in this next story."
The question, then, is whether Henry is really correct: Do people really want to know "the origin of where and how this whole thing happened?" Does the narrative and premise of A Quiet Place work better when you don't understand what its monsters really are, or how they conquered the Earth? The first film got away with using minimal exposition (and some clumsy newspaper headlines) to communicate its minimal backstory and focus on the family dynamic of the Abbotts instead. We're not so sure it's a good idea to dive more into the foundations of this premise, especially when the film will probably have a hard time explaining how these creatures were realistically able to overcome world militaries.
Regardless, we'll find out on March 20, 2020, the current release date for A Quiet Place 2. Henry will be joining returning cast members Emily Blunt, Millicent Simmonds and Noah Jupe, while being joined by newcomer Cillian Murphy, who we can't help but assume will be adding another chapter in his history of playing "creepy guy" characters. Let's hope the sequel can measure up.