Adam Sandler is Generating Legitimate Oscar Buzz After Four-Minute Standing Ovation at Cannes
Photo by Grant Lamos IV/Getty
Movies
News
adam sandler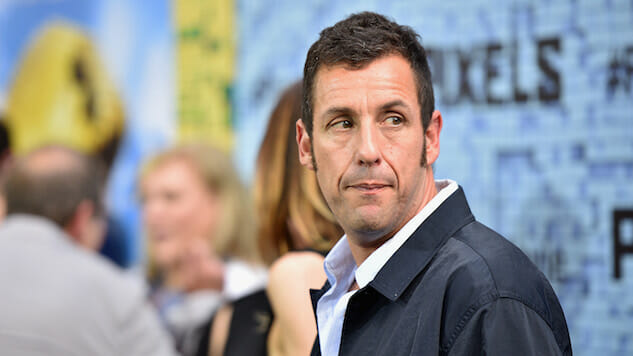 Adam Sandler is one of the most polarizing actors working today. The former SNL star's filmography is so weighted down with trashy, offensive movies like Grown Ups and Jack and Jill, it's a wonder the comedian is still willing to show his face in public—much less leverage that dubious success into a four-film deal with Netflix.
But here's the thing about Adam Sandler: He's actually a pretty great actor. Whether it's a fear of failure or a Joker-esque desire to watch the world burn, Sandler often ignores his talent, instead choosing to leave fiery bags of shit on the doorsteps of theaters for the projectionists to smear across empty film reels and project the results for the mindless masses. When Sandler does decide to take on a meatier role, the results are usually fantastic. Punch-Drunk Love, Reign Over Me and Funny People all highlight focused, nuanced performances from the writer of the "Chanukah Song."
Why he so infrequently chooses such substantial roles is beyond comprehension, but the revelation that he likes vacations may have something to do with it. A few years ago Sandler admitted to Jimmy Kimmel that his movies have been an excuse to party in foreign locations for years:
I have done that since 50 First Dates. It was written in another place. I said, 'Imagine if we did it in Hawaii, how great that movie would be.' And they said, 'Yeah, that's a very artistic idea.' I've been doing that ever since.
That's why it's so encouraging to hear that not only is Sandler back in a serious role, but that he reportedly crushes it—crushes it so hard, in fact, that there's serious talk about Adam Sandler being an Oscar contender. Yes, the man who famously called Bob Barker a bitch and subsequently lost a fistfight to the then-septuagenarian may be considered for American film's highest honor.
After Sandler's new film The Meyerowitz Stories premiered at Cannes this week, Sandler was met with a four-minute standing ovation. Critical reception of Netflix's new film is exceptionally high already (93 percent on Rotten Tomatoes), but Peter Hammond of Deadline calls Sandler a "standout among a cast of standouts." Could we really be living in a world where Adam Sandler wins an award that has eluded the likes of Johnny Depp and Liam Neeson?
These are strange times we live in, but hopefully Sandler will have some sort of awakening with the film and turn his attention to films that are actually watchable. Or, you know, go back to films that highlight getting pissed on by a deer. They're equally rewarding.
The Meyerowitz Stories will release on Netflix later this year. It may also see some sort of theatrical run, but that's never necessarily something Netflix feels the need to do.