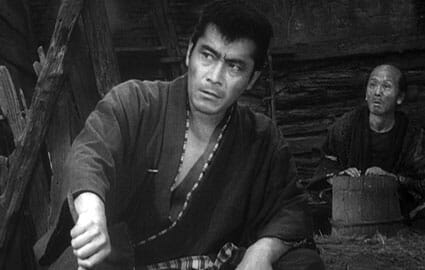 Have you ever had it blue? Well, you may have had your bad days, but it was likely a walk in the park compared to what happens to the poor souls in Maxim Gorky's harrowing 1902 drama, The Lower Depths. Set in a filthy flophouse, the play follows the interactions of a group of forgotten and utterly desperate Russians who have sunken into the dark night of the soul. While certainly a product of its time, Gorky focused on emotional politics rather than polemics, creating a work of universal resonance. This may be why two of the world's greatest filmmakers took on Gorky's tale and recast it to fit their own dramatic vision. Criterion offers a fascinating look at both great filmmaking and unique interpretation of a classic source.
Akira Kurosawa's 1957 version of The Lower Depths is a fairly faithful adaptation, maintaining much of the play's structure, but reset in Japan's Edo period (interestingly enough, a very prosperous time in Japanese history). Pulling no punches, Kurosawa makes his lean-to a truly awful place, with torn paper walls barely keeping out the harsh winter cold, and a sewer gutter running by its door. Keeping the action contained mostly in the miserable shack, Kurosawa heightens the intimacy of the drama and evokes the original theatricality of the piece. The amazing ensemble, led by Toshirô Mifune as the anti-hero thief, brings out all the grit, pathos and dark humor Gorky worked into his play.
Jean Renoir took a very different approach when crafting the screenplay for his 1936 adaptation. While he notes in the filmed introduction that he wanted to make his film wholly "French" and more reflective of his country's character, some suggest he may have tempered the pessimism of the work because of the rise of the Popular Front in France at the time. Renoir's tweaks to Gorky's work belie a downright socialist agenda, subtly poking fun at bourgeois society. His thief (played with debonair charm by Jean Gabin) has the air of a Robin Hood about him, as he befriends a down-on-his-luck aristocrat (the great Louis Jouet), who later serves as a wry observer to the self-delusion practiced by denizens of the almost cozy-looking flophouse. Renoir also adds a fat, lecherous bureaucrat in the person of a building inspector and has his landlord frequently point out that he's "the boss," a title that is most interesting considering his fate.
The greatest distinction between the two films can be found in their final moments. Where Kurosawa undercuts a moment of happiness with shocking cynicism, Renoir tempers his darkest moment with romantic optimism. It speaks volumes about the two artists and makes for fascinating viewing.