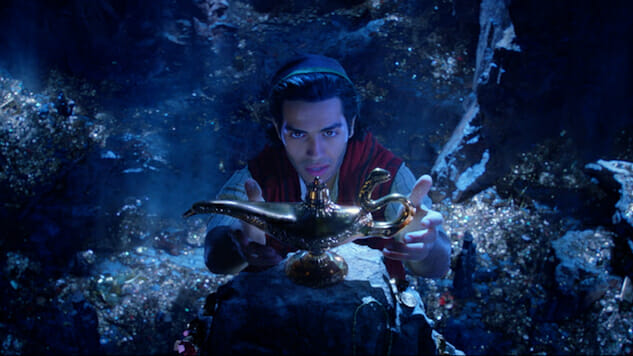 Because Will Smith needs another jet ski garage, we're getting another live-action Aladdin movie.
The film is in its early stages of development, per Variety, with producers having worked out the concept over the past six months, opting not to adapt one of the original 1992 Aladdin's two animated sequels and instead devise a new story.
Aladdin director Guy Ritchie isn't yet signed onto the project, nor are stars Naomi Scott, Mena Massoud and Smith—actors will be brought on after the script is finalized. So, actually, put a hold on that jet ski garage, guys.
The production, which will go to a theatrical release (as opposed to Disney+, where the 2019 film is now streaming), is helmed by writers John Gatins, who earned an Oscar nomination for the Denzel Washington gritty drama Flight, and Andrea Berloff, Oscar nominated for co-writing Straight Outta Compton. With capital-S Serious writers like these, perhaps at long last the Aladdin franchise will explore the socioeconomic stratification and subsequent pervasive poverty in Agrabah that pushes young people like Aladdin into a life of crime. Finally!
See where last year's Aladdin landed on the list of 2019's highest-grossing movies here. It'll help make some sense of a sequel.