See the First Teaser Trailer for Disney's Live-Action Aladdin
Image via Disney/YouTube
Movies
News
Aladdin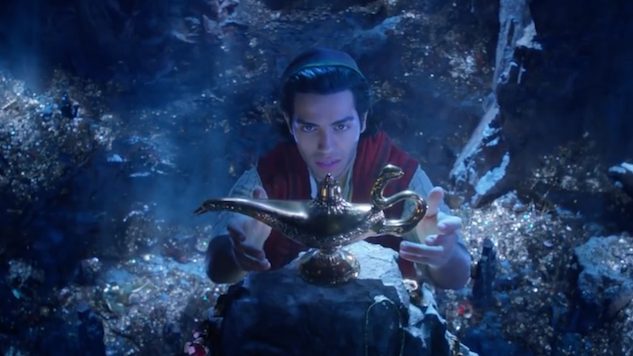 The first teaser trailer for Disney's forthcoming live-action Aladdin aired last night, almost 29 years after the original 1992 animated version was released.
The teaser opens with a bird's-eye view of Agrabah—the fictional city in which Aladdin is set—as the first view of Iago, Jafar's airborne sidekick, is shown. An instrumental of "Arabian Nights" carries in the Disney magic (literally bringing in the logo) as the trailer turns to night. The mysterious tiger-guarded Cave of Wonders is revealed, with its guardian booming: "Only one may enter here, one whose worth lies far within. The diamond in the rough."
A quick shot of Jafar is shown, though it's too dark to decipher much detail, before Mena Massoud's Aladdin is seen entering the Cave. The trailer ends with Massoud, surrounded by the riches within the Cave, reaching for the fateful genie's lamp.
The film features Naomi Scott as Jasmine, Marwan Kenzari as Jafar and, of course, Will Smith as the Genie. John August (Big Fish) is credited with the script while Alan Menken, Tim Rice and Howard Ashman—all of which worked on the original—are credited with much of the music. In addition, Oscar-winning songwriters Benj Pasek and Justin Paul (The Greatest Showman, La La Land) collaborated with Menken to write two additional songs for the remake. The film was directed by Guy Ritchie, of all people.
Aladdin is slotted for release on May 24, 2019. Check out the teaser trailer below.