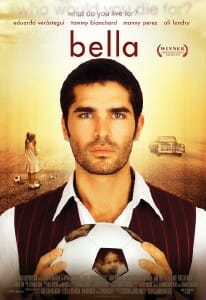 First-time director plays a quiet redemption song
Director: Alejandro Monteverde
Writers: Alejandro Monteverde, Patrick Million, Leo Severino
Cinematographer: Andrew Cadelago
Starring: Eduardo Verastegui, Tammy Blanchard, Manny Perez
Studio/Run Time: Roadside Attractions, 91 mins.
Bella is a delicate but powerful story of grace. When restauranteur Manny fires waitress Nina, Manny's brother José, a cook, quits in protest, right before the lunch rush. José and Nina end up spending the day together, lining Nina up with a new job and taking the train to José's tightly knit family's house. The immediate question raised—one that confuses the newly pregnant Nina, and José's own family—is why he made the impetuous decision to walk out on his brother and take up the role of Nina's protector, especially as it becomes clear that he has something of a glamorous history. But as their quiet conversations slowly open up throughout the day, we learn that it's his past mistakes that motivate his unexpected actions. The film steadily strums at your heartstrings, but it plays a gentle Nick Drake-like melody, always sweet but rarely melodramatic. With stellar, understated performances from Verastegui and Blanchard, it's easy to see why this film won last year's audience award at Toronto; director Alejandro Monteverde has taken the first step toward joining the current league of acclaimed Mexican auteurs.