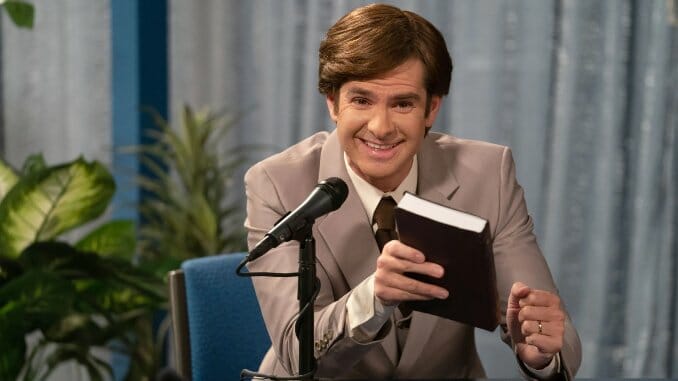 Actor Andrew Garfield will be stepping into the shoes of one of the most beloved scientific figures in history when he portrays astronomer and educator Carl Sagan in the upcoming romantic drama Voyagers. The film, directed by Oscar-winning Chilean filmmaker Sebastián Lelio, who was awarded the Oscar for Best Foreign Language Film for 2017's A Fantastic Woman, will tell the story of the romance and scientific/cultural achievements of a truly monumental pair, Sagan and partner Ann Druyan, who will be played by Daisy Edgar-Jones. The film is being produced by Druyan herself, along with FilmNation Entertainment and Lynda Obst, who also produced 1997's Contact, itself based on Sagan's 1985 novel.
Voyagers takes place a little earlier, in the lead up to NASA's launch of the iconic voyager interstellar probes, which have since made their way outside the bounds of our solar system, becoming the first man-made objects to do so. The story is set in 1977 and concerns the meeting of Sagan and Druyan as they work together on the team that designed and assembled to so-called Golden Record, an object embedded in the two Voyager craft that was intended to offer an overview of human civilization, art and philosophy in case it was somehow received by an alien civilization. Sagan and Druyan would go on to marry in 1981, and remained together until Sagan's tragic passing in 1996 at only 62 years of age, following a battle with blood cancer. Together, the pair wrote classic scientific television programming such as Cosmos, the influence of which can still be felt in educational circles decades later. Director Lelio–who most recently directed The Wonder with Florence Pugh–was one of those people inspired by Cosmos, in fact.
"As a nine-year-old boy growing up during Chile's dictatorship, Carl Sagan and Ann Druyan's TV series Cosmos had a profound impact on me, igniting my fascination with life's biggest questions and mysteries," said Lelio in a statement. "It is a dream to make a movie about the Golden Record and, within it, the inspiring love story between Carl and Ann. I'm thrilled that Andrew Garfield and Daisy Edgar-Jones will be at the center of this epic romance set against the infinite backdrop of space and time."
Druyan, likewise, has been intimately involved with Voyagers, collaborating with Lelio and writer Jessica Goldberg on the screenplay, based on interviews with Druyan and various other scientists and artists who collaborated on the Golden Record project back in the late 1970s.
"Imagine falling madly, truly in love with one of the greatest humans who ever lived, while creating a complex message about what it is to be alive, a golden record affixed to the first interstellar spacecraft launched by our species, bound to sail the Milky Way galaxy long after Earth ceases to exist," said Druyan in a statement. "It takes a movie to bring that mythic experience, that cosmic love story to vivid life. After years of searching, I feel that we have found exactly the right colleagues and artists to capture the magic of it."
Surely, this will be an emotionally resonant telling of a great romance, and a plum role for Andrew Garfield in particular. The actor, an Oscar nominee for Hacksaw Ridge and Tick Tick … Boom!, finds himself on a career upswing after returning to the role of Spider-Man in the MCU's No Way Home, and also co-starred with Edgar-Jones in FX's Under the Banner of Heaven, for which he earned an Emmy nomination. Edgar-Jones, meanwhile, has appeared in such recent films as Fresh and Where the Crawdads Sing. We'll bring you more info on Voyagers as it arrives.