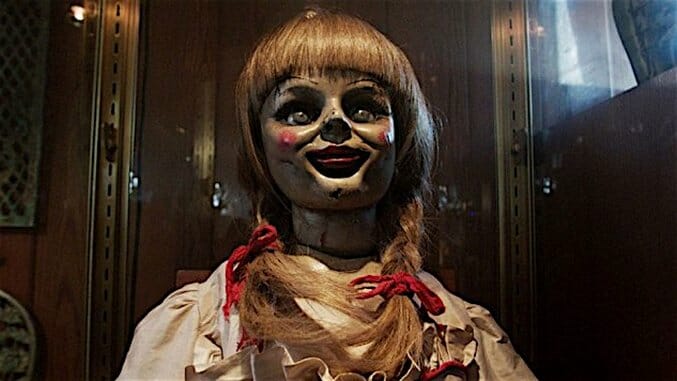 You can't keep a demon doll down, can you? Even as The Nun rolls toward a Sept. 7 release, Annabelle is stirring again in another corner of The Conjuring universe established by director-producer James Wan. The last film and first Annabelle sequel, Annabelle: Creation was a massive hit, raking in more than $300 million worldwide on a paltry $15 million budget, so another sequel was a no-brainer. This one, just referred to as Annabelle 3 for now, has a tentative July 2019 release window, and will be the directorial debut of Gary Dauberman, the screenwriter who penned the last two films, in addition to co-writing It. Dude seems to have a niche, and not a bad one at that. Wan, meanwhile, will return with Peter Safran to co-produce the project, and he's starting to generate some hype for it as well, as is Dauberman.
"I'm still finalizing the script, but it really picks up with the Warrens bringing Annabelle to the place where it can really no longer wreak havoc, which is their artifact room," said Dauberman to EW. "But, of course, it turns out she can also wreak havoc there. And she really awakens the evil within that room and they target the Warrens' 10-year-old daughter, Judy. So, that's the set-up."
Wan, meanwhile, offered the following sizzle: "Annabelle basically activates all the other haunted artifacts in that room. So, it's basically A Night at the Museum, with Annabelle!"
Sounds like fun to us—and it's always fun to see that producer savvy of "It's like ____, but with ____!" How many terrible monster movies were pitched the same way: "It's like Jaws, but with a ____?"
For now, we have The Nun to look forward to. Expect more details on Annabelle 3 when the dust settles and New Line is ready to start promoting it.