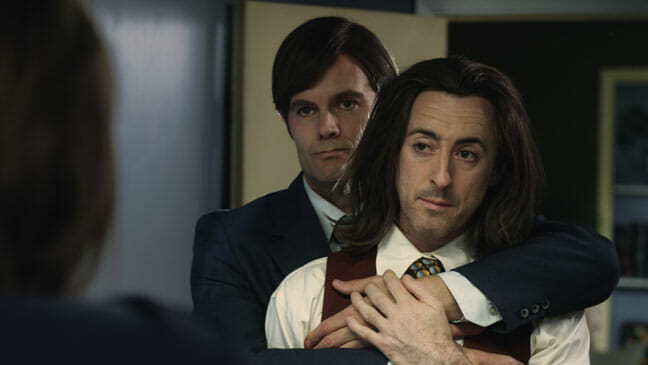 Deeply felt and pointedly political, Any Day Now makes a case for gay adoption that's hard to argue against, painting a portrait of a loving, though not infallible, family of an unlikely trio of misfits who make a home together. Though set in 1979 West Hollywood, its themes echo loudly in today's courtrooms as well through compelling characters and an unrelenting narrative.
Drag queen Rudy (Alan Cumming) may be fabulous on stage, but he's a hot mess at home, living in a dump of an apartment and making calls from the pay phone on the street because he can't afford his own line. Flaunting a Queens accent, he masks his loneliness with flamboyance, hurt feelings with passionate outbursts—he's utterly charming and bottomlessly kind if not always practical. In a masterfully layered performance, Scotsman Cumming, who currently plays a hard-line campaign manager in TV's The Good Wife, is the fragile heart of the story.
Rudy catches the eye of tentative, closeted D.A. Paul (Garret Dillahunt), and their relationship probably would have ended as quickly and unceremoniously as it started were it not for Marco (newcomer Isaac Leyva), a kid with Down syndrome who lives next-door to Rudy with his junkie mother. As Marco, Leyva is a real find, sweet and adorable and moving in his quiet yet profound happiness.
When Marco's mom gets picked up in a police sweep, Rudy takes him in, but Paul knows the courts will never let Rudy keep the boy in his current living situation, so Paul invites them to live with him. Within days of Rudy and Paul meeting each other, they've made a home, telling everyone they're cousins.
When the reality of their relationship is found out, Rudy and Paul take to the courts to defend their family to a society that's grossly intolerant of homosexuals and especially gay adoption. And although the country is much more tolerant today than three decades ago, their crusade is a call to action for contemporary activists.
The dichotomy presented in Any Day Now is a stark one: negligent junkie mother vs. loving, well-off gay couple. Yet the film smartly complicates the argument with Rudy's questionable occupation at the club and polarizing co-performers. Director-writer (and one-time actor) Travis Fine's finest achievement, though, is eschewing the happy endings Marco requests at bedtime while still landing on a hopeful note beautifully sung by Cumming.
Director: Travis Fine
Writer: Travis Fine
Starring: Alan Cumming, Garret Dillahunt, Isaac Leyva
Release Date: Dec. 14, 2012