The Witch Star Anya Taylor-Joy Re-Teams With Director Robert Eggers for Nosferatu Remake
Photos via Getty Images, Pablo Cuadra
Movies
News
anya taylor joy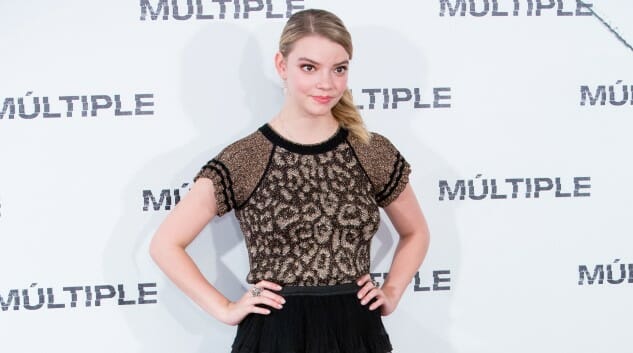 After two breakout years in Hollywood that saw her star in The Witch, Morgan and M. Night Shyamalan's surprisingly satisfying Split, 21-year-old actress Anya Taylor-Joy is reportedly re-teaming with director Robert Eggers, who brought her critical acclaim as a Puritan in peril in The Witch. Their project is Studio 8's upcoming remake of the 1922 F.W. Murnau vampire classic Nosferatu.
The original Nosferatu was of course based upon Bram Stoker's Dracula, although the filmmakers lacked the right to use the iconic vampire's name, which made the vampire of Nosferatu into "Count Orlok." As in Dracula, it concerns the Transylvanian count traveling into the heart of modern civilization, where the monster becomes smitten with a young woman—who would presumably be portrayed by Taylor-Joy. The same story has been re-adapted on multiple occasions, both sincerely (Werner Herzog's 1979 Nosferatu the Vampyre) and in parody (2000's Shadow of the Vampire).
Although Taylor-Joy's face has become better known to multiplex audiences, particularly after the success of Split, the real reason to be excited here is probably the return of Eggers, who lit a fire under horror geeks in 2015 with his debut feature The Witch. Otherworldly, atmospheric and harrowing, it was a stunningly advanced and confident debut feature that showed mastery of multiple aspects of a filmmaker's craft—which makes it all the more exciting that Eggers is reportedly writing and directing this version of Nosferatu.
The film is reportedly produced by Chris and Eleanor Columbus. Taylor-Joy is currently filming Josh Boone's New Mutants X-Men film, and is also set to appear in the Split/Unbreakable co-sequel known as Glass, alongside James McAvoy, Bruce Willis and Sam L. Jackson. Eggers, meanwhile, is also set to direct The Knight for Studio 8.