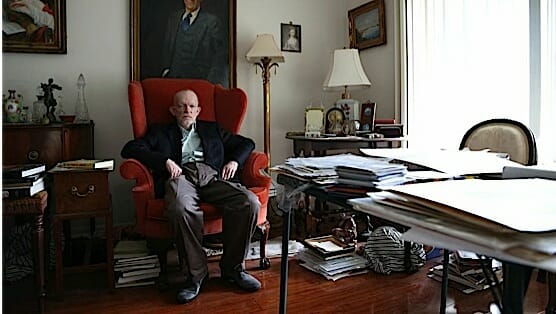 On its surface, the documentary Art and Craft is presented as a caper flick. Directors Sam Cullman and Jennifer Grausman, and co-director Mark Becker, follow a forger who's been working a sort of long con against museums and galleries for the past 30 years. When first seen on camera, we're introduced to a "culprit" who's the polar opposite of a Thomas Crown archetype. Mark Landis—also known as Mark Lanois or Father Arthur Scott—is a nebbish, soft-spoken man who lives a quiet life in Laurel, Miss. A slow shuffle, soft voice and hunched shoulders belie his 60 years, and his unassuming personality never even hints at his identity as one of the most prolific and successful counterfeiters in American history.
An entertaining and compelling film, Art and Craft includes a cat-and-mouse component between Landis and two art professionals, Matthew Leininger and Aaron Cowan, who try to dissuade him from duping art institutions. But the film blossoms when it instead focuses on its engaging lead character, examining the line that often connects art and madness.
Landis, diagnosed with schizophrenia at 17, has combatted a number of mental health issues. Despite his illnesses, he's clearly a gifted artist. His portfolio includes copies of Picasso, 15th century icons, Dr. Seuss and many more styles and art periods. His talent is jaw-dropping, and even more impressive is that he uses materials from local hobby stores, color photocopies and old coffee grinds to re-create the masterworks in his cramped apartment.
Surprisingly, Landis's motive is not money. Instead, he poses as a philanthropist who gives the works away to art institutions across the country to honor his parents. It's a hobby—a compulsion—that he can't seem to stop: "I got addicted to being a philanthropist," he says, adding that he has never been treated as well as when he's pretending to be a rich donor.
We watch his escapades early in the film, as the cameras follow Landis into a donor meeting. Armed with nothing more than an ill-fitting blazer, a small bottle of Milk of Magnesia that doubles as a flask, and his gift of quietly spinning tales, he bequeaths a small portrait that he says belonged to his recently deceased sister. The camera reveals a Christie's appraisal affixed to the back. The museum officials seem thrilled to be receiving the work—though it's all fake: the painting, the appraisal and even the sister.
Although we know that what Landis is doing is fraudulent, we can't help but like the guy. Maybe it's about rooting for a marginalized underdog who's managed to dupe more than 40 institutions that failed to conduct due diligence on his "donations." Or perhaps it's because he's lived such a seemingly lonely existence that we pity him, especially when the camera captures him eating Melba toast and butter on a silver tray, while watching his favorite old movies and TV shows. The shows play a large role in his life; in one of several comical moments, he says that he learned everything he needed to know for his Jesuit priest alias by watching Father Dowling Mysteries on DVD.
Landis refers to number of other classic films, and the filmmakers insert short clips accordingly—including scenes from Gambit, James Bond and Charlie Chan films—to not only break up the pacing of the documentary's interviews, but to also emphasize the fact that Landis has been acting most of his life. The jazzy, big band score also adds to the comic overtones, keeping things light despite the seriousness of the subject matter.
Art and Craft is ultimately a film about contradictions. Not only is Landis's "work" atypical for a counterfeiter, but the documentary also questions an art world awash in inconsistencies, too. Leininger, a fiery personality, is a little too obsessed with Landis's forgeries, and although he was also duped, he harshly chides institutions for not being more careful, allowing Landis to operate for three decades. The more sedate Cowan's lengthy phone interview with Landis serves as the film's moral compass, with bits of their conversation about ethics and forgery spread throughout the film. It then becomes pleasantly puzzling when these three men join together to put on a show of Landis's artwork at a University of Cincinnati art gallery. Despite the curators' explanations, the art show seems to lionize the very person who they want to stop.
Cullman, Grausman and Becker do an admirable job in assembling a cohesive documentary, but Art and Craft only skims the surface when uncovering what really makes Landis tick. His fascinating family history remains largely untold (though Landis's Freudian/Oedipal remarks about his mother are telling); we wish the filmmaking team could have pushed further, painting an even richer portrait of a quiet, yet complex artist.
Directors: Sam Cullman, Jennifer Grausman, Mark Becker
Starring: Mark Landis, Matthew Leininger, Aaron Cowan
Release Date: Sept. 19, 2014 (New York)
Christine N. Ziemba is a Los Angeles-based freelance pop culture writer and regular contributor to Paste. You can follow her on Twitter.