Audrey Hepburn's wide, sparkling smile and slight, Givenchy-clad frame are woven into our cultural DNA to such a degree that it's easy to reduce her to a select few aesthetic contributions rather than drawing out her stunningly instinctual work as an actress. 70 years on from the release of her genre-defining turn in Roman Holiday, it is worth unpacking Audrey Hepburn's best movies – her performances and her relationship to the craft, one born from a long-standing history with dance as a child, that was then refashioned into something complicated and personal. 
Hepburn isn't necessarily known for her naturalism or ability to wholly inhabit a role. Instead, there is a physical elegance that inhabits her performances, heightening her films and building an ideal of womanhood that would surpass her work in movies. So much of her career would be dedicated to recapturing the unassuming magic of Roman Holiday, to differing degrees of success. After this slew of technicolor romances, Hepburn would utilize the final act of her career to respond to her sickly sweet, early roles with cheekiness and honesty. More than almost any other figure of film history (barring perhaps Marilyn Monroe), she has been reduced to moments and images that don't aptly summarize the breadth and width of her history within the industry. Our list looks to encompass her work in movies, transcending the iconic frame of a glamorous Hepburn, draped in pearls and peering out at early morning New York over her sunglasses. 
Here are the 10 best Audrey Hepburn movies:
---
10. Breakfast at Tiffany's (1961)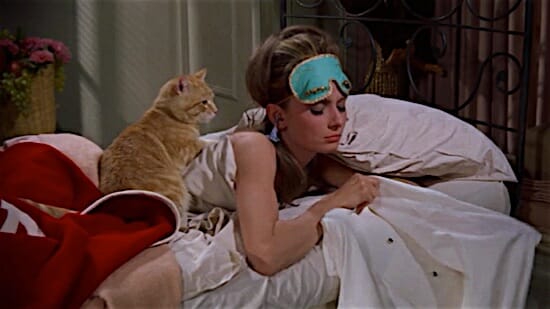 A film as beautiful as it is boring, Breakfast at Tiffany's is a thinly drawn plot, barely holding together a series of stunning images that are brief and sparkling. The movie is remembered for everything it wasn't, a sanitized (distinctly less gay) version of the source material, but Hepburn's main character has earned its place in film history. In many ways Holly is the embodiment of Hepburn's still opacity. They are both ethereal, just beyond reach and fun to watch. While the details of director Blake Edwards' adaptation are fuzzy, the film will forever be beloved, if only for Henry Mancini's unimpeachable score. Propelled forward by lilting woodwinds that reflect the loose and jazzy parties which define Holly's life, the music of Breakfast at Tiffany's is largely responsible for the hazy fondness which underlines people's memory of this film. – Anna McKibbin
---
9. The Nun's Story (1959)
If this were a ranking of Hepburn's performances, The Nun's Story, a slow and plodding story which conceals Hepburn's most shatteringly real work, would rocket to the top spot. This film tells the story of GabrielleVan Der Mal, whose decision to pursue life as a nun is tested by the oncoming Second World War and her own medical ambitions. Much has been written about Hepburn's own relationship to the war, particularly in Terry Hartle's biography Dutch Girl, but needless to say, surviving Nazi-occupied Holland fundamentally redirected her life as an actress and activist, and as The Nun's Story careens into the war, it is hard to read Gabrielle's dissolving composure as anything but a deeply personal expression of loss for Hepburn. If your only experience with Hepburn is in her romantic comedy ventures, The Nun's Story will blow apart your expectations of her ability and refashion her into someone new and human. In this she cements herself as a performer splintering under the weight of complicated feeling. – Anna McKibbin
---
8. My Fair Lady (1965)
A film plagued with so much casting drama that it has come to hover over the careers of both Audrey Hepburn and Julie Andrews, My Fair Lady is a three-hour extravaganza, complete with lip-synced musical numbers and dazzling gowns. Impressive in its scope and undeniable in the score's composition, this film is unfortunately undermined by Hepburn's depiction of the famous Eliza Doolittle. Her rigid physique can't sustain the journey from grubby flower-seller to educated, upper-class lady, and her voice wasn't strong enough to keep up with some of musical theater's most beloved tracks. If only George Cukor—the "women's director"—had been granted another opportunity to help craft a sharp and spiny performance from Audrey's star persona. – Anna McKibbin
---
7. Paris When It Sizzles (1964)
Utilizing a meta-Hollywood story to poke fun at the heightened world of moviemaking, Paris When It Sizzles captures the burgeoning romance between a screenwriter, Rick (William Holden), and his assistant-slash-apprentice, Gaby (Audrey Hepburn). The film thrives in capturing how this mode of storytelling is particularly silly with Gaby and Rick playfully enacting and testing the boundaries between different genres. It is an undeniably silly film, one grounded in Holden and Hepburn's reliable chemistry and relishing in the charm of Hollywood's rare willingness to make fun of itself. – Anna McKibbin
---
6. Wait Until Dark (1968)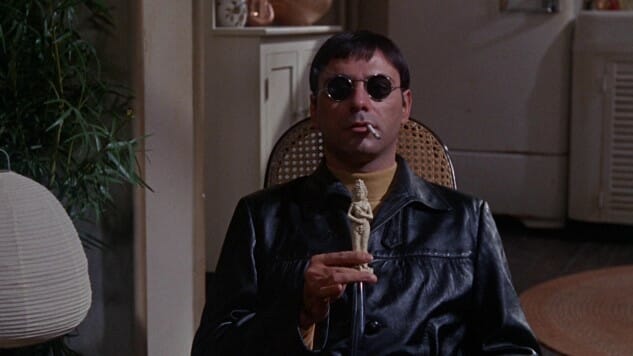 A classically structured single-set thriller which understands how to manipulate space to keep an audience invested in the shifting stakes. There are only a few rooms in Susy and Sam's Manhattan apartment, all of which are peppered with shadowy cupboards and shelves, unpeeling new, secretive layers to this convoluted story. Hepburn doesn't initially manage to convince audiences that she is a blind woman, scrambling to outwit a trio of wily criminals. She stumbles around her home for the first 40 minutes, somewhat unconvincingly, bumping into every piece of furniture–all of which reads as Hollywood's interpretation of a blind person's reality. But gradually the terror of the situation bleeds into Hepburn's performance, gripping Susy and coloring her in a shocked, pallid white. Wait Until Dark sustains the surprises until the film's closing moments, which coil around Susy's blindness to impressive, cinematic ends. It is a thriller mostly forgotten but competent and exciting, undoubtedly worth a watch. – Anna McKibbin
---
5. Sabrina (1954)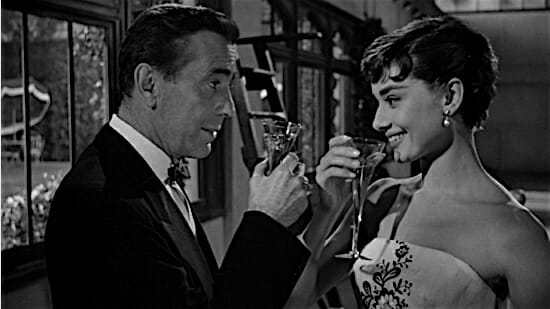 While Sabrina boasted two of the most popular leading men of all time in Humphrey Bogart and William Holden, as well as the brilliant Billy Wilder (The Apartment, Some Like It Hot) as director and Ernest Lehman (Sweet Smell of Success, West Side Story) as one of its writers, it owes virtually every ounce of its justifiable status as a classic to the luminous Audrey Hepburn. I first saw Sabrina in my mid-30s but I had already had a crush on Audrey Hepburn for 20 years, since some friends and I rented the excellent late-career Hepburn-Sean Connery starrer Robin and Marian, thinking that James Bond as Robin Hood had to be fun. Imagine four teen boys bawling their eyes out at the end of that great but three-hanky weeper. But I digress … Hepburn was already a star, having won an Oscar for her breakout role in 1953's Roman Holiday and here she shines once again. Often described as a romantic comedy, Sabrina has far more dramatic chops than giggles, and the 25-year-old Hepburn more than holds her own against heavyweights Holden and Bogart, taking the Cinderella archetype to new levels. If you can ignore the May-December aspect of the romantic pairings on offer, I dare you not to fall in love with this winning look at romance. The perfect example of the old axiom: sometimes what you want is right there in front of you. — Amy Glynn
---
4. Funny Face (1957)
Ah, yes, the film which alleges that Audrey Hepburn had a "funny face!" In a particularly bizarre early scene, magazine editor Maggie Prescott (Kay Thompson) even zooms in on a candid picture of Hepburn's Jo (with a comically large microscope), declaring that "the thought of her makes me shudder." Clearly the mechanics of this plot requires some suspension of disbelief, but the emotion that this story is grappling with is evergreen and near. Jo is not used to being looked at and quickly finds herself searching for a foothold while flailing under the spotlight; more importantly, she must also reckon with why she likes being looked at. Hepburn is predictably wonderful as the smart, wilful ingénue—a title that would dominate her own celebrity status. It is hard to imagine an actress better suited to wrestle with the difference between being watched and understood and she does so while helping to craft some wonderfully silly musical sequences. – Anna McKibbin
---
3. Roman Holiday (1953)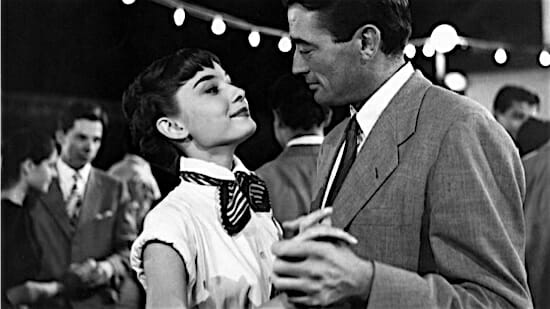 Boasting one of the definitive "a star is born" turns in film, Roman Holiday is a movie that takes a rudimentary plot (one that could comfortably slot into a Disney Channel original) and elevates it with lived-in performances and clever direction. Above all, Roman Holiday understands how to elevate its setting, letting it wind around Joe and Ann, lending their relationship depth as they each observe the other moving through a beautiful and unfamiliar space. Gregory Peck is a wonderful foil to Hepburn; his gruff reliability grounding her sweet flightiness, and their relationship is rooted in a simple and lovely desire to ensure that the other is OK. There are so many ways Roman Holiday could have slipped into triteness, but under William Wyler's guidance (who coaxed Oscar-winning performances out of several actresses), the film is buoyant and light, a sparkling reserve of joy for film-lovers across the years. – Anna McKibbin
---
2. Two for the Road (1967)
Hepburn's character in Two for the Road, Joanna, would epitomize both Hepburn's naïve charm and distinct glamor. In feeling through the contours of her decades-long relationship with Albert Finney's Mark, director Stanley Donen also gets to flex his muscles as a master of comedy and an artist concerned with the nuances of adult relationships. The film dips into different moments across the couple's love story, decorated with various road trips that span time and space and manages to encapsulate their ever-shifting connection. This is not one of Hepburn or Donen's better-known installments; it's a less pliable version of the romantic comedies both were loved for. In particular, Joanna is pricklier than the roles typically associated with Hepburn. In the scenes charting the tension possessing the later stages of their relationship, Joanna is demanding and obtuse—the sweet earnestness of her youth calcified into something angular and hard. Two for the Road is not a piece of easy wish fulfillment, but it is deeply funny. Insights into the nature of love are woven into something that feels earned and sweet (and boasts some sharp, era-specific costume design.) – Anna McKibbin
---
1. Charade (1963)
Audrey Hepburn was closely associated with Stanley Donen through his genre-making directorial career, serving as the ideal shape to enact his chic, balletic blocking. But Hepburn's turn in Charade is markedly different from her performances in Funny Face or Two for the Road: In Charade she is embodying and mocking the Hitchcockian muse with an otherwise unseen wryness. Alongside Cary Grant (in their only on-screen collaboration) these two actors use their physical prowess, influenced by their pre-acting work to lean into the hijinks that pepper this mystery. If you can barely follow the sequence of tight turns which comprise the sharp corners of this film, then it is succeeding in mimicking Hitchcock's early plot twists. Charade is a genuinely thrilling satire, one adorned with Hepburn's deliciously bitchy commentary. –Anna McKibbin
---
London-based film writer Anna McKibbin loves digging into classic film stars and movie musicals. Find her on Twitter to see what she is currently obsessed with.