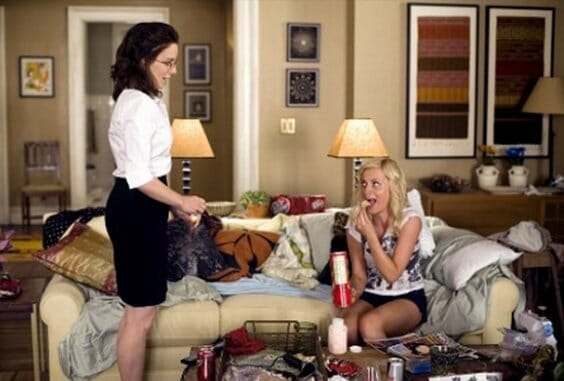 DVD Release Date: Sept. 9
Director/Writer: Michael McCullers
Cinematographer: Daryn Okada
Starring: Tina Fey, Steve ?Martin, Amy Poehler
Studio/Run Time: Universal, 99 mins.

Fey and Poehler have been funnier

Science has given us nothing if not new life for the "you want to put what, where?" schtick. Baby Mama takes the age of fertility options and mines it for body humor, breezing by more subtly funny moments along the way.
Though Tina Fey—as reproductively challenged career woman Kate—has been hilarious in other roles, her snarkiness is missed here. Amy Poehler's characterization of surrogate mother Angie is sketchy at best; the portrayal comes off like a Chaotic-era Britney Spears impression. Steve Martin as Kate's ponytailed, neo-hippie egomaniac boss is easily the funniest thing going on in this movie, and earns a few laugh-out-loud moments.
Disappointingly, it's never revealed why Kate wants a child so badly—after shelling out $100,000 for a surrogate carrier, her reasons must be compelling. Likewise, the film could've been stronger had Kate's selection of a surrogate been less hasty. By taking liberties with how quickly Kate and Angie get to know each other, the movie misses a chance to truly needle the surrogate/client relationship—no doubt, a strange intimacy.