Drew Goddard's Star-Studded Bad Times at the El Royale Gets First Trailer
Goddard trades a Cabin in the Woods for a hotel on state lines
Images via 20th Century Fox
Movies
News
Bad Times at the El Royale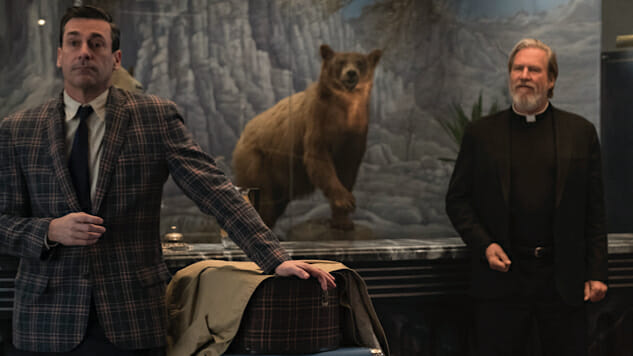 Drew Goddard (Cabin in the Woods) is back with another genre-bending thriller that looks gorgeously seedy. Bad Times at the El Royale is Goddard's directorial follow-up to Cabin in the Woods and he trades horror for a crime thriller in which seven strangers, each with a dark undercurrent to their kind, face-value façade, meet at the El Royale hotel in Lake Tahoe. It is a rundown hotel, past its prime and with a dark past to boot. The story takes place over one night where everyone has a shot at redeeming themselves before everything converges and goes to hell. That is the overall plot of the film, as the trailer gives away very little and leaves the viewer with a multitude of yet-answerless questions.
Bad Times at the El Royale seems to take place in the 1970s and the set design, costumes and music play this up to an insane degree. Off-the-wall crime thrillers were abundant during the 1970s—see Prime Cut or Assault on Precinct 13—and, going by Goddard's previous work, his take on this well-worn genre will be as reflexive and revisionist as possible. Darkness and humor are balanced quite well in the trailer, as a comedic one-liner delivered by Jon Hamm is juxtaposed with a shotgun blast causing blood and viscera to erupt from someone's chest all over a room and onto the camera lens itself. More or less, everything about the plot is still under wraps and the trailer is, more or less, a collection of juxtaposing tones, images and kernels of overarching narrative. Looking back on Goddard's work with Cabin in the Woods, this film could be more straightforward or, like the aforementioned horror film, it could take a meta, tongue-in-cheek look at the genre in which Bad Times at the El Royale cements itself—crime thrillers.
Visually, Bad Times at the El Royale looks to be beautifully directed—over-saturated wide shots shift to more drained close-ups as the tone shifts into darker, bleaker territory. Goddard's camera moves through the hotel like a specter through a haunted mansion. His camera is in love with the hotel and it is through this love that the trailer really commits to its sense of place. Yet what is most striking is all of the night or darker shots. Harsh shadows and noir-like lighting overtake the kitschy '70s vibe and something far darker and far more ominous manifests itself in-frame. Also, it looks like Chris Hemsworth might be the head of some kind of cult that is probably evil, and he is shown with his flock walking through a field of flowers as he shirtlessly gallivants about. Story-wise, we can do little but speculate, but in an age where trailers are just a condensed version of the movie that they are selling, being able to speculate and wonder is a welcome breath of fresh air.
Bad Times at the El Royale is written and directed by Goddard, with a stellar cast consisting of Jeff Bridges, Cynthia Erivo, Dakota Johnson, Hamm, Cailee Spaeny, Lewis Pullman, Nick Offerman and Hemsworth. It is produced by Goddard and Jeremy Latcham, and it will make its way to theaters on Oct. 5 via 20th Century Fox.
Check out the film's official trailer and poster below.