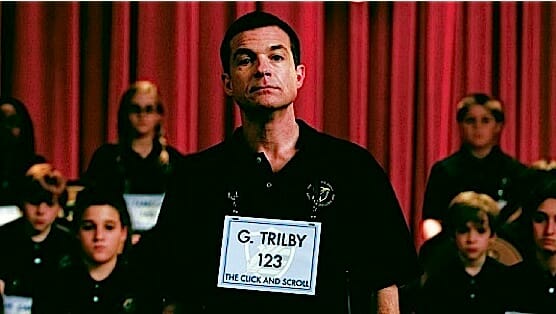 It's guaranteed that some people will be offended by Bad Words, Jason Bateman's feature directorial debut. As the title suggests, the film's peppered with plenty of blue language—hurled at both children and adults—as it mines territory similar to Terry Zwigoff's Bad Santa. Both comedies feature misanthropes in lead roles, with Billy Bob Thornton playing Zwigoff's titular character, and Bateman stepping in front of the camera for double-duty on this project.
On both fronts, Bateman does an admirable job. As Guy Trilby, Bateman's a 40-year-old on a mission: taking top prize at The Golden Quill national spelling bee (which oddly takes place in L.A. and not in Washington, D.C.). Trilby is ready to vanquish any pre-pubescent challenger that gets in his way. Despite the anger of parents and judges on the local, state and national levels, Trilby is legally eligible to compete. There's a loophole in the contest that states competitors must not have completed eighth grade; and though he's clearly a bookish guy, Trilby never finished school.
Tagging along on Trilby's wild ride is reporter Jenny Widgeon (Kathryn Hahn, We're the Millers), who's working on a profile of Guy, trying to uncover his motivations. While it's unethical for news organizations to pay for stories (and sleep with their subjects, too), the plot device works well here as Widgeon serves as the audience's sounding board.
It's clear from the outset that Guy's not out to make any friends, though 10-year-old competitor Chaitanya (Rohan Chand of Homeland) tries. This (nearly) fit-for-print first exchange on the plane to the tournament demarcates the characters: "What was your winning word?" Chaitanya asks. "It was autofellatio," Guy answers. "I've never heard of that word." The exchange turns even more politically incorrect quickly with Guy telling the boy, "If you don't point that curry hole that way … and sit your f-cking ass down on that seat, I'm going to tell the captain your bag's ticking."
As in Bad Santa, the relationship between the man and child becomes a central part of the story. Whereas Billy Bob Thornton's character is a conman, alcoholic and ne'er-do-well, we learn that Bateman's character is highly motivated to win the bee for personal reasons. Without giving too much away, Guy's on a quest to right wrongs from his past, and conquers words like "slubberdegullion" as a method for exacting revenge. There's a depth and inner-conflict at play here that sets itself apart from the raunchy Bad Santa.
Don't get us wrong, Guy's moral compass has been turned off, which we see explicitly when he and Chaitanya play hooky from studying and run amok in L.A. We laughed with horror at an uncomfortable sequence that that involved Guy paying a prostitute to show the boy her boobs, followed by a prank that involved a lobster and a penis.
In his first produced screenplay, writer Andrew Dodge seems to have been influenced by ESPN coverage of the National Spelling Bee and the documentary Spellbound—but with extra-spicy vocabulary added to the mix. Dodge's script manages to surprise on several levels, from the mind games Guy plays to win his bouts (though he can clearly win on his own merits, he takes pleasure in torturing his fellow contestants onstage) to the real reasons motivating both Guy and Chaitanya. There are layers to these characters that are revealed as the film (and rounds) progress.
The same can't be said, however, of the film's female characters, led by Hahn and Allison Janney (The West Wing) as the Golden Quill's executive director. The two mostly serve as Guy's conscience and foil, respectively. Unfortunately, they're not given much to work with, especially Janney, whom we thought could have played a larger role in uncovering Guy's secret.
While some of the scenarios are highly improbable (Chaitanya's father leaving him alone with Guy comes first to mind), the riotous script paired with Bateman's sure-handed direction and performance keep the film grounded in reality—and almost believable. The action is played as straightforwardly as possible, making Guy's quest all the more outlandish. (The film also benefits from great use of music, with tracks from Beethoven to the Beastie Boys seamlessly meshing with the onscreen action.)
It's no surprise that first-time helmer Bateman does a commendable job. A veteran of countless TV (Arrested Development) and film roles (Identity Thief, Juno), Bateman himself started off as a child actor (Little House on the Prairie, Silver Spoons). He, better than most directors, could probably relate to and communicate with Chand, translating to good onscreen chemistry between the two.
Although Bad Words is definitely not for people who are easily offended by crude language, including racial and sexual epithets, the audience that does stick around may be surprised to find an undercurrent of sweetness amid the f-bombs.
Bateman's regular Joe persona somehow makes us want to root for this foul-mouthed, cutthroat competitor. (Although we hate ourselves just a little bit for it, we can understand the reporter's confusing attraction to the character.) In between the cringe-inducing moments and the vulgarity, Bad Words ultimately is about a man's legacy and his search for his place in the world.
Christine N. Ziemba is a Los Angeles-based pop culture writer and regular contributor to Paste. You can follow her on Twitter.
Director: Jason Bateman
Writer: Andrew Dodge
Starring: Jason Bateman, Kathryn Hahn, Rohan Chand, Philip Baker Hall, Allison Janney, Ben Falcone
Release date: March 14, 2014