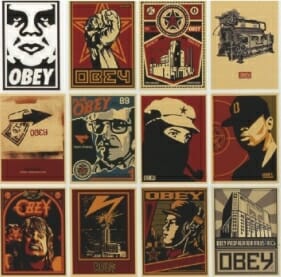 [Above: The work of Shepard Fairey in Beautiful Losers]
Release Date: August 8
Directors: Aaron Rose, Joshua Leonard
Cinematographer: Tobin Yelland
Starring: Rose, Mike Mills, Jo Jackson, Harmony Korine
Studio/Run Time: Sidetrack Films, 90 mins.
An unexpectedly moving bohemian rhapsody
No one as interesting as the artists in this concise-yet-comprehensive documentary can afford storefront rents in the Lower East Side anymore, but once upon a time, in the early 1990s, they could. The ragtag assortment of creative misfits who coalesced around Ludlow Street's Alleged Arts Gallery took a punk-inspired approach to designing everything from skateboards and record sleeves to railroad cars, rock videos and movies. Mike Mills (Thumbsucker) and Harmony Korine (Gummo) may be the best known, but design-heads already know about the late Margaret Kilgallen and her Mission District-inspired pieces, or Shepard Fairey's spooky "Obey" street posters. Directed by Alleged founder Aaron Rose, Beautiful Losers traces a familiar path from adolescent discontent to pop sensation (often via some brilliantly vernacular work's use as advertising) but foregrounds the artists' often painful yet awkwardly sweet stories. As Mills suggests, it's mostly about saying all the things your parents refused to hear. Ah, anomie! The fountain of art.