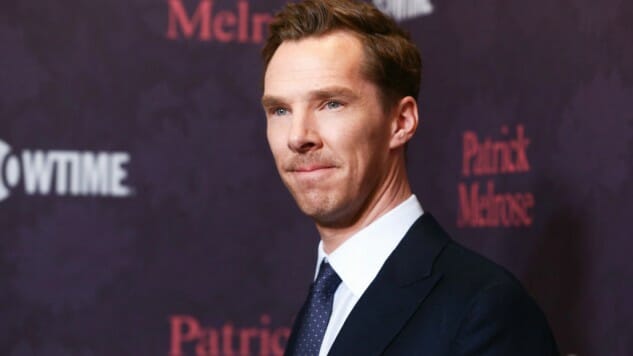 Benedict Cumberbatch is putting on his spy glasses and fancy tuxedo for his newest undertaking, the Cold War drama Ironbark. According to THR, the film is based on the true story of British businessman Greville Wynne (Cumberbatch), who helped the CIA penetrate the Soviet nuclear program during the Cold War. Wynne and his Russian source, Oleg Penkovsky (not yet cast), provided crucial intelligence that helped end the Cuban Missile Crisis and prevent the world from entering a nuclear war. So maybe Cumberbatch won't get to wear a fancy tuxedo and woo the ladies like James Bond, but he's saving the world no less.
On Chesil Beach director Dominic Cooke will helm the project, working from a script by The Hitman's Bodyguard writer Tom O'Connor. FilmNation will be handling international sales for the film at Cannes this year. Ben Pugh of the U.K. management company 42 will produce the project alongside Rory Aitken (In Darkness, Watership Down) and Adam Ackland of Cumberbatch's production company SunnyMarch. Cumberbatch and Sunnymarch's head of film Leah Clarke will executive produce along with the film's director and writer.
"Tom O'Connor has written a masterful script, and with Dominic Cooke directing and Benedict Cumberbatch starring, we're looking forward to collaborating with this uniquely talented team to bring Ironbark to the screen," said Pugh and Aitken.
FilmNation CEO Glen Basner added, "We are delighted to be working with Benedict again and to have his abundant creativity on both sides of the camera. Dominic is a master director and he and Benedict's work together on The Hollow Crown produced breathtaking results. We anticipate a very exciting second collaboration on Ironbark."
Cumberbatch received an Oscar nomination for his performance in the 2014 film The Imitation Game and can currently be seen in Avengers: Infinity War playing Doctor Strange.