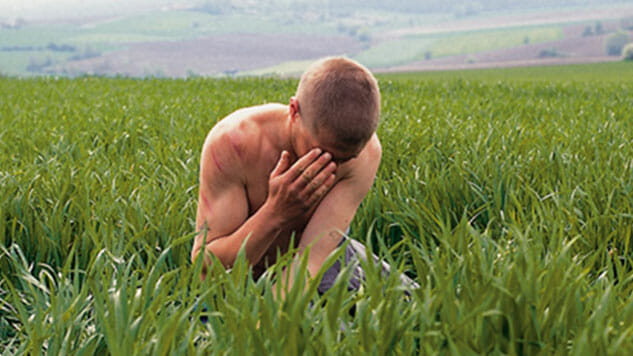 Each month, Paste brings you a look at the best new selections from the Criterion Collection. Much beloved by casual fans and cinephiles alike, Criterion has for over three decades presented special editions of important classic and contemporary films. You can explore the complete collection here. In the meantime, because chances are you may be looking for something to give the discerning (raises pinkie) cinephile this month, find all of our Criterion picks here, check out some of our top titles this June, and, hey, maybe sign up for Criterion's Criterion Channel to stream many of the titles we talk about here.
Also out this month: New 2K digital transfers of Ingmar Bergman's trilogy —Through a Glass Darkly, Winter Light and The Silence; and Sergei Bondarchuk's War and Peace (1966)
---
La vie de Jésus
Year: 1997
Director: Bruno Dumont
Trace the arc of Bruno Dumont's career: from his determinedly raw debut feature, La vie de Jésus, through his more recent work, from Slack Bay, his bizzare-o madcap comedy, to Jeanette: The Childhood of Joan of Arc, which is exactly what it sounds like, except that it's a musical. Comparatively, La vie de Jésus is unrefined and stubbornly "real" in the clichéd sense of the word; Dumont refuses artifice, reaching instead for harsh truths through the lens of his camera. There's an inelegance to his thrust here, appropriate given La vie de Jésus's subject matter, a coarse tale about an epileptic young man named Freddy (David Douche) and his struggles to adapt to life in Bailleul, a small town in French Flanders (and not by coincidence the town where Dumont grew up). Typically, characters like Freddy are made entirely sympathetic. La vie de Jésus paints him as part boy, part animal, roving around the countryside with his friends and causing degrees of mayhem, having rough, dominating sex with his girlfriend, Marie (Marjorie Cotreel), and harassing Arab teenager Kader (Kader Chaatouf).
Where Dumont sees Jesus in any of this is something of a mystery. Maybe he sees in Freddy's seizures an endless cycle of routine suffering, and maybe that's the connective tissue linking him to Christ, but Freddy's suffering is undermined by his hoodlum activities, culminating in murder and sexual assault. This is not a holy person. Still, Dumont looks for the holy (really, the spiritual) in nature, as if hoping that Freddy can find redemption in its grasp. It's a wasted hope. Freddy, articulated through Douche's performance, seems to recognize his insignificance in the natural order. Recognition alone doesn't wash away his sins. —Andy Crump
---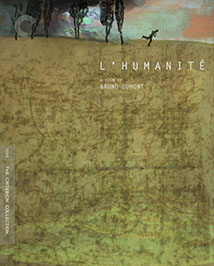 L'humanité
Year: 1999
Director: Bruno Dumont
Standing next to La vie de Jésus in Bruno Dumont's filmography is his follow-up, L'humanité, a towering effort layering mundane human examination upon a police procedural bedrock. Unlike in its predecessor, L'humanité's protagonist, detective Pharaon De Winter (Emmanuel Schotté), remains deserving of the viewer's empathy from start to finish. Where Freddy is twitchy, self-driven to satisfy his own feral needs, Pharaon is quiet and unobtrusive, a man in perpetual observation of others around him. He's also curiosity made flesh: Pharaon feels deeply and expresses that depth primarily through his eyes, which are roughly the size of Jolly Ranchers. They are, at all times, wet with fascination in his coworkers, his friends, strangers on the street, even you. If Pharaon and Freddy have anything in common, it's isolation from their fellow man, but Pharaon aches for connection. Freddy doesn't.
L'humanité follows Pharaon as he's called on to solve an 11-year-old girl's awful, shocking murder. As in La vie de Jésus, Dumont doesn't hesitate to show in full the naked human form, including the victim's brutalized body. Pharaon's revulsion at the crime's sheer barbarity is one of the first sights L'humanité shows viewers before adopting a slice of life aesthetic as Dumont's peculiar hero takes beach trips with his neighbor, Domino (Séverine Caneele), and her boyfriend, Joseph (Philippe Tullier), visits with his mother (Ginette Allègre), and toils in the garden. Ordinary stuff, but the ordinary is rendered grotesque as the details of the rape melt over Pharaon's psyche, polluting his otherwise childlike worldview. L'humanité has softer textures than La vie de Jésus, but beneath its surface, the film is every bit as savage. —Andy Crump
---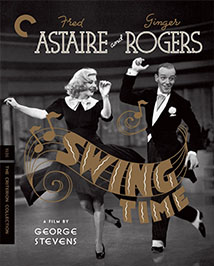 Swing Time
Year: 1936
Director: George Stevens
For better and worse, RKO musical Swing Time, the duo's sixth film of nine together at the studio, represents best the tenure of Ginger Rogers and Fred Astaire's partnership. An international box office success, about the troubled courtship of kindhearted gambler Lucky (Astaire) and hardheaded-until-she-isn't dance instructor Penny (Rogers), Stevens' spectacle for his two icons features a breathtaking dance with Astaire's only cinematic set piece ever performed in blackface (ergh) and a joke/crucial narrative point having to do with cuffs on mens' trousers that is so dependent on fashion mores of the 1930s—not to mention, so important to the success of our whole love story—one might wonder retroactively if the bottoms of mens' pants were intended to be a more plangent metaphor buried within an otherwise stupid plot. They weren't—because nothing is that deep in Swing Time. But such is the stuff of the immense surface pleasures of the film, of its ravishing sets shot magnanimously by David Abel, of its snowbound urban din conveying all kinds of warmth and texture, of the ways in which the characters are unable to express their big feelings in small words, so their whole world conspires to showcase the synchronicity of their bodies in motion. It takes about 25 minutes for all the pieces to align to give us our first musical number, but once it begins, far be it for any of us to question the calibration—the preternatural space-time precision—with which Astaire and Rogers are deployed. For many, this may be their first encounter with the two stars' films; no one expects the Mr. Bojangles homage until they do. Regardless, Swing Time's endured for its skin-deep bliss, and even today we're unable to look away. —Dom Sinacola
---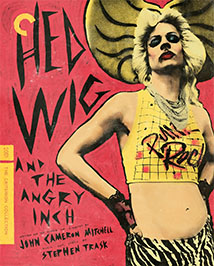 Hedwig and the Angry Inch
Year: 2001
Director: John Cameron Mitchell
This troubled yet lovable "slip of a girly boy" is the best thing that happened to us since Frank N. Furter. With this film, John Cameron Mitchell not only proved himself as a bona fide rocker with a killer set of legs, he also got to show off his writing and directing skills, prompting him to further explore his talents with Shortbus (2006) and Rabbit Hole (2010). The film tells the story of Hansel Schmidt (Cameron Mitchell), growing up in communist East Germany, fascinated with rock music and already seemingly very in tune with his sexuality. This self-awareness is enhanced when he meets Luther Robinson (Maurice Dean Wint), an American soldier who wins Hansel's heart with licorice drops and jelly rolls. Hansel needs some sugar in his bowl! Hansel and Luther get married, but in order for Hansel to leave the country, he needs to undergo an official sex change. Hansel takes on his mother's name, Hedwig, and agrees to the operation—but wakes up to find that something went wrong. All she's left with is a one-inch mound of flesh between her legs—the infamous "Angry Inch."
Hedwig and Luther's romance doesn't last, and soon Luther leaves her for another man. To deal with her pain, Hedwig forms a rock band with some Korean Hausfraus, before meeting Tommy Speck (Michael Pitt), a fair-skinned, innocent-looking young boy whom she believes to be her soul mate. Tommy, whose Christian background stops him from pursuing the affair any further, leaves Hedwig—but not before she christens him with his stage name: Tommy Gnosis. When he goes off to become a famous rock star, Hedwig is appalled to find he is performing the songs she had written for him. Fueled with hurt and humiliation, Hedwig and The Angry Inch—now consisting of Eastern European musicians—follow Tommy's tour in order to preach their predicament to the masses.
Most of the film's songs are performed live, and with songs like "The Origin of Love," "Wig in a Box" and "Angry Inch," one can totally imagine Hedwig fanatics going wild in small, atmospheric theaters for decades to come—just around midnight. —Roxanne Sancto