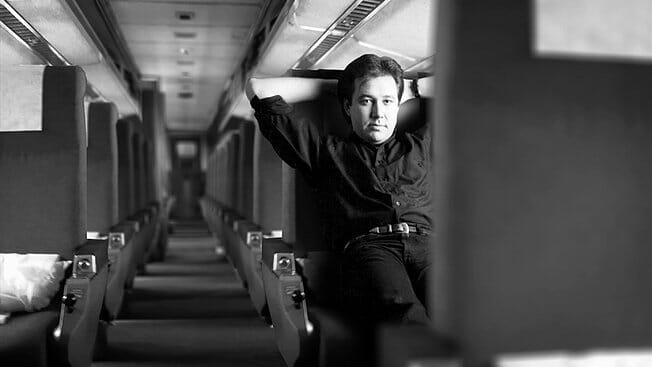 Directors: Matt Harlock and Paul Thomas
Starring: Bill Hicks, Dwight Slade, Kevin Booth, John Farnetti
Studio/Runtime: Variance Films/102 min.
Some say that real humor is usually fueled by strong emotions. That may help explain why Bill Hicks was one of the best comedians our country's ever seen, since at his best his comedy was fueled by his rage, ripping apart a world he saw as full of inescapable stupidity and laziness. One of the main questions being asked by American: The Bill Hicks Story is how exactly Hicks became so angry, not to mention how much of the anger was an act and how much was genuinely who he was.
The film answers these questions by giving a thorough retelling of his life story, from how he first aspired to be a comedian at only 13 to his death from pancreatic cancer less than 20 years later. American's narrative is composed almost entirely of interviews with his friends and family, which were put to computer animations of his old photographs. It's a nice way of getting around the fact that there's no footage of Hicks' comedy until much later without showing us simply a slide show—this is about as dynamic a presentation of still photos that you can get. But the film doesn't really get going until we can listen to Hicks himself, at which point the film begins intermixing his routines with events in his life and illustrating how closely linked they really are.
Admittedly, Hicks' life was pretty straightforward, and American does nothing to pretend that this wasn't the case. He blew up locally, then headed out to Los Angeles for a brief and unsuccessful period, then returned home and really found his voice. Along the way we get some of the conventional drug and alcohol abuse that this type of biopic loves to feature, but the film doesn't dwell on this chapter of his life and anyone familiar with Hicks' material would know why this isn't just exploitative—in fact it's integral to explaining the many changes that his comedy underwent during such a short career.
There's more than a touch of hagiography in American, which isn't surprising since the film is made for fans. But there's also enough of Hicks' actual material to illustrate why he's so well-regarded, and while the film occasionally skims through years of his life a little quickly, it's simply because what needs to be said about that period is said best through his jokes. American isn't a necessary film, in that it won't really change anyone's opinion about Hicks nor does it bring a new interpretation to his life, but it's a well-made and entertaining movie that gives the man his due.