Watch the Haunting Trailer for Robert Greene's Documentary Bisbee '17
The film is eerily pertinent in light of today's immigration crisis
Images via YouTube
Movies
News
Bisbee '17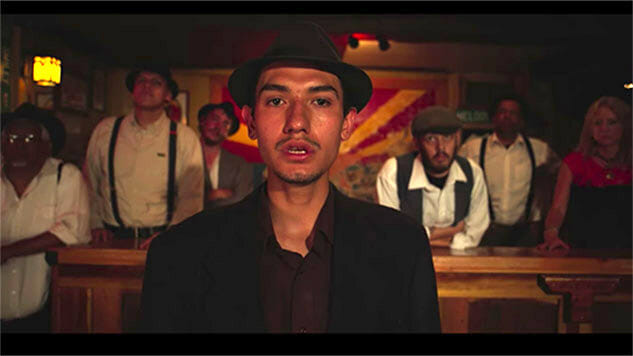 On July 17, 1917, 1,200 miners of mostly Eastern-European and Mexican descent were rounded up by a group of armed and deputized citizens and forced out of the small town of Bisbee, Ariz., for striking against Phelps Dodge. The roundup was organized by Phelps Dodge, an American mining company that owned the copper mines in the town, who had the miners transported to New Mexico in cattle cars and left them stranded with no provisions and threats against returning to Bisbee. Family members arrested and deported their own family members with seemingly no remorse.
The town, located seven miles north of the Mexican border, is filled with old mines (the last of which was shut down in 1975) that made the town one of the richest in the state during the World War I era. It also serves as the subject of Robert Greene's Sundance-premiered documentary Bisbee '17. Greene traveled to the town on the centennial of the deportation to revisit part of the town's history that is rarely, if ever, talked about.
Interviews with town residents, shots of the town, its landscape and the huge copper mine that was turned into a tourist attraction in the '70s, along with footage of town-wide preparations to reenact the events, are mixed together to tell the story of this border town and its forgotten ethnic cleansing.
The trailer for the film begins solemn but rapidly turns hostile as you see the reenactment of the 1917 events unfold. It's surreal and chilling in a way that makes the film seem fictional rather than factual, perhaps in part because the events themselves seem somewhat farfetched. The detail that anchors the film to its documentary style is the use of voiceovers from residents telling the town's story. One man in the beginning says of Bisbee, "A mining town without a mine is usually referred to as a ghost town," setting an eerie tone for the rest of the trailer.
Bisbee '17 will be screened at BAMcinemaFest, co-presented by Rooftop Films, on June 29 and at New York City's film forum on Sept. 5 before its nationwide rollout. Watch the trailer for the film (via IndieWire) below.